Business success is central to sustainable peace – Museveni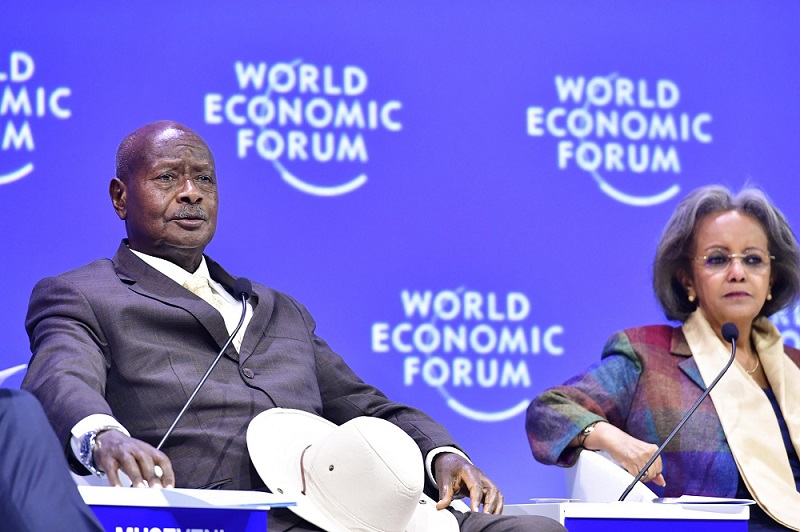 By PPU Reporter
CAPE TOWN. The success of businesses in Africa is important because it has a direct role in ending polarisation and causing sustainable peace, President Museveni has said.
The President, who is accompanied by First Lady Janet, made the remarks today (Wednesday) at the World Economic Forum on Africa in Cape Town, South Africa, where he was part of a panel discussion on the theme "Towards Peace".
The discussion at the Cape Town International Convention Centre was moderated by Borge Brende, the president of the World Economic Forum.
President Museveni noted that businesses were capable of transforming Africa from its current vertical pre-capitalist setting, which is pre-occupied by tribe and other identity issues, to a horizontal system dominated by interests.
"Thriving businesses cause social transformation which changes society. When you have a big middle class dominated by employers and employees, issues become different. Discussion now becomes about salaries, working hours, making them horizontal," said the President.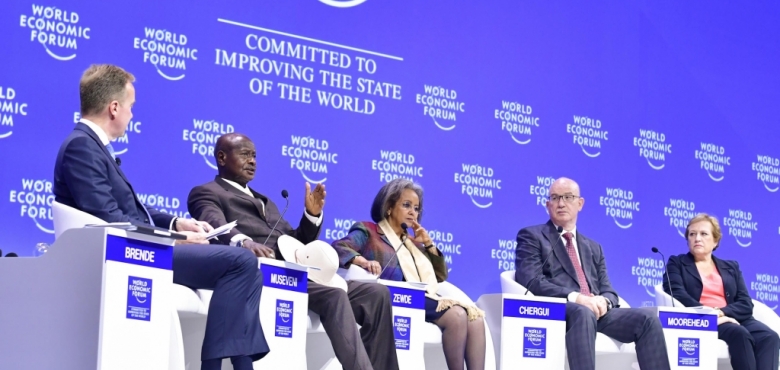 "Business therefore is part of durable peace-building. You cannot maintain a pre-capitalist structure of society and think that you will have peace," he added.
Citing the French Revolution and the Renaissance, President Museveni said even the West had only transformed after it had dealt with the peasantry societies, replacing them with the middle class.
"You must have a middle class, it is more cosmopolitan than tribes, which are parochial. If you are herding goats, you only need one hill but if I am producing motorcycles, I need the whole of East Africa. Business will consolidate peace," he observed, leaving the audience in stitches.
JUST & UNJUST WARS
Earlier, asked by the moderator about what Africa could do to avoid conflicts in the future, President Museveni said it was first of all critical to understand the causes of the conflicts.
Africa, said the President, had experienced both just and unjust wars and making the distinction in their discussion was paramount.
"Between 1952 and 1994, Africa mainly had just wars. We were fighting for independence and democracy. From the Mau Mau rebellion in Kenya in 1952 to the fight against minority rule in Southern Africa, these were just wars because Africans were dealing with situations not solvable by peaceful means," said the President.
Mr Museveni said Africa today, however, was mainly dealing with "unjust wars caused by the ideological problem of emphasising identity (tribes, religion) instead of interests".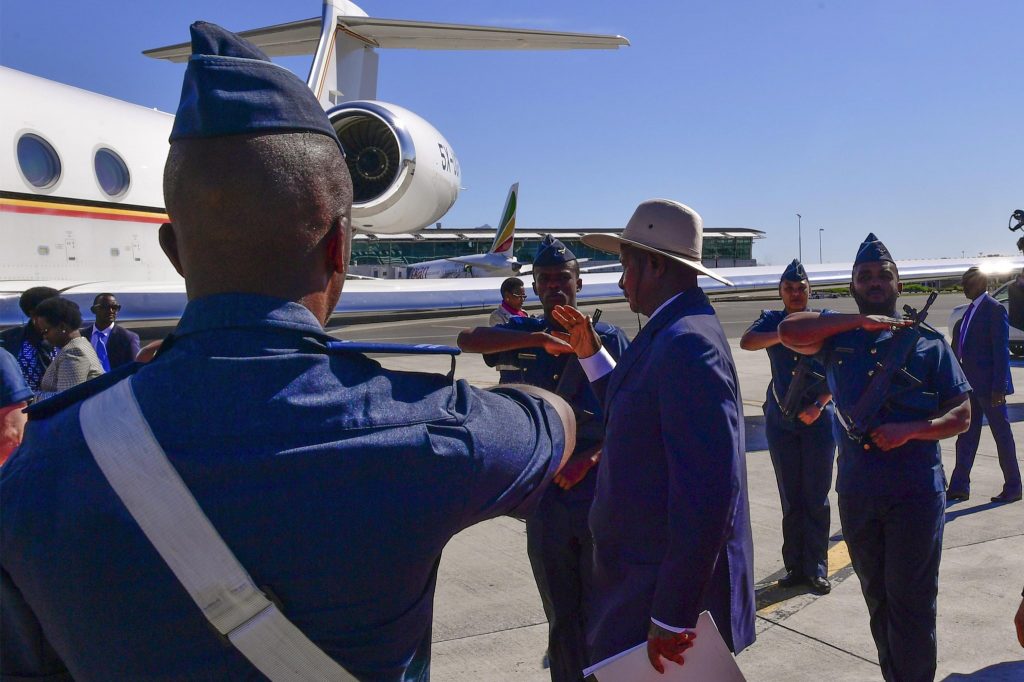 "You find people fighting because they are Muslims or Christians or because of their tribes. This is pseudo-ideology causing false polarisation," he said.
The modern person, according to President Museveni, is interested in prosperity and this is made possible by trade, which is rarely facilitated by tribe, which instead many times works as a hindrance.
"Wars therefore premised on identity must be condemned because they are ideologically bankrupt. They are criminal wars," he said.
President Museveni also observed that the conflicting groups must be challenged about their motives, saying that even if peace was to be obtained, it must be "principled" and not just because one warring party had been overwhelmed.
A CASE FOR WOMEN
The other panelists in the discussion were Sahlework Zewde, Ethiopia's President, Smail Chergui, the AU Commissioner for Peace and Security, Sipho Pityana, chairman of Anglo-Gold Ashanti and Susanna Moorehead, the chair of the Development Assistance Committee of the Organisation for Economic Development.
President Zewde in her remarks made a case for involvement of women in peace-building, saying they bear the greatest brunt of conflict.
"Women should not just be victims, they should be part of the solution. We have seen that where women are involved at the table of conflict resolution, things move faster. We must continue making this happen," she said.
The World Economic Forum on Africa, which runs till Friday, is being held under the general theme of "Shaping Inclusive Growth and Shared Futures in the Fourth Industrial Revolution". President Museveni is among the dozen African leaders gracing the summit.
I will pursue Bank of Uganda to the end; if I die, my son will take over- Dr. Sudhir vows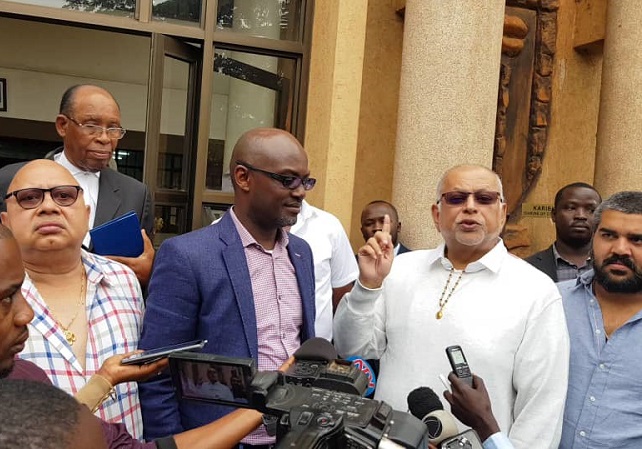 Ruparelia Group founder and Chairman Dr. Sudhir Ruparelia has said he is ready to legally pursue Bank of Uganda and make them pay for illegally taking over his bank, till the very end. This is the first time Dr Ruparelia is publicly commenting about Bank of Uganda's planned appeal, following the dismissal of the central bank's UGX397 billion case against the businessman over "being incompetently in court." Commercial Court's Hon Mr. Justice David K. Wangutusi, on Monday August 26
th
dismissed HCCS 493 of 2017, saying BoU "did not have jurisdiction to file HCCS No. 493 of 2017" and that the orders sought against Meera are "barred in law, rendering" BoU with no "cause of Action" against Meera. BoU in an August 27
th
statement by the Director of Communciations, Charity Mugumywa, said BoU would appeal "as per Notice of Appeal Application 320 of 2019 filed in the High Court today." "Me I am ready, today, tomorrow or even when I am dead my son will take over," said Sudhir in a media interview today, during the official opening of Electrical Plaza, his latest $10 million commercial building in downtown Kampala. "Let me tell you, the law is the law, nobody can reinvent law. You see they (BoU) created this law (FIA 2004) to protect themselves. They are saying no body can sue them. So we used the same law to defeat them," he said adding: "They have taken seven banks and nobody could do anything to them because they had the law to protect them. So we used the same law they used to protect them to defeat them." In a veiled comment about the appeal he said that: "If anybody has senses in bank of Uganda, they have such dumb lawyers there. If the lawyers knew the law they are supposed to enforce, this could have not happened. So I think it's good for us that there are dumb lawyers in Bank of Uganda legal department." He also alluded to the fact that the lawyers could be playing so as to continue profiting from legal fees as the appeal drugs on, finally costing the tax payers when the case is lost. Analysts have said BoU's appeal is equivalent to "throwing good money after bad money" because Justice Wangutusi's ruling was based on a plain and clear interpretation of the Financial Institutions Act. Giving his reasons on why he thought BoU did not have a locus standi, Wangutusi, based his ruling on The Financial Institutions Act which clearly lays out the role of a receiver. "In my view if it (FIA 2004) had wanted the Receiver who had only 12 months on stage to sue, it would have expressly provided for it. "The end result is that once Crane Bank was put under Statutory Management, its Board of Directors was suspended. If there was to be any suit, it would be brought by the Central Bank as the Statutory manager under section 89(2)(e) or by the Liquidator with approval of the Central Bank under section 100(1)(a) of the Financial Institutions Act. These two were empowered to initiate and defend court action by the Financial Institution Act which interestingly left out the Receiver. The Legislature did not want any court action against the Receiver…… It follows that the Respondent under Receivership lacked locus standi. Without locus standi its attempt at filing a suit was
null ab initio (
to be treated as invalid from the outset)." 
"Everyone who stole my bank, is going to pay," Sudhir vows
Sudhir has previously said that everyone who participated in illegally taking over Crane Bank, would have to pay. "Everyone who has played a part in the fraudulent activities is going to pay for it – we are not going easy.  That includes dfcu that is fraudulently occupying Meera Properties; they are the biggest fraudsters in this country. They need to understand that they are illegally occupying our branches and they fraudulently transferred them into their names without the consent of Meera Investments" he told media soon after the ruling. Addressing a media conference outside the Commercial Court, a tough-talking Sudhir said:  "Everyone is going to pay a price for this," he said, adding: "We are now going to put up a counter claim. You know COSASE found out a lot of things of what these people did. With guidance from my lawyers, we will put a counter claim. They did not value our assets, they did not account for the cash in the bank; all the money was just stolen. This is terrible," Sudhir said. "This is a big win over the mafias and the whole conspiracy that's been holding the country at ransom in the central bank. I think this is going to be a lesson to them. They have taken over 7 banks and they cannot account for any of them. How do you fail to account to someone? I am a shareholder, I lost a lot of money; I put 25 years of my time and you steal my bank? –you steal all my assets, all my paid-up capital, and all my assets just stolen. And you claim that you put this money in Crane Bank and you can't even account for it, you can't even account for Shs290 Billion – where is it all gone?" quizzed Sudhir. Sudhir also said this was a "tremendous achievement" and "historical.
"Nobody has been in the past been able to win Central Bank – they have stolen 7 different banks and not accounted to any shareholder and this is the unfortunate part of the whole scenario. You take somebody's assets, you steal it, you profit from it and you don't account for it; this is so ridiculous!  Then, they sued for $100 Million; the money they stole, they are suing me for it. How?" he wondered.                
Pictorial: How Meera Investments is changing Kampala's skyline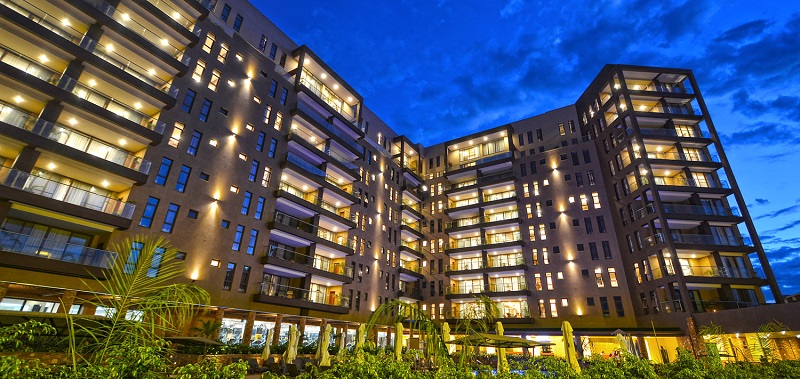 Today, Meera Investments, the property development arm of the Ruparelia Group officially inaugurates their Electrical Plaza, the latest addition to their mixed use building portfolio in the city centre.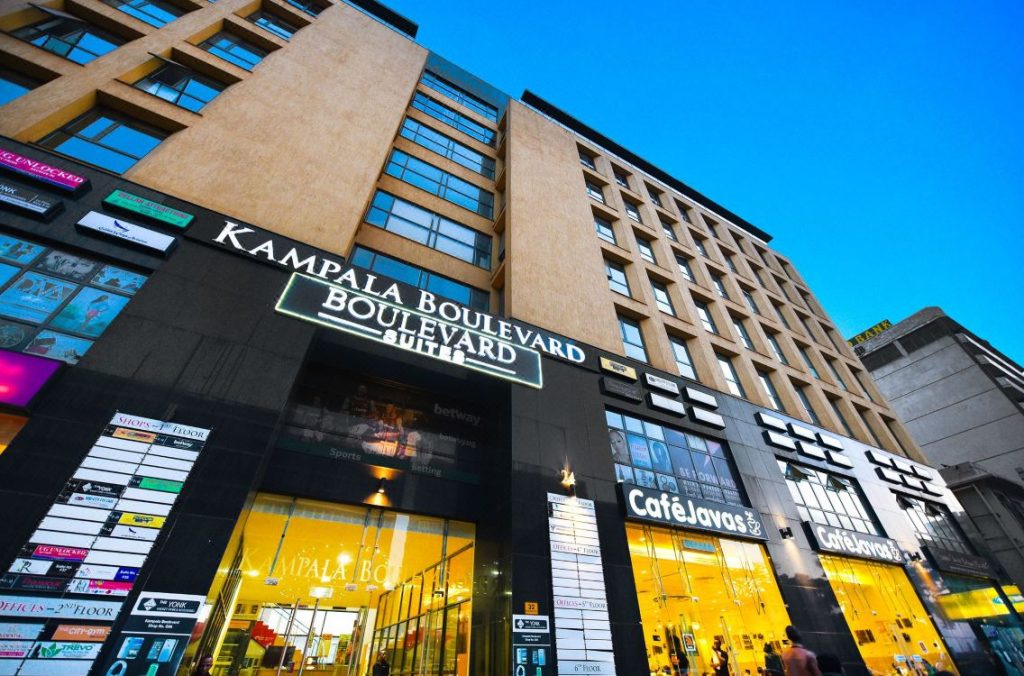 Since 1994, Meera has been part of a number of innovative property solutions in mainly, the commercial and residential space and today owns sectors and to date owns over 300 properties in Kampala and other major towns like Mukono, Jinja, Mbale and Mbarara.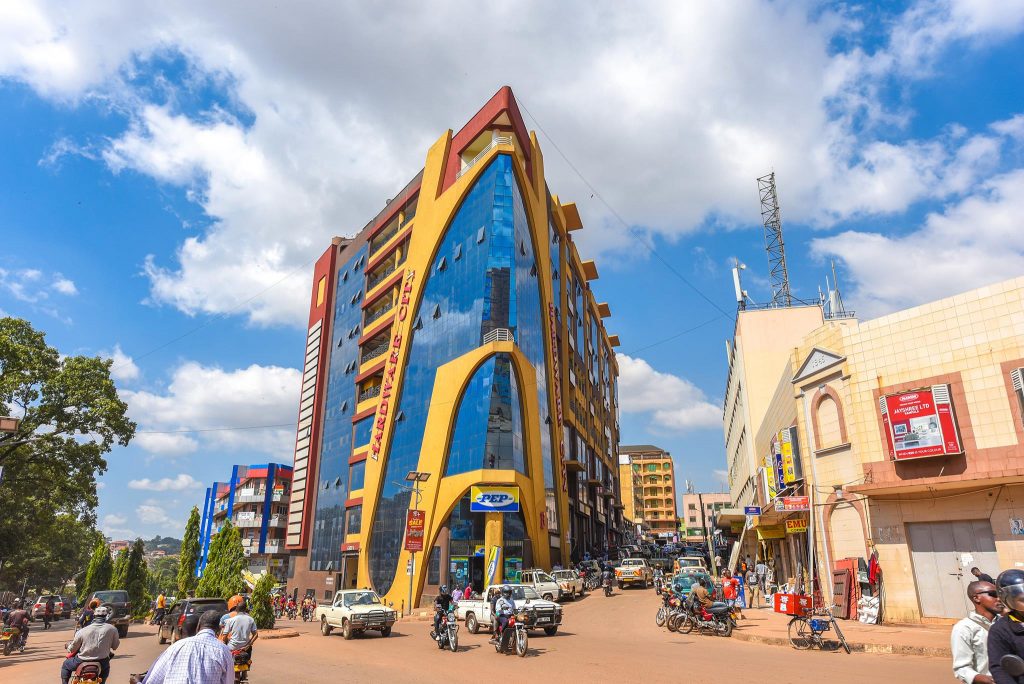 The company, according to its Chairman and founder, Dr. Sudhir Ruparelia, is the largest developer of commercial and residential properties and also owns the largest number of ongoing real estate projects. It is also the largest private owner of commercial land in Kampala.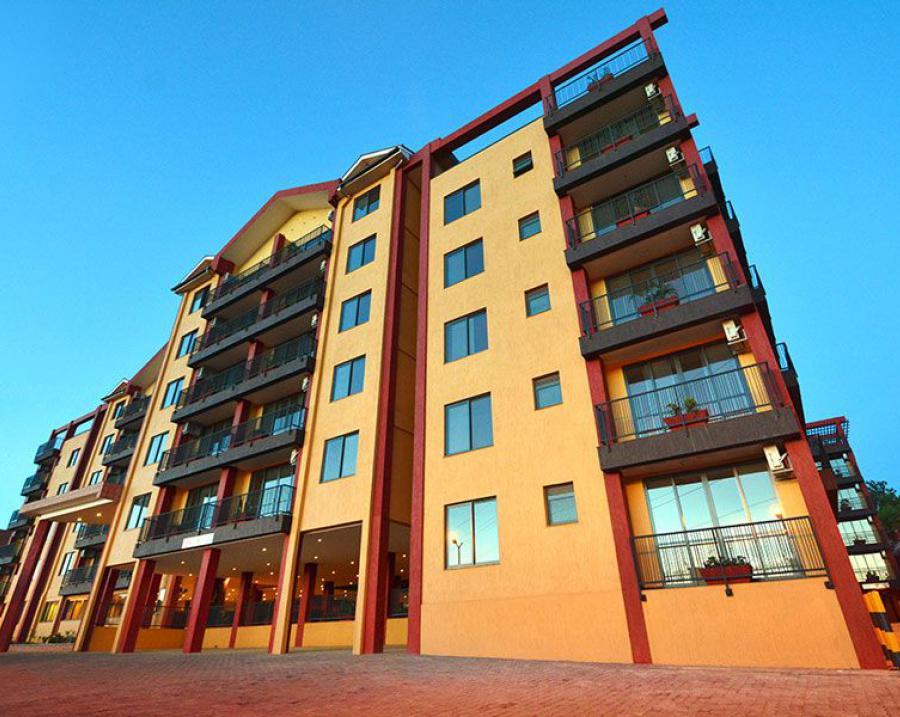 Meera Investments Limited was in 2017/18 rated as a top rental income taxpayer by Uganda Revenue Authority (URA) while Dr. Sudhir Ruparelia, the Chairman/Managing Director of Meera Investments, was rated the second biggest individual rental income taxpayer.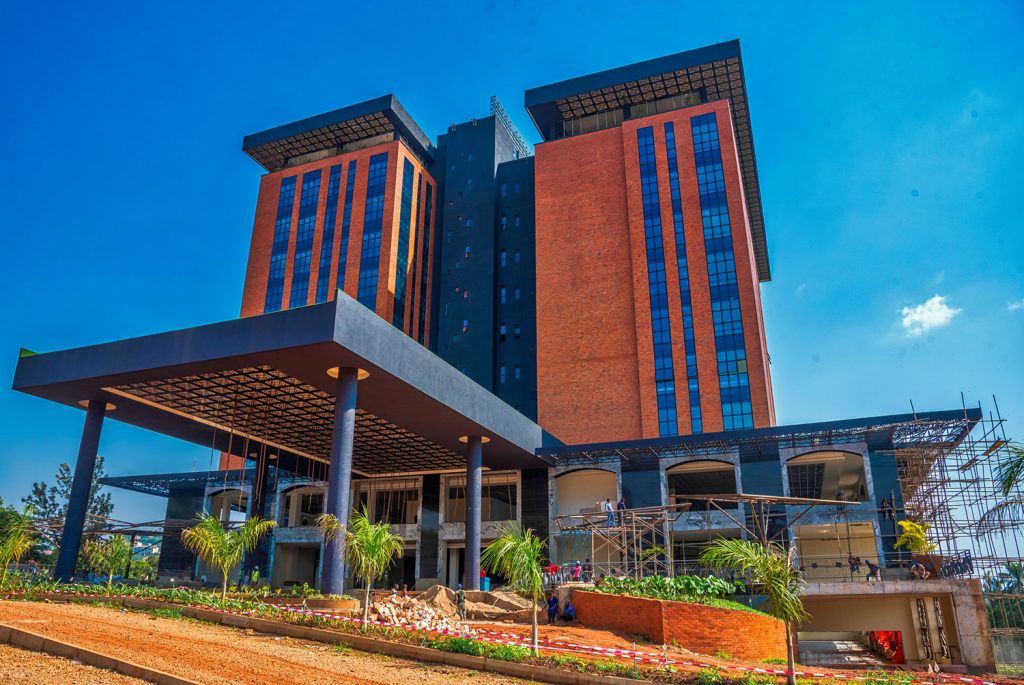 Over the last 3-4 years, the company has been on a construction spree, raising several properties across Kampala, which have both redefined city architecture and changed both Kampala's skyline, as well as the look and feel of the Kampala City.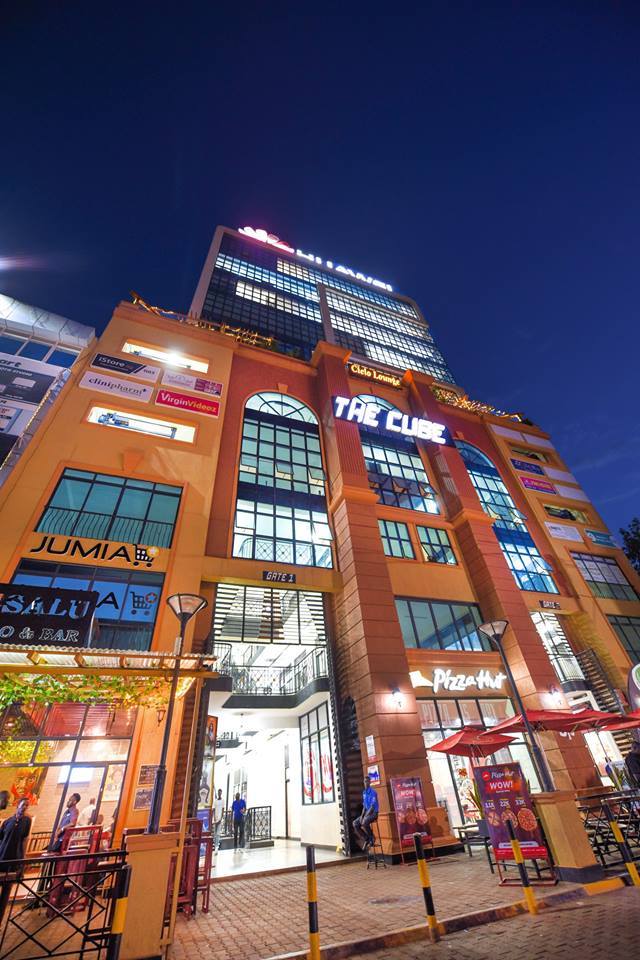 Today, we revisit and review some of those projects, especially those developed over the last 3-4 years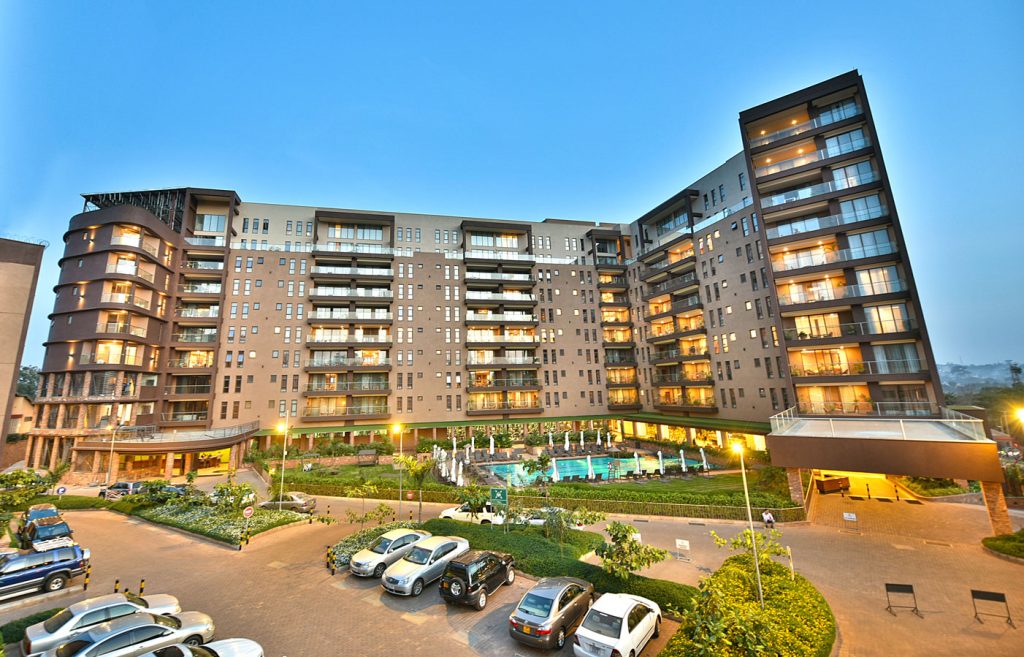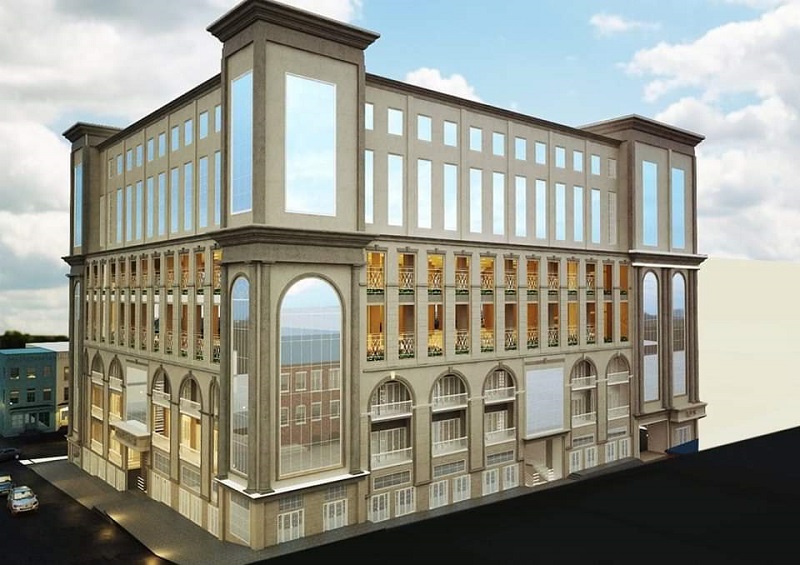 "The development of SGR isn't behind schedule at all as far as harmonization agreement is concerned," Says Coordinator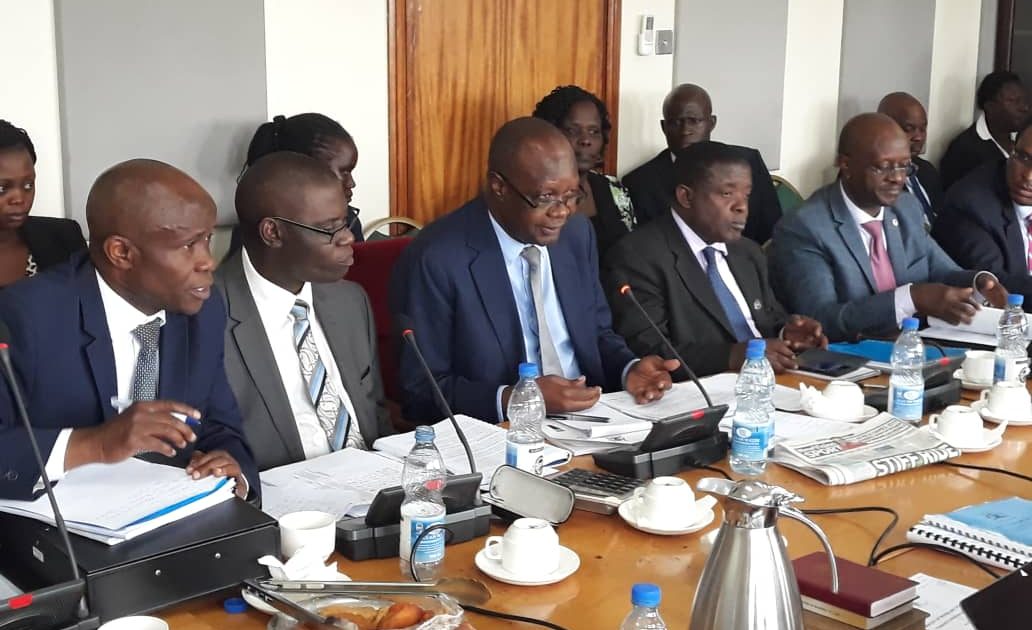 " The Standard Gauge Railway was adopted in 2014, by the East Africa Presidents who launched the multitrillion project meant to modernise the traditional railway transport system geared towards boosting economic growth by facilitating a faster movement of goods across borders. "
The SGR Coordinator, Canon Perez Wamburu while appearing before the Public Accounts Committee yesterday to respond to audit queries raised in the 2017/2018 audit report that raised concerns over the delays in implementation of the perceived regional railway, he affirmed that Uganda is on schedule for the construction despite compensating only 11% compensation of the project affected persons within three years.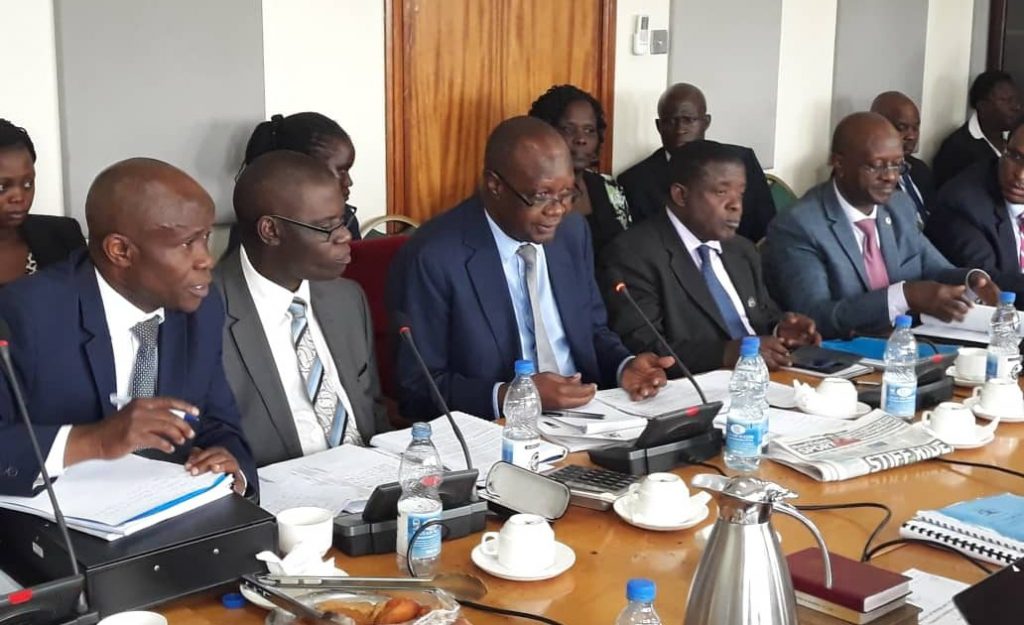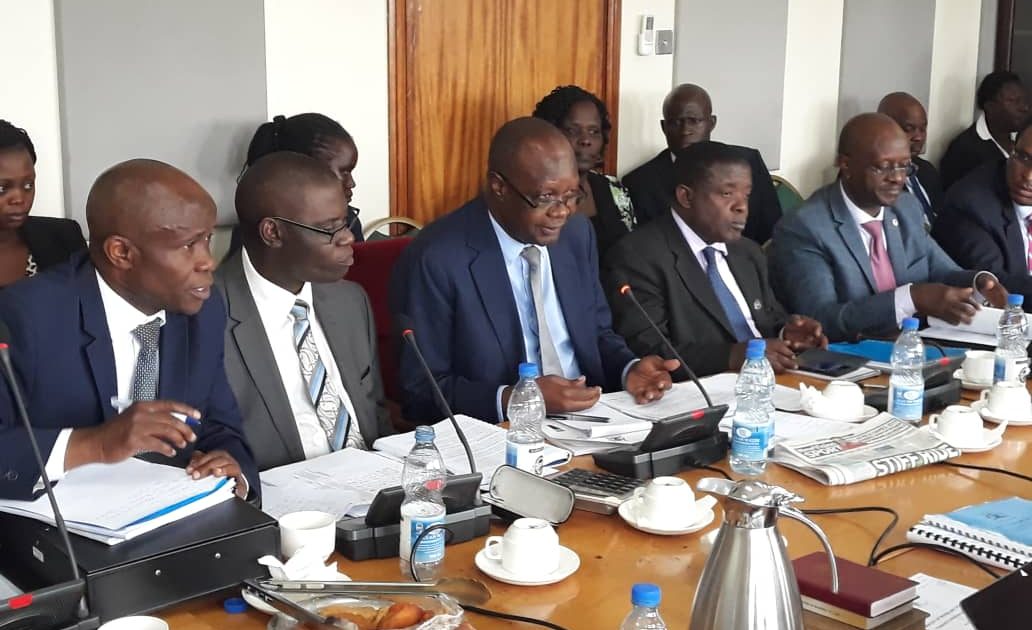 His remarks were in response to a call by some MPs like Theodore Ssekikuubo (Lwemiyaga County) who questioned why taxpayers have to continue funding the team in charge of SGR yet no single kilometer of the railway has been constructed, five years from the time it was launched in 2014.
Ssekikuubo said, "We are incurring nugatory expenditure on this white elephant. Is it about time we launched the standard gauge railway. After a decade of the launch, not even one kilometer has been put on ground. Kenya has already started on its side, ours was launched at a hotel in Munyonyo, it has remained there, dead and buried there unless the contrary is proved, are we as a country right to continue appropriating money to a non-starting project."
In response, Wamburu said, "We agreed that Kenya and Uganda arrive at Malaba at the same time. The development of SGR isn't behind schedule at all as far as harmonization agreement is concerned. Uganda SGR isn't late at all."
The Standard Gauge Railway was adopted in 2014, by the East Africa Presidents who launched the multitrillion project meant to modernise the traditional railway transport system geared towards boosting economic growth by facilitating a faster movement of goods across borders.
President Uhuru Kenyatta of Kenya flagged off the maiden passenger train on the newly completed Mombasa-Nairobi SGR in March 2017 and although Uganda had promised to start construction in June 2015, but three years down the road, Government is yet to complete funding negotiations with Exim Bank China.
On Uganda's side, project is to cost USD2.8Bn approximately, of this, Exim Bank will bring on board USD2.3Bn which represents 85%, while the remaining 15% will be footed by Ugandan tax payers.