EXCLUSIVE: dfcu's Sekabembe's salary increased by 47% to Shs56,000,000 per month to stop him from KCB job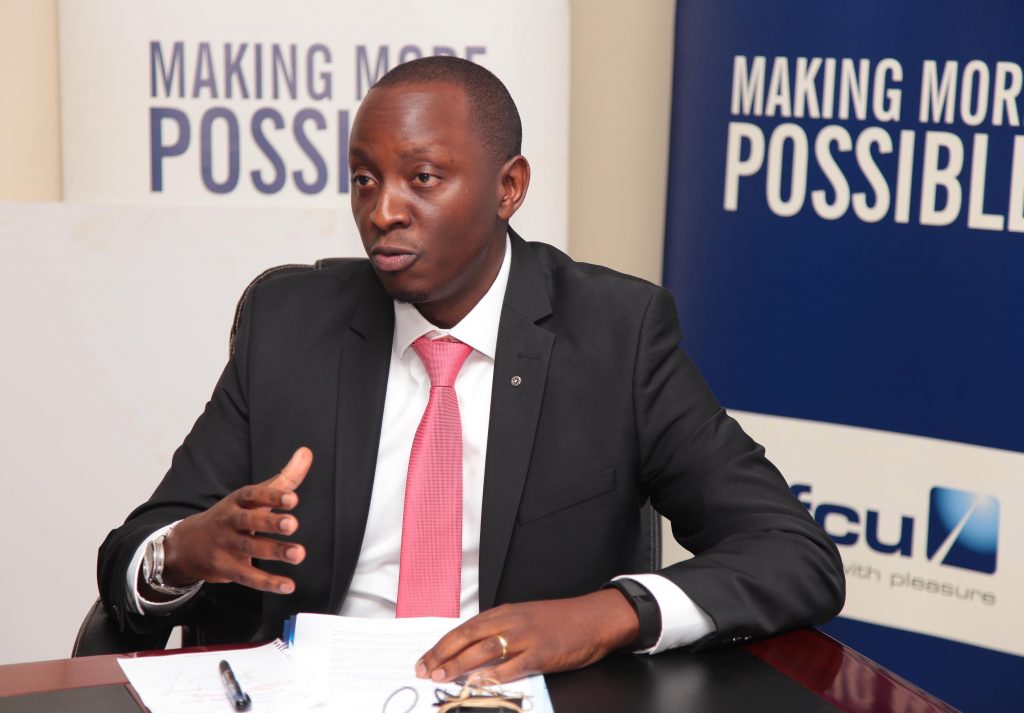 Dfcu Bank, had to pay William Sekabembe a 47% salary increment to stop him from crossing to rival KCB Bank, where he had been offered a Managing Director role, we have learnt.
According to our deep sources at dfcu, Sekabembe, the Chief of Business & Executive Director, effective this September 2018, had his basic salary increased from Shs38,035,800 in August 2018 to Shs56,000,000.
He was to cross to KCB at the end of September 2018.
The media first reported about Sekabembe's exit in July and back then dfcu vehemently denied the story, blaming it on malicious sources. However Sekabembe himself did not deny the story, but chose not to respond media inquiries by this website.
Sekabembe, the Chief of Business & Executive Director, effective this September 2018, had his basic salary increased from Shs38,035,800 in August 2018 to Shs56,000,000.
According to our sources, Sekabembe, upon receiving the juicy offer from KCB, served dfcu, a 3-months' notice that was due to expire at the end of September. However, after negotiating and securing the hefty pay rise, Sekabembe on September 5th 2018, had a change of heart and wrote to the Head Human Resource at KCB Bank declining the offer.
In a letter titled "Decline for the Job Offer of Managing Director at KCB Bank Uganda Limited" Sekabembe told off KCB Bank that, "I would like to give my appreciation for the recent Managing Director job offer with KCB Bank Uganda Limited" but "after careful evaluation, l regrettably decline the position."
He further wrote: "Despite the very encouraging upward mobility described within the organisation, I think it would be in my best interest to stay employed in my current position at dfcu Bank for personal reasons."
Although it is not clear, what salary and perks were being offered to Sekabembe at KCB Bank, Sekabembe who many believe is being groomed to take over after Juma Kisaame, is poised to earn even much more, should he become the dfcu Bank boss- at least if Juma Kisaame's current salary of Shs108,437,133 is anything to go by.
It is however highly doubtable if KCB Bank (Shs746 billion in assets) who are four times smaller than dfcu Bank (Shs3 trillion in assets) can match dfcu's spending power.
According to industry sources, Juma Kisaame's contract is expiring at the end of December and will not be renewed.
However, both Jimmy Mugerwa and Elly Karuhanga, the respective board Chairmen of the dfcu Bank and dfcu Limited as well as Juma Kisaame, declined to deny or confirm this, as they chose not respond to our email inquiries.
Dfcu is a publicly listed and traded bank and this information is usual public.
Sekabembe who took the Chief of Business & Executive Director in October 2016 apparently in preparation for the top job, has been highly billed to replace Kisaame, thus the massive confusion when it emerged he was on the verge of ditching dfcu- at a very crucial time.
Dfcu Board angry with Sekabembe; plotting to deny him top job
However other sources from within the dfcu board indicate that much as Sekabembe may be smiling all the way to the bank, he could have actually shot himself in the foot, as the board is furious and feels betrayed and is now looking for another potential Managing Director, other than Sekabembe.
According to the source, the board feels Sekabembe, who all along knew he was being prepped for the top job, chose to leave dfcu at a vulnerable time when "they needed him most."
At the time Sekabembe resigned, dfcu was in the middle of a reputation crisis, emanating from the controversial takeover of Crane Bank as well as the just announced exit of one of their major shareholders, CDC Group Plc and therefore could not afford a resignation of its No.2 man. That would have sparked of a market scare and a possible run on the bank.
The board therefore feels that Sekabembe sort of arm-twisted them into negotiating a hefty package for himself.
The source intimates that the board has now approached a one Mathias Katamba, the current Managing Director of Housing Finance Bank as a possible replacement for Juma Kisaame.
Katamba's equally flourishing 18-year banking career, spans various roles at Orient Bank, Post Bank, Barclays Bank,  Pride Micro Finance , Finance Trust Bank and Housing Finance Bank where he grown the bank's assets by 23% from Shs597bn in 2014 when he joined to Shs733bn in 2017.  He holds an MSc (Financial Management) degree from the University of East London with additional qualifications from Harvard University's John F. Kennedy School of Government and the University of Pennyslavia's The Wharton School.
Again, both Karuhanga and Mugerwa declined to respond to our emails and neither did Katamba.
Who is Sekabembe?
A holder of an MA, Economic Policy and Planning (2002-2004) from Makerere University, Sekabembe, started his banking career at Standard Chartered Bank in 1999 as a Personal Banker and in July 2001 he crossed over to Barclays Bank as a Prestige Banker. For 9 years at Barclays he rose through the ranks, becoming Head SME Banking in October 2008 and then was promoted to Head of Branch Distribution in December 2009.
In May 2010, he moved to Stanbic Bank as Head of Products and after 1 year and 7 months, moved to dfcu Bank as Head Consumer Banking in May 2012. He then became, the Head, Corporate Banking before being promoted to Chief of Business & Executive Director in October 2016.
Dr. Elly Karuhanga, dfcu Limited Board Chairman