BoU mismanagement of closed banks: Economists call for reforms at BoU
Following a damning special audit report by the Auditor General (AG) on 7 troubled banks, that revealed several gross errors, experts have called for sweeping reforms at Bank of Uganda.
Appearing on NTV's Fourth Estate on Sunday, 23rd September 2018, both Dr. Fred Muhumuza, a Senior Economist and former adviser to the Minister of Finance and Dr. Patrick Wakida, a leading researcher and economist, called for a review of BoU's independence, which in the present state was too wide and open to be abused as had been proven by the AG's report.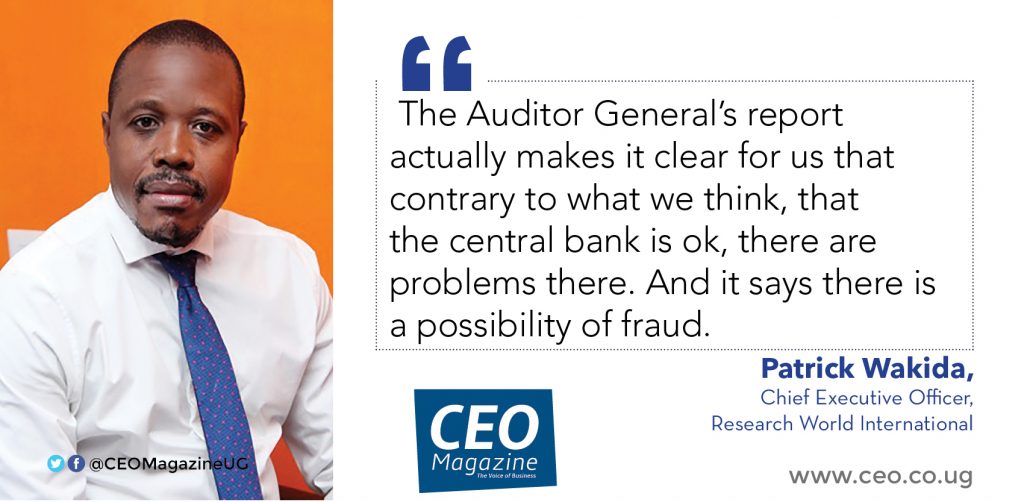 Muhumuza said that whereas the independence of the Central Bank is supposed to be limited to only monetary policy, there had been a blanket interpretation and application to include commercial bank supervision and this "too much independence" had created "complacency", "ambiguity" and "room for being compromised."
"The supervision (of banks) aspect of the Central Banks can and should be subject to regular audits… the independence of the central bank;  is more to do with monetary policy, which is more perfect. The supervision of banks needs to be subjected to an independent audit process," he said, on the panel, moderated by Charles Mwanguhya.
"There has been this debate whether bank (commercial bank) supervision should be under the central bank or a separate entity; so that the central bank focuses on its core mandate of monetary policy and not bank supervisions. There are actually jurisdictions in the world where the two are separate," reasoned Muhumuza
Dr. Muhumuza's comments, come in the wake of the AG's report that showed that BoU lacked a clear process to dispose of troubled banks and that the central Bank sold off most the troubled bank's assets without valuing them first, at very generous terms and heavily discounted prices. This not only caused losses to shareholders but also taxpayers in form of lost interest rates where the central bank sold the assets of the failed banks on credit but did not charge interest like was in the case of Crane Bank. Tax payers also have/had to foot the extra costs where the government had to step in and pay directly, yet the Central Bank could have maximized value out of the sold assets.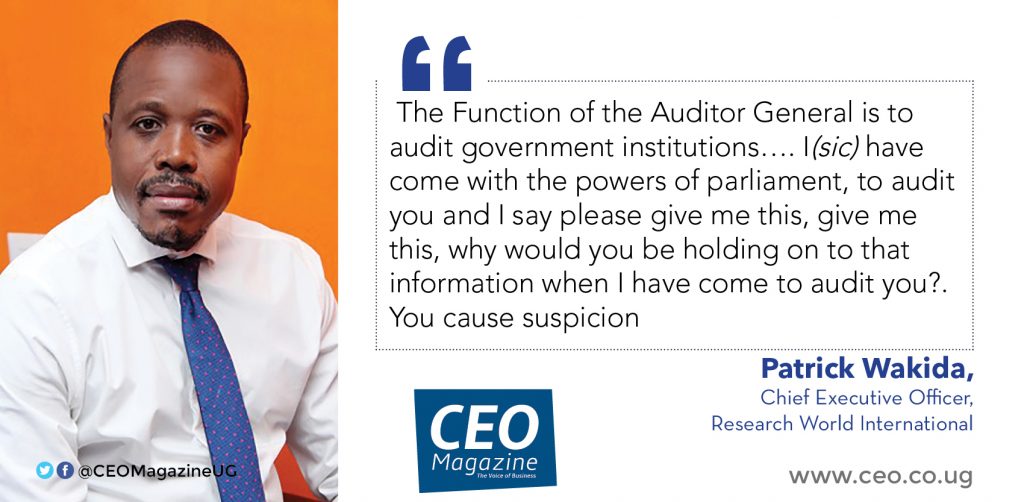 The audit came after a lot of resistance from Central Bank officials, led by Dr. Louis Kasekende, who largely pled central bank independence and that the ifnrmation needed by the Auditor General would constitute sub judice since BoU and Crane Bank were in court. It had to take the Parliament Speaker's, Rt Hon Rebecca Kadaga intervention for the Central Bank to allow to be audited, but even then, it is said, the Central Bank refused to cooperate by hiding some documents, to the chagrin of the AG and several MPs.
Too much independence to blame for the BoU rot
Dr. Patrick Wakida, an economist himself and Chief Executive Officer, Research World International said that allowing uncontrolled independence at the Central Bank is largely to blame for the failures identified by the AG.
"The central bank is the regulator of all banking institutions. Unfortunately the central bank is supposed to be independent (regulates itself)…much of the problems cited in the Auditor General's report is coming as a result of this," he said.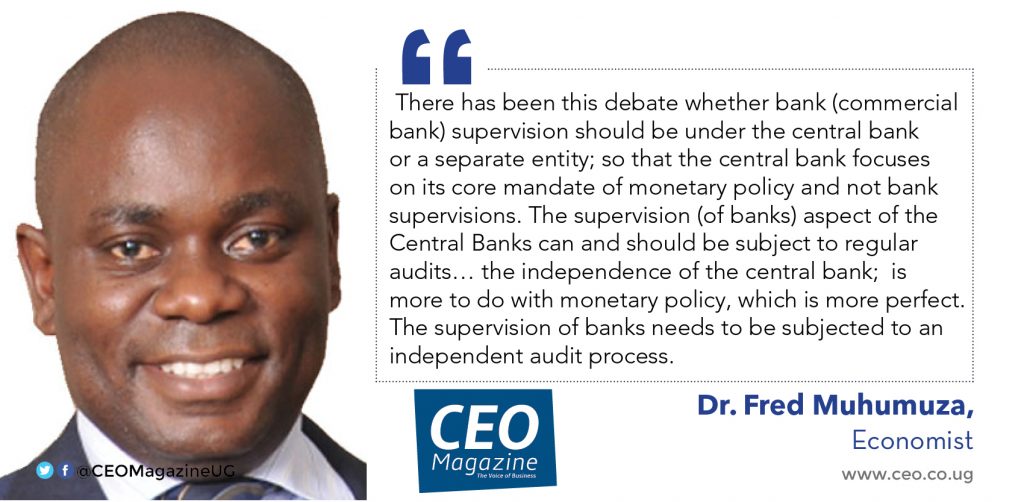 Wakida also called out the central bank for resisting audits and in some cases failing to hand over some documents to the Auditor General, a situation he said was creating an aura of suspiciousness.
"The Function of the Auditor General is to audit government institutions….why would you be holding on to that information when I (sic) have come to audit you? You cause suspicion," he wondered.
"The Auditor General's report actually makes it clear for us that contrary to what we think, that the central bank is ok, there are problems there. …it says there is a possibility of fraud," he said.
Dr. Wakida reasoned that there is a lot of wrong things that could be happening at the Central Bank as evidenced by the 'fights' between the former executive Director, Central Bank Supervision, Mrs. Justine Bagyenda and the Governor, Professor Emmanuel Tumusiime Mutebile, shortly before she was fired, and called upon the Central Bank to come forward and clear the air.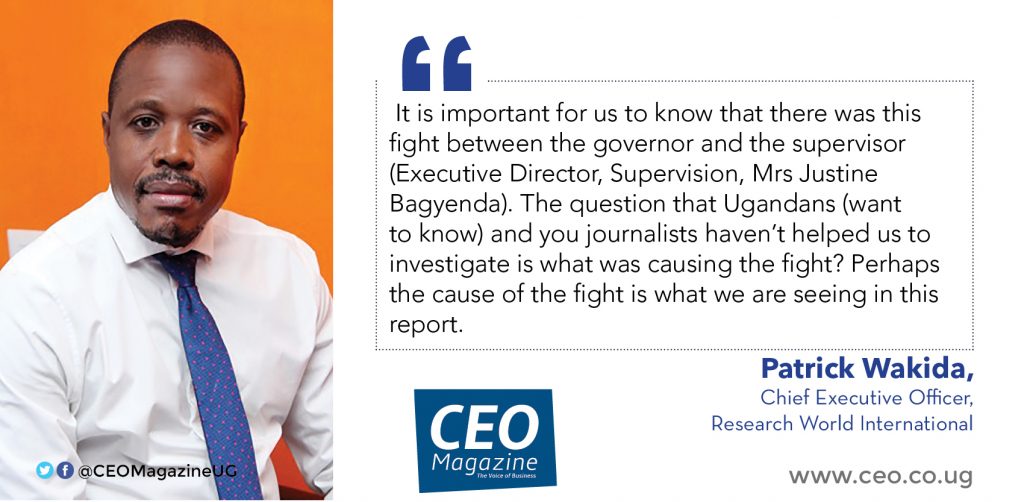 "The question that Ugandans (want to know) and you journalists haven't helped us to investigate is what was causing the fight? Perhaps the cause of the fight is what we are seeing in this report," he said, adding: "In an institution that is supposed to give confidence in the Economy, you do not want to be hearing those kinds of statements (fights)."
It shall be recalled that in an August 1, 2017 interview with Daily Monitor, BoU Governor, Prof Mutebile denied direct responsibility, but instead pointed fingers at Bagyenda as being responsible for this mess.
"It was Bank of Uganda staff but not the entire BoU. BoU has an executive director in charge of supervision," he told Daily Monitor's Ivan Okuda adding that, while he was responsible for what went wrong as the Governor, he was not "not criminally culpable."
Asked who was criminally culpable, he said: "Ask the executive director for Supervision (Ms Justine Bagyenda)."
She would later be fired, in February 2018 and replaced with former Uganda Communications Commission (UCC) Director, Industry Affairs and Content (Economic Affairs), Dr Tumubweine Twinemanzi.
Bagyenda is already subject to a joint inquiry by the Inspector General of Government and the Financial Intelligence Authority.