BEAUTY WITH PURPOSE: Victoria University Awards Education Scholarships to Miss Curvy contestants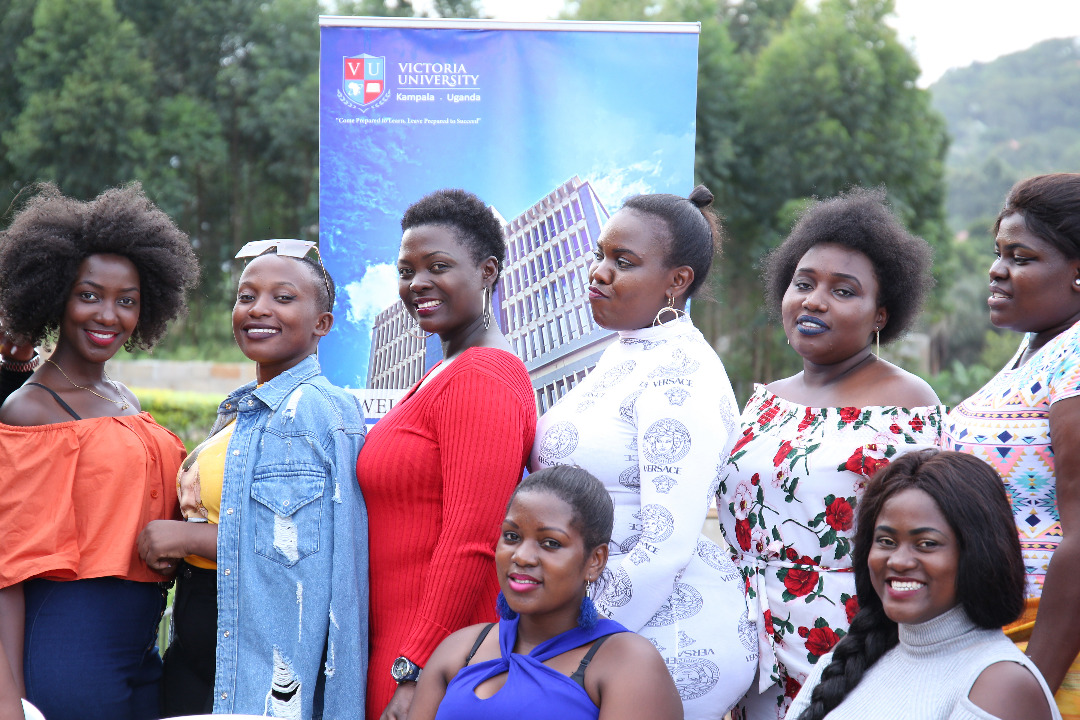 The Ruparelia Foundation through Victoria University is extending scholarship offers to the Miss Curvy contestants for any of their Masters, Bachelors, Diploma and Foundation programs.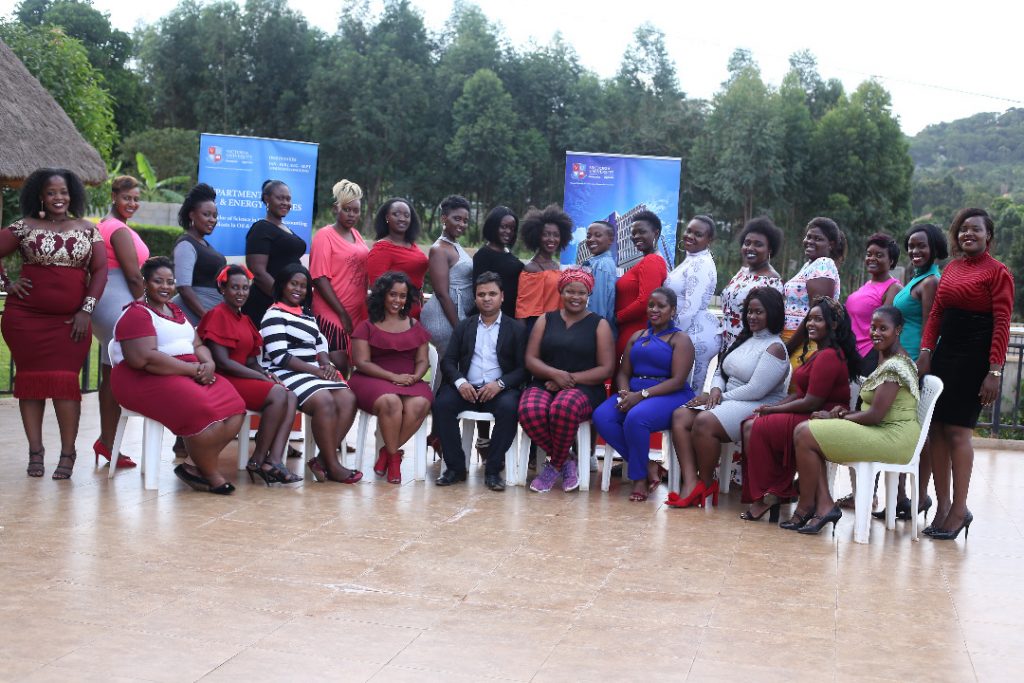 The University is awarding the overall winner of the Miss Curvy with a 100% scholarship on tuition of any
Degree, Diploma or Masters in any of the four faculties of; Health Sciences, Business and Management, Humanities and Social Sciences, Science and Technology and the Department of Petroleum and Energy Studies.
The remaining 24 contestants will be awarded with a 70% scholarship on tuition. All contestants are eligible for a free short course in Public Speaking and Presentation.
The scholarship shall be provided to only those contestants who have the entry requirements as per the National Council for Higher Education.
The grand finale is slated for Friday, 26th April at the Imperial Royale Hotel in Kampala.
This was announced on April 24th 2019 by the University's Vice Chancellor, Assoc. Prof. Krishna N. Sharma, who said that the university's offer is driven by the desire to "impart and provide knowledge to the contestants" as a means to "building their career growth."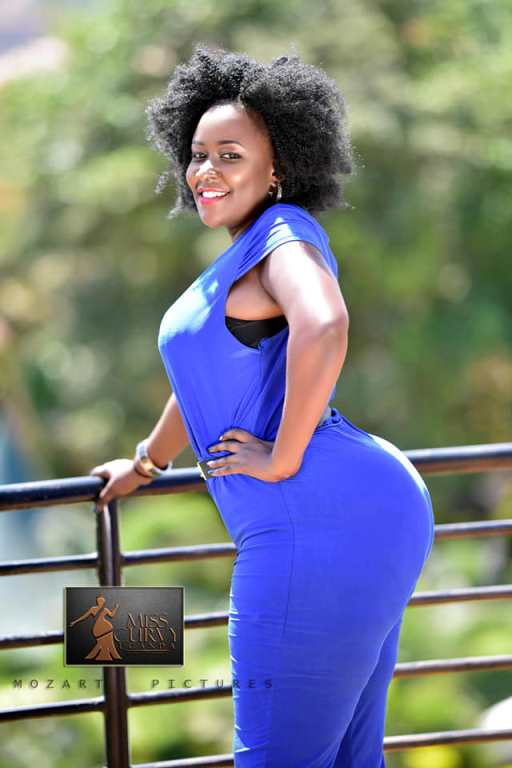 "We appreciate Miss Curvy for organising this event to appreciate the participants and plus size females.
Victoria University is happy to be partnering with Miss Curvy for purposes of enhancing career growth and positive life enrichment of the Miss Curvy contestants," he said.
He applauded the contestants and the pageant organisers for their resilience and facing up to the numerous challenges in the run-up to the pageant.
"We are giving them free short courses in Public Speaking and Presentation so that they may effectively transfer their leadership skills, implant the message of having pride in who they are, inspire and motivate others who may be facing similar challenges what they have faced in the past," he said.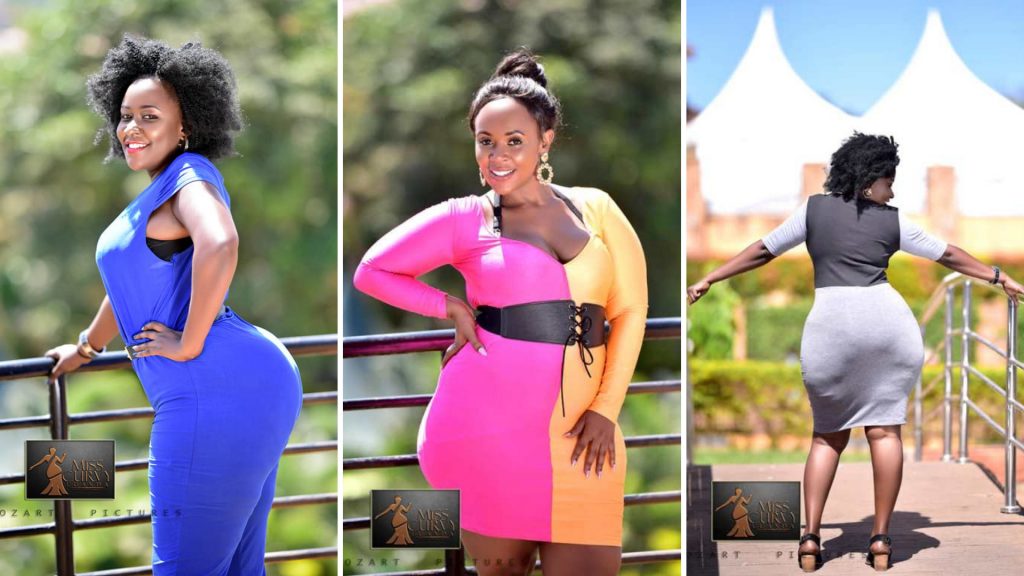 The CEO of Miss Curvy Uganda, Ms. Annie Mungoma commended Victoria University for the offer which she said would have a direct impact on the contestants career paths- in line with their theme; Epitome of African Beauty.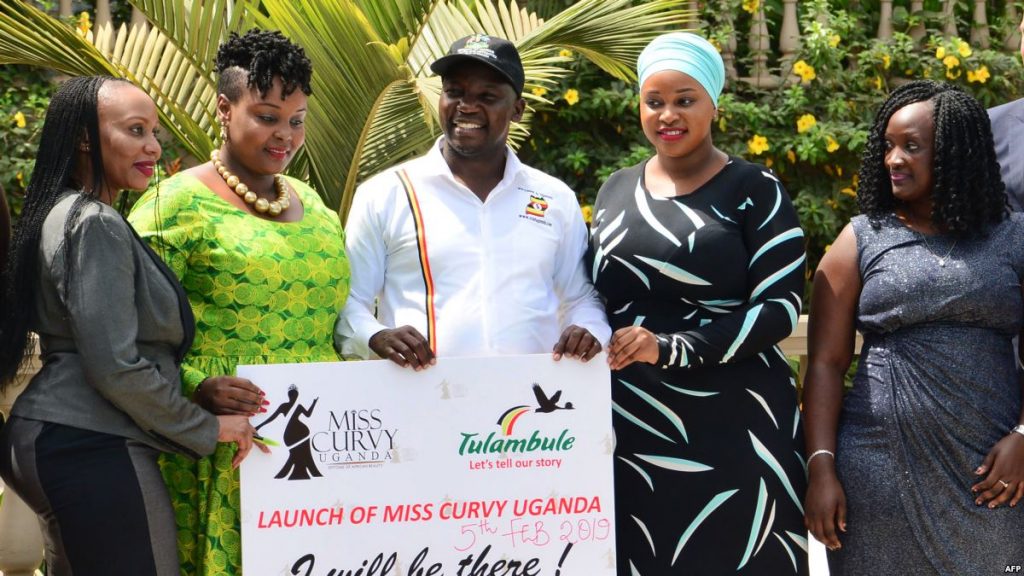 Owned by the Ruparelia Group, Victoria University is a premium University accredited by the National Council of Higher Education and Uganda Nurses and Midwifery Council.
Miss Curvy is also sponsored by Balaam Marketing Agency, Hill Water, Forest Park Resort, Sisters Bridal Shop, Nican Resort, Club Ambiance and Victory School of Beauty and Hospitality Management
LUXURY IN THE WILD: Uganda's 25 most luxurious safari lodges you must visit before you die!
.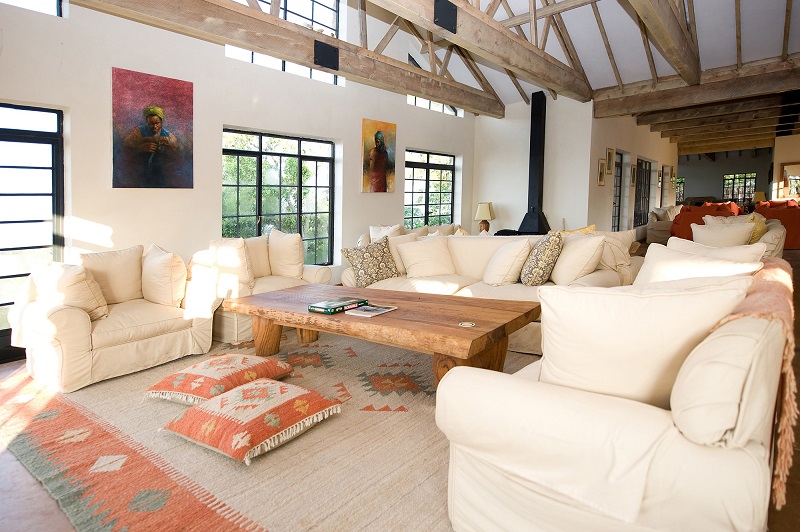 Uganda is no doubt the Pearl of Africa!
Sir Winston Churchill, trying to qualify this famous statement, said that Uganda is the place to go "for magnificence, for variety of form and colour, for profusion of brilliant life – bird, insect, reptile, and beast – for vast scale."
Probably, if Churchill was still alive, and were to return today, he would add: "for sheer luxury in the wild – and a little bit of party after party!"
As we head into the Festive Season, our team, building on their own experiences, did extensive consultations with tour and travel experts as well as consulted online travel and hospitality platforms such as TripAdvisor and other user reviews and compiled what we think is Uganda's 25 most luxurious safari lodges.
The lodges are not necessarily presented in any ranked order, as each of them has some uniqueness and allure, probably unique to it only. So to avoid the biases, we have presented them in an alphabetical order.
Behold, Uganda's 25 most luxurious safari lodges!
---
1 of 25: Apoka Safari Lodge
Kidepo Valley National Park
---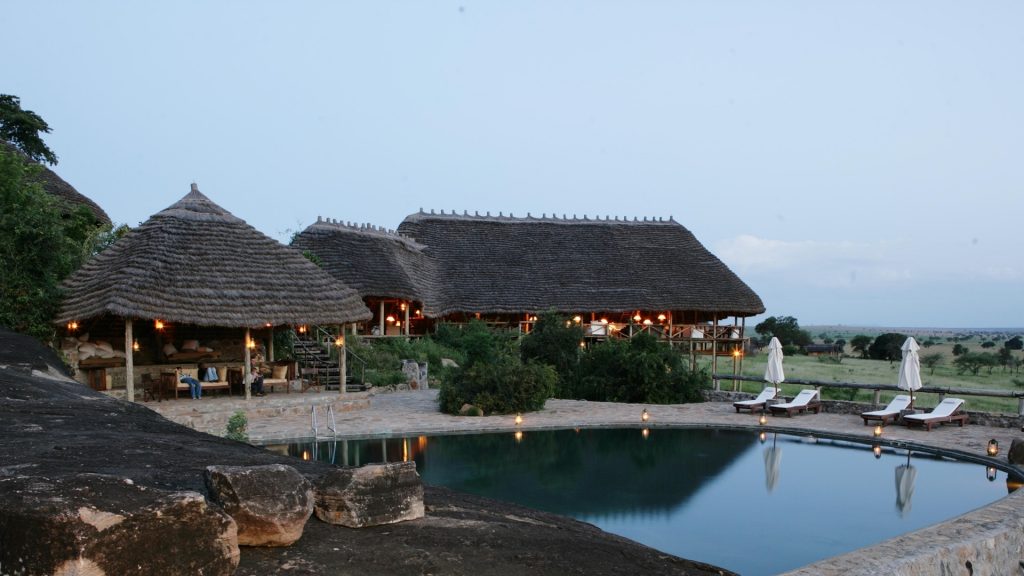 When you close your eyes and think of Africa; the landscape you imagine – the jagged hills, the golden grasses, the plains dotted with wildlife, the soft glowing light – is likely to be Kidepo Valley National Park.
This is Uganda's remotest park, far far away from city life. It is the place you go to literally run away from the madness of the city.
And if you are looking for a little luxury in the wild, Apoka Safari Lodge the place for you. To get there, you have to brace tour self for up to 10 hours on the road via the Kampala Gulu highway. There are also chartered flights to Kidepo from Kajjansi Airstrip (Kampala), Entebbe Eagle Aviation and with Kampala Aero Club to Lomej airstrip near Apoka. The flight take 2 hours.
Apoka is one of the high end safari lodges in the park. It overlooks the Narus river valley one of the two river systems in the part. When the park dries up in the dry season, most of the animals flock to the wetlands and remnant pools along the Narus valley, increasing chances of visitors taking in as many animals as there are in the park.
It has 10 bedrooms that each have a spacious sitting room, tropical showers, sheltered terraces, private verandas and stone bath tubs on their outside. The rooms have the touch of Africa with just their architecture, hand woven carpets and the art pieces that are hang on the walls of the room. As much as Apoka is in the wilderness, they try as much as possible to ensure that their guests stay with the comfort they experience when they are in the city.
Apoka safari lodge also has a restaurant that serves a variety of dishes from continental to African. The restaurant also serves different wines and beers to their guests. They also have a magnificent pool that automatically gives you the urge to jump into it when you look at it.
The owners of the Apoka Lodge- Wildplaces Africa, who pride themselves in providing "the finest accommodation in Uganda's wildest places," also own Semliki Safari Lodge in the Semliki Valley Wildlife Reserve and Clouds Mountain Gorilla Lodge next to the famous Bwindi Impenetrable Forest National Park.
To make reservations simply call +256 (0) 414 251 182 or +256 (0) 772 489 497. You can also send and email to reservations@wildplacesafrica.comWildplaces Africa or even better make your booking on Trip advisor.
---
2 of 25: Baker's Lodge
Murchison Falls National Park
---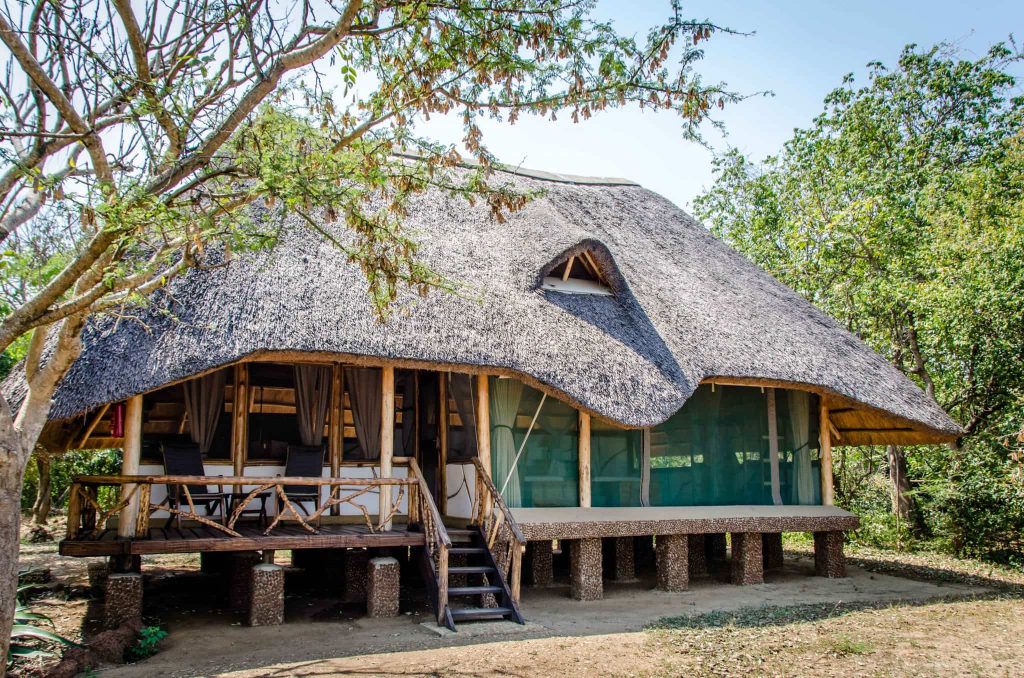 Opened in 2015, by Wild Frontiers Ltd, in Murchison Falls National Park, on the southern bank of the mighty Nile River, Baker's Lodge is named after the English explorer Sir Samuel Baker – the first European to view and name the Murchison Falls
Under their Exclusive Camps mother brand, Wild Frontiers runs three other camps, namely; Ishasha Wilderness Camp, Buhoma Lodge and Platinum Camp
Baker's Lodge rests amongst large shady trees fading into a wetland vegetation. This cozy, safari-styled lodge offers vast and magnificent views of the river with its small islands teaming with birds, elephants bathing and pods of hippos.
This lodge is a 5 hours' drive from Kampala via Kampala-Masindi route. It is found on the shores of the tranquil waters of the river Nile within the Murchison falls national park.
Bakers' lodge has 10 suites that are individually thatched and raised from the ground on supporting pillars and each has a deck overlooking the river. The suites have customized wooden furniture, en-suite bathrooms with hot water showers and bath tubs in some units.
With a thatched central lounge, dining and bar area, and a refreshing swimming pool, the eco-friendly lodge offers an 'Africa of old' feel. The main lounge has 180-degree views of the river and the cool and refreshing breezes that come with it.
The rates for the rooms are full board and therefore include 3 multiple course meals per day, hot beverages all day, bar snacks, house drinks and other camp services.
The lodge has on-site vehicles that can be used for safari drives in the national park. Guests can also have a boat ride on the River Nile arranged for them.
We recommend a stay of between two to four nights as this varied eco-system offers so much to see and do.
Contact the team at Bakers Safari lodge by sending and email to reservations@ugandaexclusivecamps.com. You can also call them on +256 772 721 155 to make your reservation.
---
3 of 25: Brovad Sands Lodge
Kalangala District, Ssese Islands
---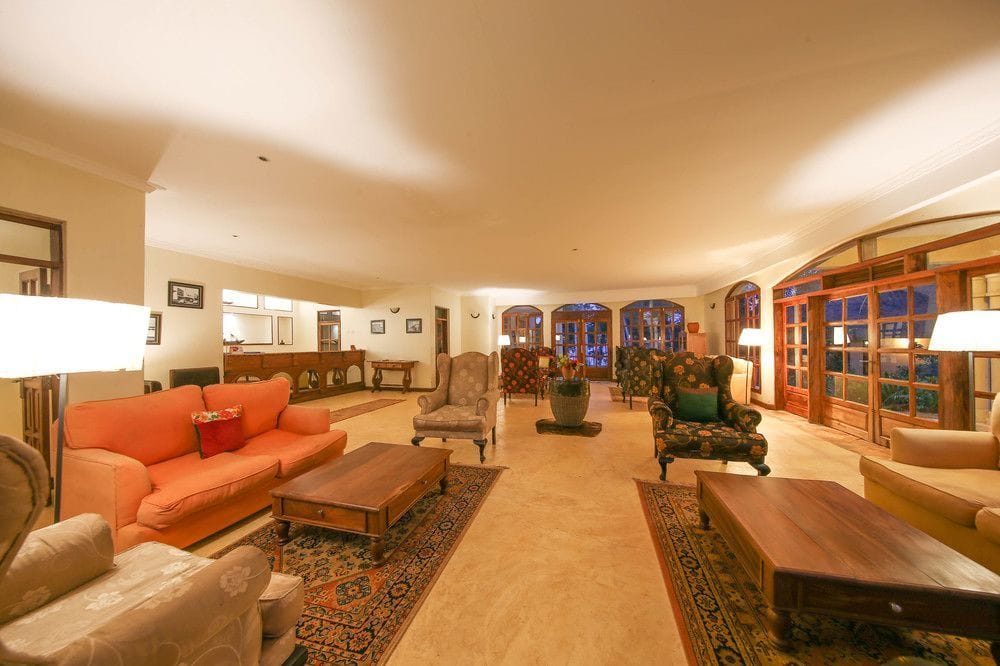 Probably the best lodge on any of the 83 islands of Lake Victoria, Brovad Sands Lodge is neatly and secretly nestled in fully grown natural forests of Bugala Island- the second biggest of all Lake Victoria islands.
With direct access to the lake and with shores all lined up with sandy beaches, Brovad is a perfect escape destination for a blissful beach holiday, in an inviting, cozy and relaxing atmosphere.
Perhaps the appeal of Brovad lies in being so near to Kampala- it takes on average about 3-4 hours to the island, yet very far, because of the limited interconnectivity to the island, allowing you to enjoy an uninterrupted rest.
The MV Kalangala ferry operates a daily route from Nakiwogo Landing Site, Entebbe every 2pm and a return journey every morning at 08am- a journey of about 3 hours. Alternatively, you can use the MV Vanessa, a private boat that charges about UGX85,000 per head for a 1 hour and 15 minutes ride to the island- ideal if you do not have a lot of luggage.
There is also a second ferry option, through Masaka, Bukakata where there are more ferry crossings, almost every hour. The ferry options are ideal if you would like go along with a vehicle. But even without a vehicle, Brovad operates pick-ups from the ferry.
The lodge has 40 cottages – a mix of suites, cottages and family villas- all finished with an African touch and with a rustic coastal feel. There are spacious walk-in showers and full body bath tubs for a more relaxed dip.
The lodge sits on the shores of Lake Victoria so guests get to enjoy the sandy beaches as well as the spectacular views and a breath of fresh air from the lake. Every evening, there are campfires by the lakeside to warm the guests.
On top of the swimming pool, Brovad has a steam and sauna, spa, also a conference hall where corporate events can be held.
Reservations for Brovad can be made on Trip advisor, Booking.com. You can also physically visit their office at Communication house, Kampala Ground floor shop number 4.
---
4 of 25: Buhoma Lodge
Bwindi Impenetrable Forest
---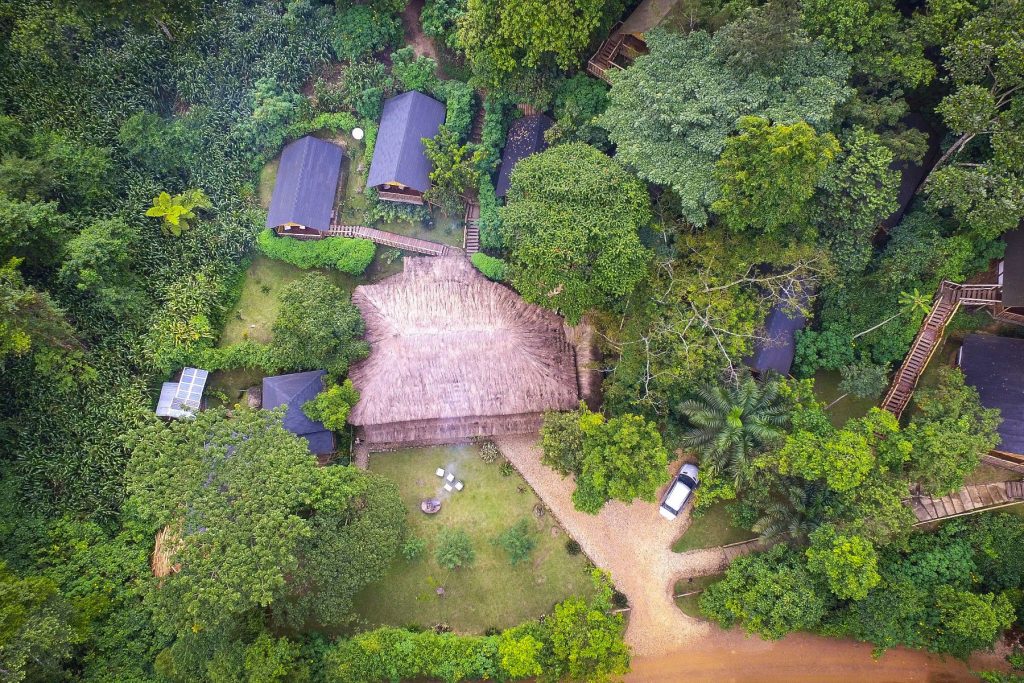 "A slice of luxury at the doorstep of Bwindi Impenetrable Forest," that is how the owners of Buhoma describe this top quality and intimate property that commands spectacular and uninterrupted views of the Bwindi Impenetrable Forest National Park, home to the rare and elusive Mountain Gorilla.
Located, a short distance from the starting point for gorilla tracking, this lodge is certainly a must-visit whether for gorilla tracking or simply a wild-wild getaway.
Buhoma has ten, largely wooden chalets mostly handcrafted with locally sourced building materials like thatches, reeds and bamboo and stones. Each of the chalets opens to private verandas with extensive views of the green canopy beyond the horizon.
The large beds inside the spacious rooms with roomy en-suite bathrooms with flush toilet and a warm rain shower bathrooms will for a minute make you forget you are in the wild, hundreds of kilometers away from the city centre. Some chalets also offer a bath-tub for just a little bit more spoiling and your money's worth. The family / honeymoon chalet is a little bit more embellished with a separate lounge room with an open fire place, to set the hearts on fire.
For reservations, CLICK HERE and fill in the form or simply call +256 772 721 155
---
5 of 25: Chobe Safari Lodge
Murchison Falls National Park
---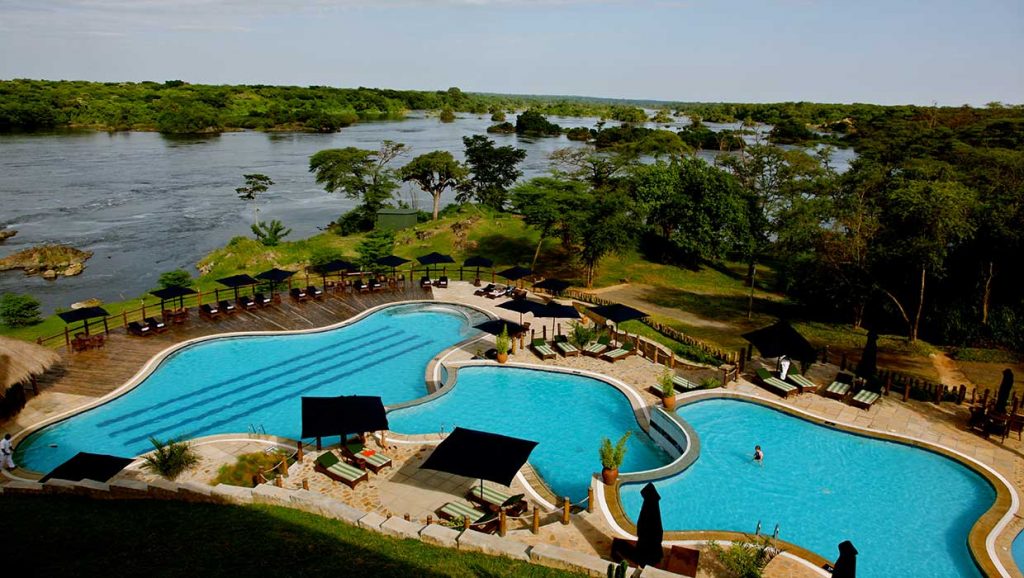 Another of those gems, owned by the Marasa Africa, Chobe Safari lodge is also found in the famous Murchison Falls National Park. This five-star lodge is one of the biggest gems in Uganda's tourism industry. It has hosted popular Hollywood stars Kim Kardarshian and Kanye West during their visit to Uganda.
It is a three and a half hour's drive from Kawempe (Kampala), along Kampala Gulu highway and after a cool 248km, past the Karuma Bridge, you branch off at the sign post and drive for about 14km to the lodge.
Alternatively, you can travel by air from Entebbe airstrip to Chobe Airstrip which is within the lodge for just an hour.
Chobe has 26 elegant rooms, 21 luxury tents, 4 suites and one presidential cottage. The River Nile is the most breath-taking feature at Chobe so all the rooms have balconies that have a view of the river.
The pool at Chobe is one of the most extra ordinary features of the lodge. It has 3 tiers with each overlooking the River Nile. It is idle to cool of in the pool as you watch the sunset and the Nile flow on its journey.
Chobe also has a restaurant and bar that serve international and African cuisines and drinks respectively. It also has a business centre, gift shop and room for corporate events.
Because Chobe is situated in a park with a variety of mammals and bird species, there are a variety of things you can do. You can fish, have game drives, visit the Murchison falls, hike, have bush breakfast among many other activities.
To make a reservation at one of Uganda's tourism gems, go to tripadvisor.com or simply call +256 372 259300 .
---
6 of 25: Clouds Mountain Gorilla Lodge
Bwindi Impenetrable National Park
---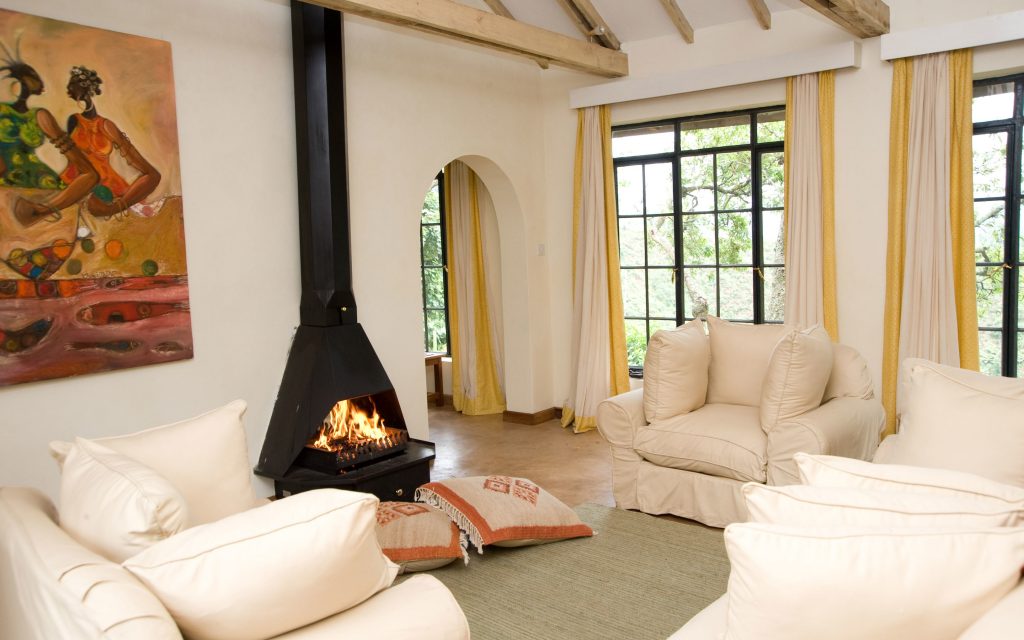 Clouds Mountain Gorilla Lodge, is probably one of those reasons the word remote begins to make a lot of sense.
But the lodge is also beautiful and located just in the right place- on the outskirts of Bwindi Impenetrable National Park; far enough from the city, yet so near to one of the world's most prized tourism assets- the mountain gorilla.
And at over 2,000 metres above sea level, it is also Uganda's highest lodge.
The owners of the lodge, Wild Places Africa are so much in love with their lodge that we chose to use their own words, to describe it.
"Guests at Clouds stay in their own cottage. Built of local volcanic stone, every cottage has a large sitting room with fireplace, vast overstuffed armchairs, and hand-woven carpets. Each individual cottage features the work of one of Uganda's most respected artists (we call them the 'Clouds 9')," write the owners on the lodge's website.
"The main lodge feels like someplace else – soaring ceilings, massive exposed wooden beams, big picture windows with endless views of treetops, volcanoes and mountains. It feels like a ski chalet in the alps. Or a stone palace in the Rocky Mountains," they add.
And we agree with them.
For those crazy about road trips, this is just the perfect trip for you- 9 hours' drive from Kampala using the Kampala-Mbarara-Kabale road. But you can shorten the trip by flying there to the nearest Kihiihi Airstrip.
And when you spend your money here, be rest assured that you are spending it on a good cause- because some of it goes to benefit local communities.
Reservations for Clouds Mountain Gorilla lodge can be made by visiting the physical office for Wildplaces Africa at Plot 5, Binayomba Rd in Bugolobi Kampala. You can also contact Wildplaces Africa by calling +256 (0) 772 489 497.
---
7 of 25: Crater Safari Lodge
Kibale Forest National Park
---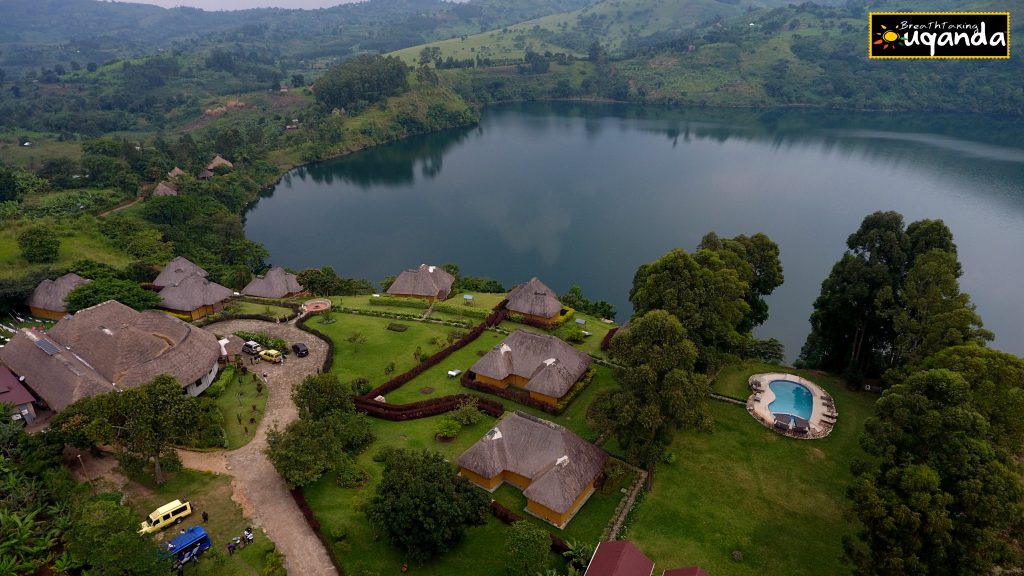 Recognized as a top Luxury Eco Safari Lodge in East Africa by The World Luxury Hotel Awards for 2018 and 2019, Crater Safari Lodge is an undiscovered gem.
Set, just a couple of minutes from the famous Kibale Forest National Park, on the cliff edge of Nyinabulitwa Crater Lake, Crater Safari Lodge is a combination of luxury set amidst panoramic landscapes- just the ideal location for a tranquil escape.
But for the adventurous nature lovers, Crater Safari Lodge's setting; just next to Bigodi Wetland Sanctuary, Kibale Forest National Park, famous for its flora and fauna, especially the primate life as well as the nearby 9 crater lakes- there is simply too much to take in.
But Whatever you do, do not leave Crater Safari Lodge without taking the Top of the World Hike to the nearby highest vantage point to take in the crater lakes, tea plantations and village life.
The lodge is run under the Crystal Lodges umbrella, owned and run by a Ugandan, Christine Mwinike, the founder and proprietor of Crystal Safaris. The group also owns and runs Gorilla Safari Lodge on the outskirts of Bwindi Impenetrable Forest, famous for Gorillas.
Accommodation comes in two configurations- either 11 thatched stand-alone wooden cabins/cottages and 10 standard pool facing cabanas- all touched with a mix of African décor tinctured with modernity.
When the temperatures go up, there's a swimming pool to cool off and when temperatures get down, there is always a fire to warm the spirits.
Through Crystal Safaris, Guests can also arrange for tailor made safaris including flight packages, accommodation and transportation to and from nearby airstrips and activities.
For reservations, visit https://crystallodgesuganda.com/contact-us
---
8 of 25: Elephant Plains Game Lodge
Queen Elizabeth National Park
---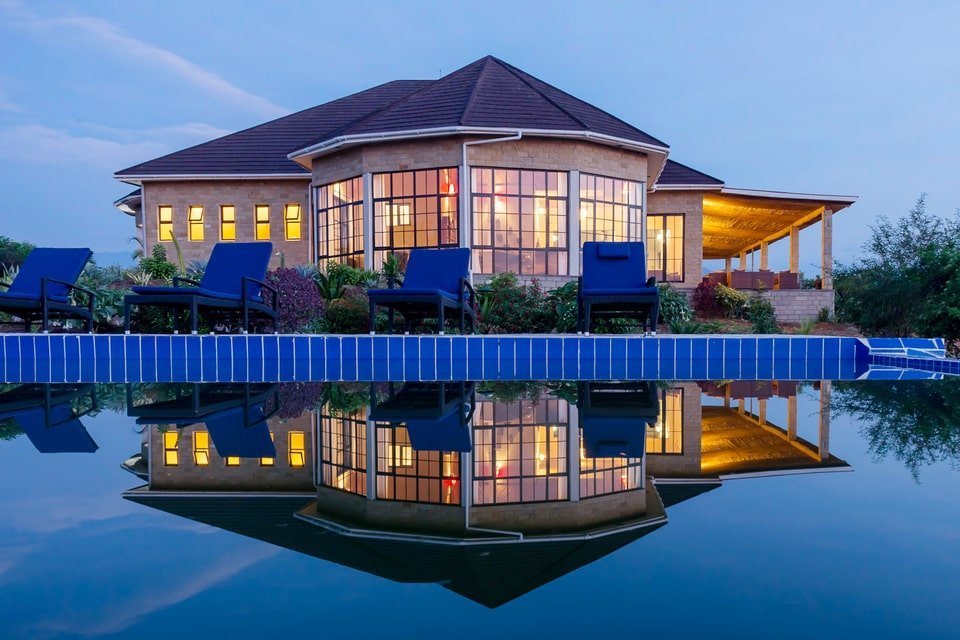 The latest of the Uganda Lodges babies, Elephant Plains is one of Uganda's newest lodges that is located in Queen Elizabeth National Park in Western Uganda. It is
Sitted on the Northside edge of Queen Elizabeth National Park, at 941 metres above sea level; on the western escarpment of the Albertine rift valley- just a few minutes on the norther flanks of the Equator line, Elephant Plains is a medley of many good things.
The lodge is a 6 and a half hours' drive from Kampala using Kampala-Masaka-Mbarara-Kasese road and just 2 minutes from the Queen Elizabeth National Park gate.
Elephant plains has 6 spacious double en-suite cottages with large private verandas and huge glass for guests to have a view of the lake from the comfort of their rooms. It also has 2 family cottages with 2 en-suite bedrooms and these have space for up to 5 people. All the rooms have large bath tubs, walk-in showers.
All the rooms overlook Lake Kikorongo with stunning views and occasional sightings of animals, especially elephants.
The lodge has a spacious restaurant with an outside dining deck with 270º views of the landscape. The restaurant serves an international menu coupled with a well-stocked bar that serves a variety of drinks for guests as they enjoy the views.
Reservations can be made on Trip Advisor and Booking.com.
---
9 of 25: Emburara Farm Lodge
Mbarara-Ibanda Road, Mbarara District
---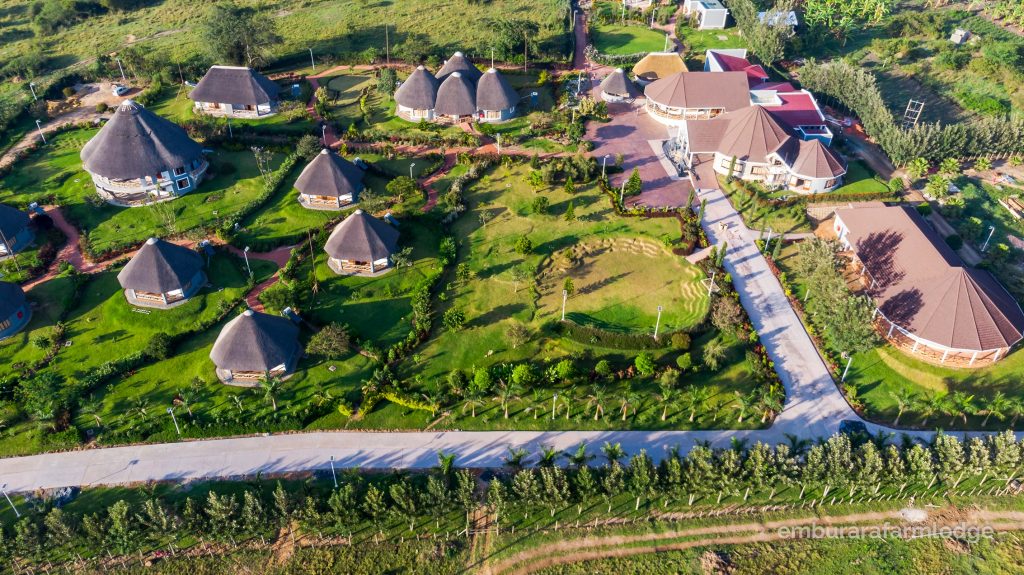 Emburara is an eco-luxury lodge, neatly perched on a hill, just 14 kms away from Mbarara city center, at a cattle farm along Mbarara-Ibanda road, just 1.5km after the Civil Aviation Authority (CAA) run Nyakisharara airstrip to your left.
For the uninitiated, an eco-lodge is a hospitality facility designed to have the minimum possible impact on the natural environment in which it is situated.
Emburara derives its name from a local tall grass- Emburara (Hyperemia ruffa); a 'delicacy' for Ankole cows & famous 4 boosting milk fat content. It is also said that Mbarara district where the lodge is located, also picks its name from this grass.
A story is told of when the first colonialists came to Ankole, they were awed by the beauty of this grass that straddled the hills and valleys of the place. The British colonialists asked the local people what the grass was called and they were told it is Emburara. As expected, the white man could not pronounce the word Emburara correctly and ended up mispronouncing it as Mbarara. The mispronounced word "Mbarara", would end up in all the written literature- remember the locals did not know how to write then, and like they say, the rest is history.
Emburara Farm Lodge is uniquely designed, built, finished and furnished with a tasteful mixture of traditional and modern materials- giving off an aura of class and culture.
In total, there are 27 mixed-use spacious rooms- VVIP rooms (nyaruju), honeymoon suite (ekitu) 9 in 1 deluxe rooms (enju), 5-in 1 family cottages (eka), 2 in 1 blocks, 2 in 1 cottages and some single cottages.
There is a modern kitchen and restaurant called egabo (runyankore for food) that serves both local and Intercontinental cuisines. The aptly named inzoga bar (Kinyarwanda word for beer pot) bar is both tastefully finished and fully stocked to quench all types of thirst (emphasis mine)!
Emburara also has conference facilities, a business centre and free Wi-Fi, amongst other facilities.
Away from the luxurious finishing, Emburara has it all- the breath-taking views- rolling hills, countryside farms, flora & fauna- it is basically a fresh breath of air.
Emburara is basically perfect for either individual and or group getaways, family vacations or honey moons, as well as educational tours.
To stay in one of Western Uganda's pride lodges, you can make reservations on booking.com, tripadvisor.com, and expedia.com
---
10 of 25: Ishasha Wilderness Camp
Queen Elizabeth National Park
---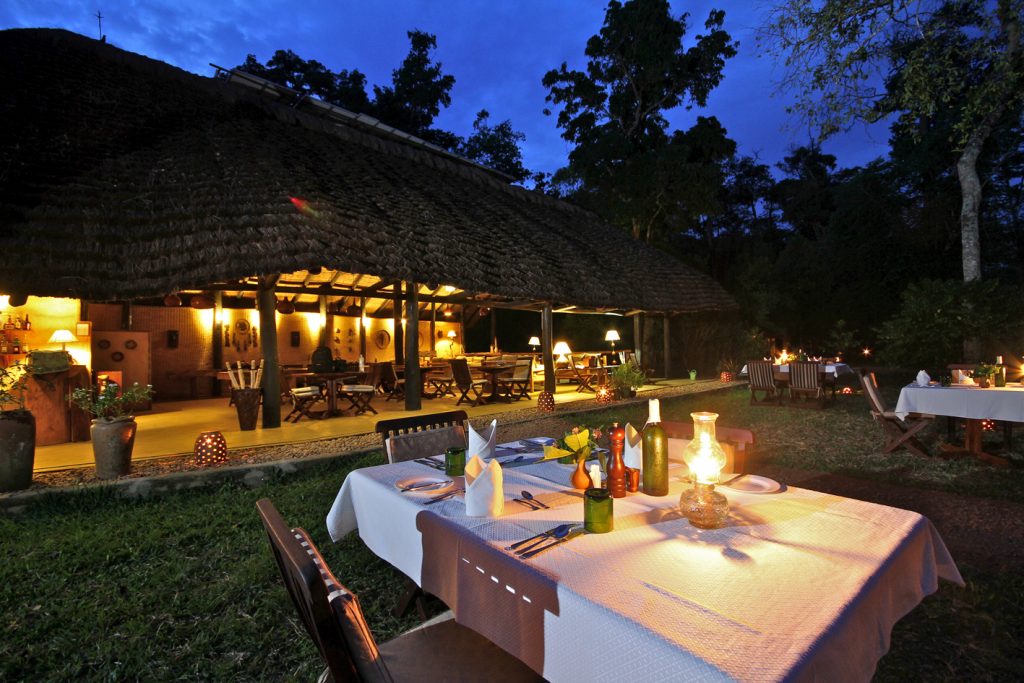 Another Wild Frontiers property, Ishasha Wilderness Camp is an idyllic retreat for people who truly enjoy the wilderness. This intimate camp has been awarded a TripAdvisor Certificate of Excellence for its superb quality accommodation and exceptional service. It is very popular for the tree climbing lions in the park.
It is located in the Southern Ishasha sector of Queen Elizabeth National Park which is a 7 and a half hours' drive from Kampala.
Set next to the Ntungwe River, each of the camp's ten spacious canvas tented rooms has a private verandah overlooking the river. Comfortably furnished with large mosquito-netted beds, all rooms are en suite with hot 'bush' showers, running water for hand basins and a flushing 'eco-friendly' toilet.
The thatched central lounge and dining area provides a comfortable setting for meals and relaxation. In the evening, the outdoor fireplace offers a perfect place for guests to relax with sundowners and share their day's experiences.
Being within the park, as you drive to the camp, guests often get bonus views of the animals such as elephants bathing in the river, buffalos grazing and the resident troops of Black-and-White Colobus and vervet monkeys playing about.
If you are lucky, George, the lone hippo, can also be seen within the camp premises. There is attentive security staff always on standby to escort and assist guests, should they feel the wildlife is too close!
Bush breakfasts and sundowners within the park complete the 'bush' experience offered at Ishasha Wilderness Camp.
Reservations can be made on both trip advisor and booking.com. You can also contact the team by calling +256 772 721 155 to make a reservation.
---
11 of 25: Kyambura Gorge Lodge
Kyambura Gorge, Rubirizi District
---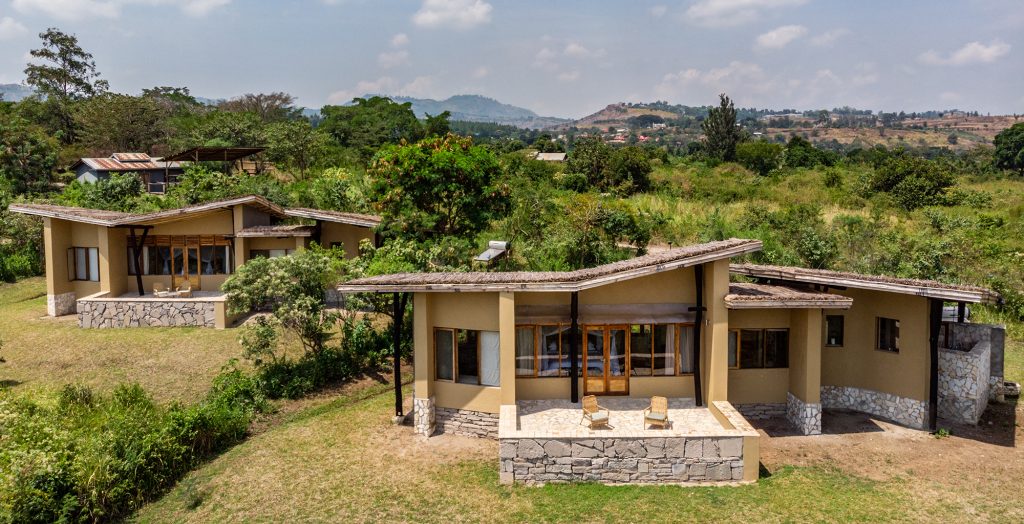 Kyambura Gorge lodge is located in Queen Elizabeth National Park and overlooks the Kyambura gorge hence its name.
The gorge itself is filled with a tropical rain forests right close to the equator crossing making it home to chimpanzees and several bird species. The only primates in the park are found in this area- a golden reason for staying at the lodge.
There are also 3 crater lakes in the vicinity that that attract huge numbers of flamingos – the only place you can see flamingos in the entire Uganda.
The lodge, owned by Volcanoes Safaris, has 8 uniquely designed and built bandas, borrowing a lot from the local architecture and materials- each with a private balcony and a personal butler for personalized service.
The lodge also has Wifi accessibility for the guests, a massage parlor and a swimming pool for cooling off the heat from rift valley. They also have a restaurant that prepares exquisite meals for their guests.
At the lodge guests can do chimpanzee tracking, gorge hiking or do boat rides at the nearby Kazinga Channel that connects Lakes Edward and George. Needless to say, the nearby Queen Elizabeth National Park, Maramagambo Forest and the 32 crater lakes of Bunyaruguru are all within an hour's reach.
So much for just one lodge!
Volcanoes Safari can be contacted to make a reservation at this beautiful lodge by simply filling in THIS FORM.
---
12 of 25: Kyangabi Crater Lodge
Rubirizi District, Western Uganda
---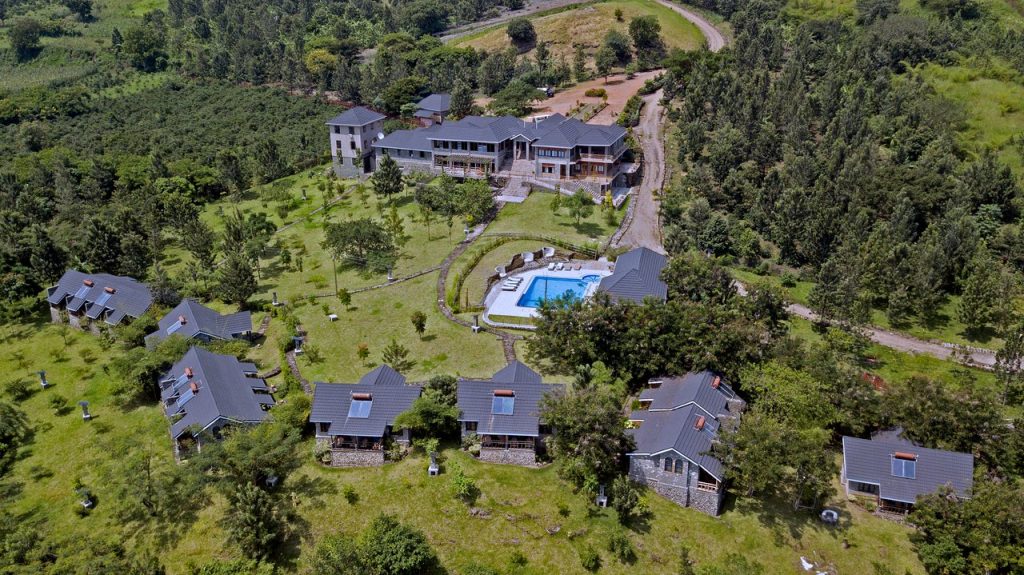 In our view, Kyangabi Crater Resort is a little piece of heaven waiting to be discovered.
Located in Rubirizi District, in Western Uganda just on the edges of Queen Elizabeth National Park in an area alive with 32 crater lakes, Kyangabi is an ideal place you go to forget about your troubles, release your inner spirit and set your soul on fire.
The lodge has 32 differently styled rooms that are designed to meet and or can be reconfigured to meet the preferences of the guests. The rooms are divided into family rooms, double rooms and twin rooms. The family rooms have a sitting room with a master bedroom and a twin room- all with en-suite bathrooms.
To complement the serenity, the facility also has a wellness center with a massage parlor, gym and a very beautiful swimming pool where guests can comfortably relax. There are also a variety of activities ranging from nature walks, fruit-picking adventure, bird watching, craft shop, children's games, tourist attractions, boat cruises and swimming.
Reservations can be made on booking.com and tripadvisor.com
---
13 of 25: Kyaninga Lodge
Kibale Forest National Park
---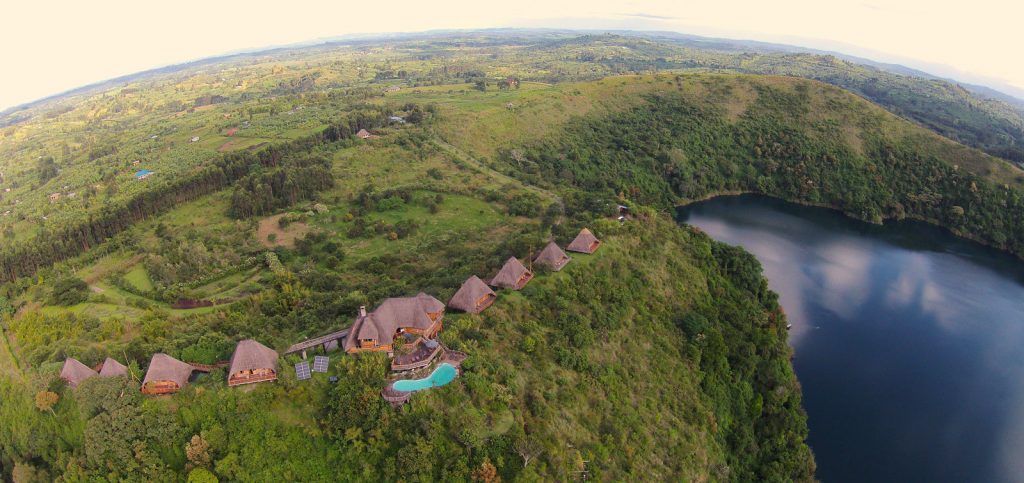 Perched on a volcanic cliff overlooking Lake Kyaninga, itself a volcanically formed crater lake, Kyaninga Lodge is located in one of the most romantic places in Western Uganda.
It is aptly named as well- since Okuninga from which the word Kyaninga is derived, in the local Rutooro language means spoiling someone. Indeed, Kyaninga Lodge is the place you go to either spoil yourself or your loved one.
Other than the spectacular backdrop of Lake Kyaninga, here you can also see the 'Mountains of the Moon'- especially in the mornings and evening- a very beautiful African experience if you ask me.
Getting there is roughly a 4 and a half hours' drive from Kampala using the Mubende-Mityana-Fort Portal route.
Kyaninga has 9 cottages that are raised on platforms with views of the lake. Each cottage comes with a choice of twin or double beds with soft linens and feather pillows. The cottages have en-suite bathrooms and also have private decks where guests can view both the lake and the Mountain ranges.
The main lodge has a restaurant that offers a three-course cuisine. Its menu is basically of European cuisines coupled with some local dishes as well. The bar is also well stocked with a variety of drinks from beers to wines, whiskeys and so much more.
The terrace at the lodge leads to the pool that overlooks the Lake Kyaninga. At this point, guests get the feel of being a thousand miles away from the world because the views are very tropical- a full encounter of the wilderness.
The guests can also walk down to the Crater Lake for a swim and or simply a nature walk around the lake. The lodge is also a 40 minutes' drive to Kibale National park where guests can go and do chimpanzee tracking, bird sighting, hiking, among other activities.
Reservations can be made by calling +256 772 999750 or by visiting any of the online travel sites like tripadvisor.com
---
14 of 25: Mahogany Springs Safari Lodge
Bwindi Impenetrable National Park
---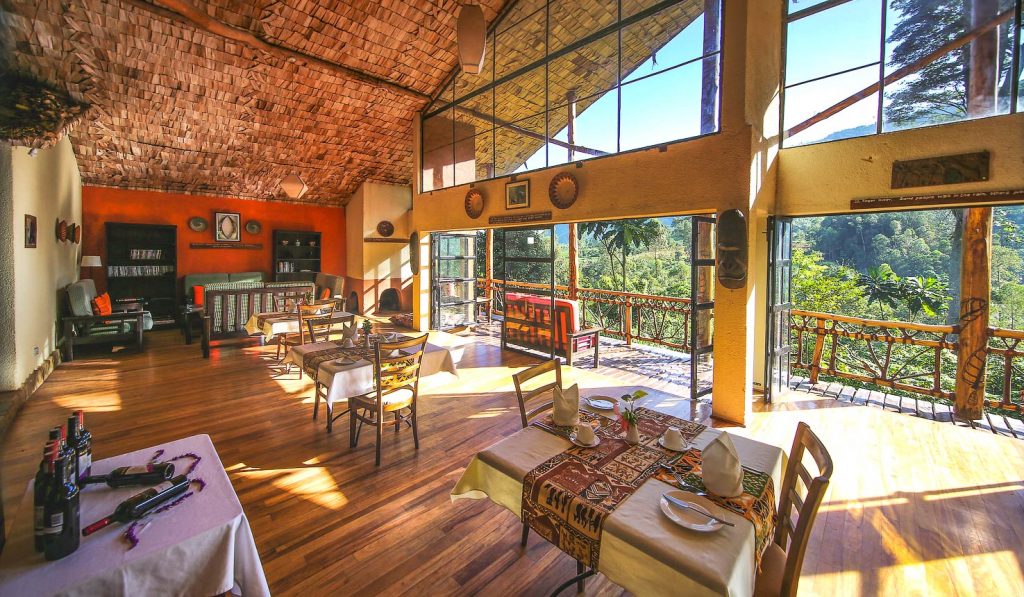 Opened in 2011, Mahogany Springs Lodge is one of the newest lodges in Buhoma, in the Northern sector of Bwindi Impenetrable National Park.
Built by River Munyanga, just on the edges of the park the enriching views of the tropical forests and the constant sounds of the river are a permanent feature here, punctuated by the raucous cacophony of birds- music to the ears nonetheless.
The architecture here- like with most lodges here is a rich mixture of modern fittings and local materials like thatches and banana fibres, expertly blended, to give off an old-meets-new sensation.
Accommodation at Mahogany Springs is of three (types), namely: Superior Suites than can be configured to twin, double or triple settings; the presidential/family suite, featuring 2 bedrooms, 2 bathrooms, a private lounge and large terrace; and a honey moon suite.
The Honeymoon Suite was opened in 2016, soon after the The Huffington Post named Uganda the number 2 Most Unforgettable Honeymoon Destination in 2016 and Mahogany Springs was the recommended safari lodge for Gorilla Tracking- the main activity here.
And it is not difficult to see why- the lodge, other than a magnificent view of the rain forest, it also happens to be proximal to 5 groups of most tracked Gorilla groups i.e. Rushegura, Mubare, Habinyanja, Oruzogo, Bitukura. And every once in a while the Gorillas literally take off time to feed around the lodge- providing a golden up-close and personal opportunity.
Each room has large windows to allow guests to have breath taking views even when they are in their rooms. It is also one of the few lodges in Uganda that uses hydro-electric power so guests are guaranteed to have power for lighting and also to charge their electronics.
The lodge is a 9 hours' drive from Kampala using Kampala-Mbarara-Kabale route. It is found in Kanungu district which is in south western Uganda. Tourists can also fly from Entebbe airport to Kihihi airstrip which is near the park.
You can contact the lodge manager Jotham Awiti on +256 (0)7818 44354 or call their reservation team on + 256 (0) 414 346667/8/9 .
---
15 of 25: Mihingo Safari Lodge
Lake Mburo National Park
---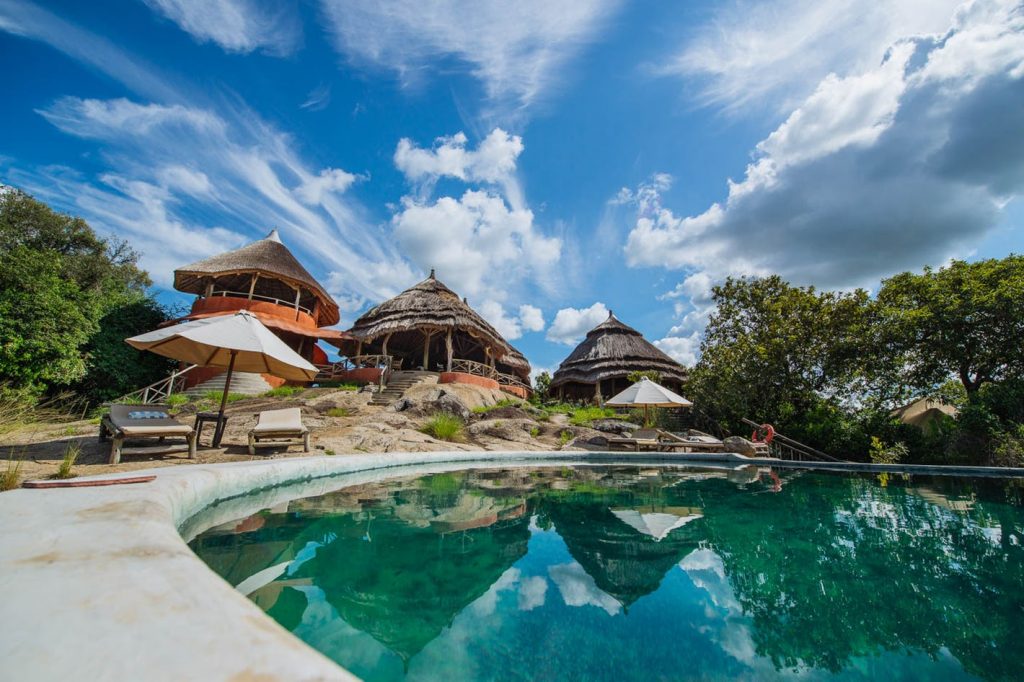 Mihingo Safari lodge is located in Lake Mburo national park in western Uganda, atop a kopje rock outcrop in the eastern part of the park.
It is a 5 hours' drive from Kampala, on the Masaka-Mbarara highway around Lyantode town. The lodge is some 22km from the main road.
The lodge gives a very peaceful and exclusive retreat as you overlook the savannah grasslands and the lake. It has 12 tented luxury rooms, each of which provides a unique charm and character. Each tent has an en suite bathroom with both hot and cold running water. The rooms were also carefully designed to blend with the environment around the lodge.
It has an infinity pool that overlooks the valley where buffalos, elands, impala, warthogs, bush bucks, zebras can be seen.
The lodge also offers exquisite foods, wines, whiskeys, spirits and so much more. They also have a massage parlor where guests can go to relax.
Here you can do a variety of activities from boat rides on the lake to game drives in the park and also carry out horse safaris.
Reservations can be made by calling +256 752 410 509 or by sending an email to reservations@mihingolodge.com
---
17 of 25: Mount Gahinga Lodge
Mgahinga National Park
---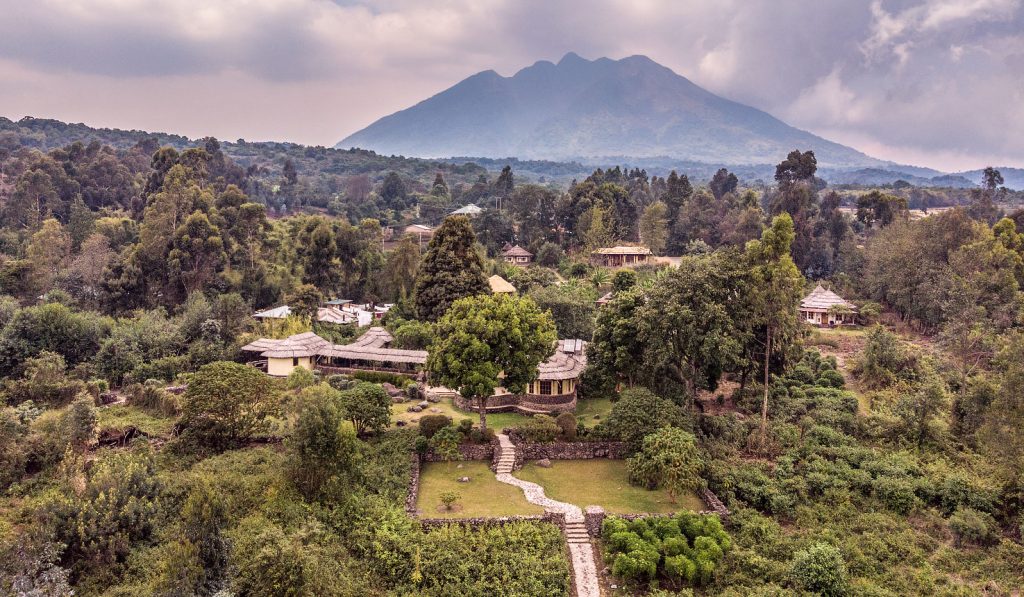 Snuggled at the foothills of the Virunga Volcanoes, Mount Gahinga is an exclusive adventure lodge set against the backdrop of three of the Virunga volcanoes- Mt. Muhavura, Mt Gahinga and Mt Sabinyo. It is arguably one of the perfect locations to go start gorilla tracking on the Ugandan side of the Virungas.
First built in 1997 by Volcanoes Safaris, Mount Gahinga Lodge was the first lodge in their stylish contemporary, yet rustic collection that has since grown to include: Bwindi and Kyambura Gorge Lodges in Uganda and Virunga Lodge in Rwanda.
However early this year, the lodge was reimagined, maintaining its traditional touch; only adding a little more flavour to the lounge, dining room, and gardens and two new deluxe bandas added.
Altogether now, the lodge features 8 luxury bandas, each with an en suite luxury shower room, fireplace and private porch.
Reservations can be made by filling in this FORM or by visiting tripadvisor.com
---
18 of 25: Mweya Safari Lodge
Queen Elizabeth National Park
---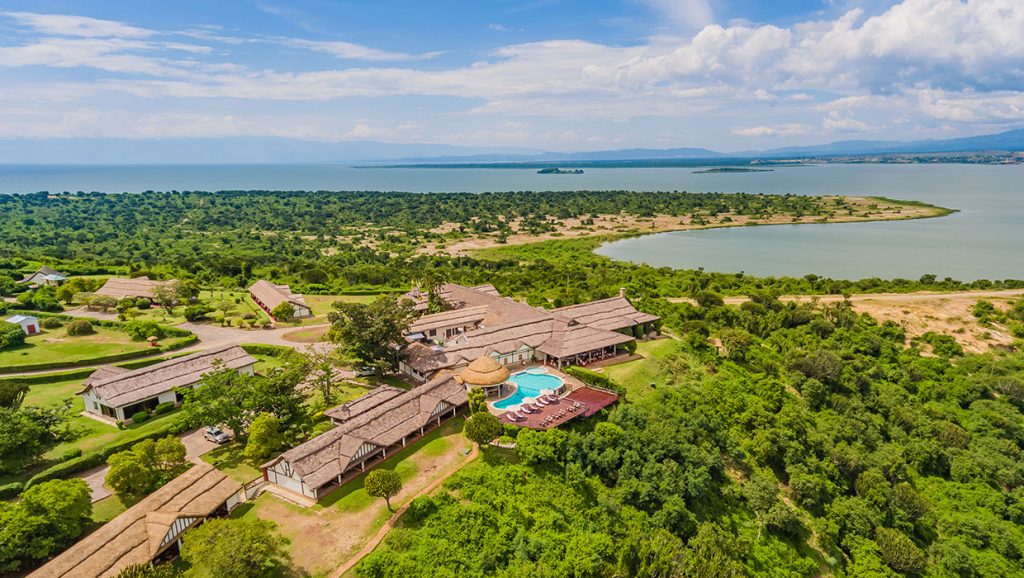 Set on a peninsula within the heart of the Queen Elizabeth National Park, on the banks of the Kazinga Channel, that links lakes George and Edward, Mweya Safari Lodge has defied time and remains one of Uganda's finest lodges.
Owned by Marasa Africa, part of the Madhvani Group, Mweya Safari Lodge, is truly a hidden gem of luxury; skillfully tucked away, in the midst of the wildest surroundings and within close proximity to the magical Rwenzori Mountains, rightly described as the 'Mountains of the Moon'.
The proximal location within the Great Rift Valley allows visitors, access to the hundreds of tourist attractions that include the 32 crater lakes in the Bunyaruguru area and within the Queen Elizabeth National Park itself. Do not forget that Queen Elizabeth National Park is Uganda's most visited national park and is home to over 95 mammal and over 500 bird species.
Like most wild lodges in Uganda, Mweya Safari Lodge's architecture is a mix of traditional materials beautifully interwoven with contemporary luxury finishes, exuding the best of two worlds.
The property has 32 standard rooms, 12 deluxe rooms, all air-conditioned and 2 suites.
For families, there are two family cottages- "The Rwenzori Cottage" and "The Royal Cottage". Two other cottages- "Queens Cottage" and "The Presidential Cottage" offer a little bit more exclusive luxury. The cottages can be numerously configured to suit individual needs and requirements.
For the adventurous, there are also two luxury tents and 2 standard tents.
Marasa Africa also owns the famous Chobe Safari Lodge and Paraa Safari Lodge in Murchison Falls National Park and the Silverback Lodge, located in the Buhoma sector of Bwindi Impenetrable Forest National Park in western Uganda. The Group also owns The Ark Lodge, Aberdare Country Club and Mara Leisure Camp in Kenya.
Getting there: Mweya Safari Lodge, is roughly 410 km away from Kampala, Uganda's capital city by road and is accessible either through the Kampala-Mubende-Fortporal-Kasese road or the Kampala-Mbarara-Kasese road. Both roads offer more than 6 hours of scenic viewing of rural Uganda punctuated by wild animals, happy people, lakes, rivers and dense forests as well as open savannah grasslands.
Both roads are in fine condition- except for ongoing repairs on the Fort Portal-Kasese-Ishaka road stretch. By air, Mweya is only an hour away, through the nearby Mweya airstrip or through Kasese airfield. The nearby Kihihi Airstrip can also get you there.
For reservation, visit tripadvisor.com, booking.com or simply call +256 392 796773 and get in touch with the team at Mweya.
---
18 of 25: Ndali Lodge
Kibale Forest National Park
---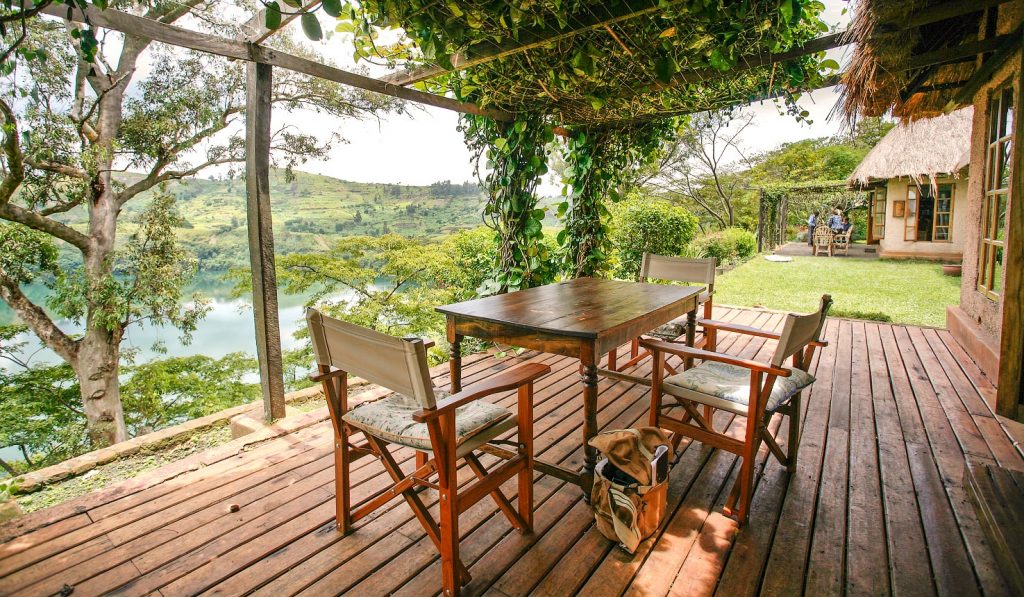 Ndali Lodge is located 45 minutes from Kibale National Park in Western Uganda. It is perched on the rim of an extinct volcano which, since its demise, the caldera has filled with water to become the breathtaking Lake Nyinambuga. Across the lodge, on the horizons, you can also view the Rwenzori Mountain and its snowcapped peaks.
The lodge is built on land that was originally a tea farm owned by a Major Trevor Price, since the 1920s and is now run by his grandson Aubrey Price. The designs of the property are attributed to Mark Price, Aubrey's father.
The lodge is a 5 hours' drive from Kampala and a 40 minutes' drive from Kasese airstrip in case you are arriving on a chartered flight.
Ndali has 8 en suite cottages that are suitable for families. The interior finishing is is a combination of locally available materials, with a touch of modrernity here and there. Each cottage has a bathroom wit a shower, a private verandah with magnificent views of sunsets over the Rwenzori Mountains.
The lodge has a restaurant that offers buffets, food for picnics and communal dining as well for especially residents. The lodge also has a pool for guests to relax and cool off.
Because the lodge is near Kibale National Park, guests can also get there to go for chimpanzee tracking. They can also do hiking and boat rides in the lake and also visit the nearby Mahoma waterfalls, the farms and do village walks around the community.
Contact Ndali lodge by calling +256793503426 or visiting their physical office on Bukoto Street, Opp Asiatic Sports, Kampala Uganda.
---
19 of 25: Nile Safari Lodge
Murchison Falls National Park
---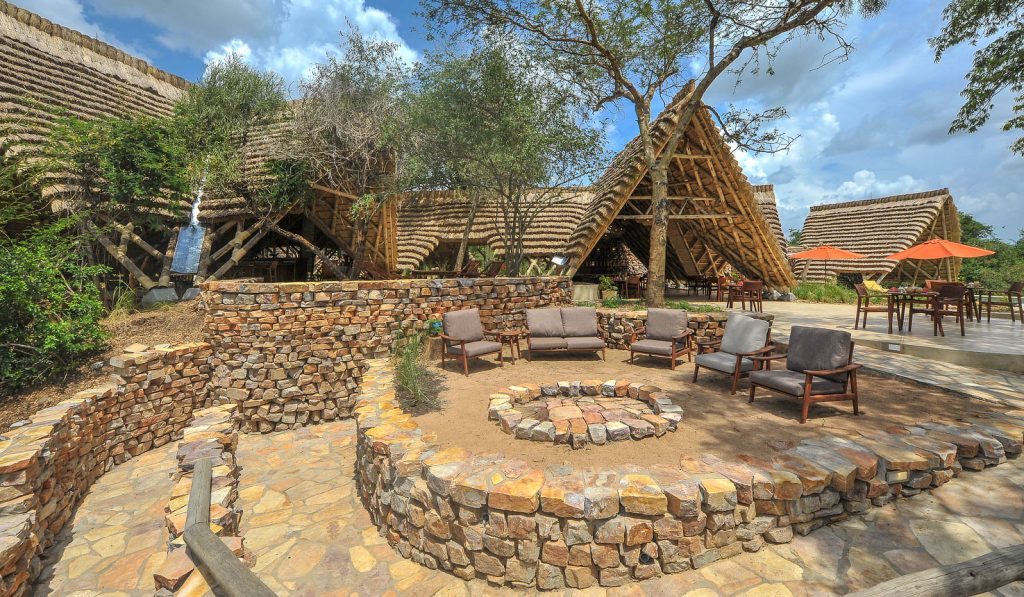 There are many lodges along the entire breadth of the might River Nile, by Nile Safari Lodge has a character of its own. Immaculately set on the souther banks of the River Nile, the unique architecture of its thatched wooden challenge probably sets it apart from the rest of the lodges on this list.
Those who have been to the lodge, praise it for its simple yet sophisticated touch to luxury, this ecology offers.
Accommodation varies from wooden chalets to the luxury tents but either way, spectacular views of the surrounding wilderness are a constant.
Presently, there are ten rooms among which are five luxury tents plus five wooden chalets. All of these are well appointed with en suite bathrooms, spacious rooms, each with a private balcony with views of River Nile and there you can enjoy your breakfast or an evening tan as you take in views of the river, the surrounding vegetation teaming with birdlife as well as the crocodiles and hippos basking in the sun.
Some of the nice facilities you will find here are: a well-stocked bar, a lounge plus a restaurant. There is a campfire where guests usually gather in the evenings to warm up and share the safari experiences of the day and enjoy some drinks.
There is also a swimming pool where guests loosen up in the evening after their adventure inside the park.
Reservations can be made at their physical office located at Quality Shopping Mall Lubowa, Room Q.26. You can also call +256 772 363 362 /+256 757 363 362 to make a reservation.
---
20 of 25: Papaya Lake Lodge
Kabarole District, Western Uganda
---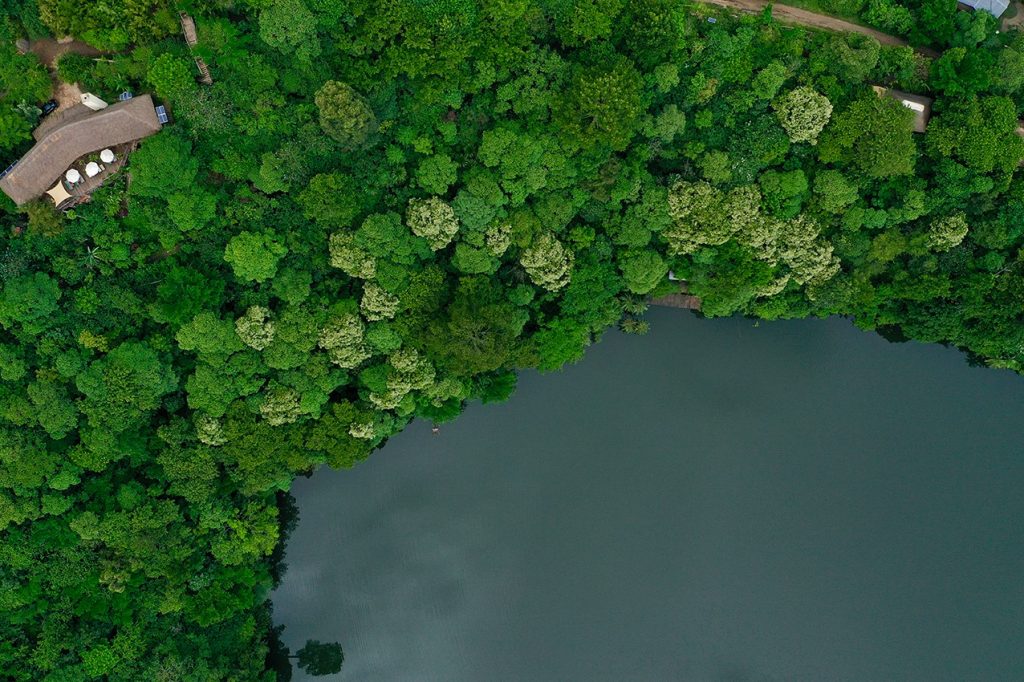 Papaya lodge is surrounded by lush evergreen landscapes of the great crater lakes of the western rift valley in western Uganda. It is set between two extinct volcanoes and nestled amidst Lakes Lyantonde and Kifuruka in near Fort Portal town in Kabarole district.
It is a 5 hours' drive from Kampala.
The exclusive and peaceful Papaya Lake Lodge has 9 luxury cottages with high-beam ceilings, warm wooden decor and unique local art & crafts. One of the cottages is a family cottage with 3 bedrooms, a living room, a fireplace, a spacious bathroom and a large terrace. The other 8 have one king sized bed and a single bed.
The pool at Papaya Lake Lodge is situated atop a hill with 360º unobstructed views of the two crater lakes, the Rwenzoris and the tropical surrounding; probably the pool with the best view.
The lodge has a restaurant with very unique cuisine featuring tastes from different parts of the world. The lodge uses fresh products with fruits and vegetables grown locally.
Reservations can be made by calling +256 (0) 793 388 277/+256 (0) 773 496 456/+256 (0) 757 121 410 . They can also be made on tripadvisor.com
---
21 of 25: Paraa Safari Lodge
Murchison Falls National Park
---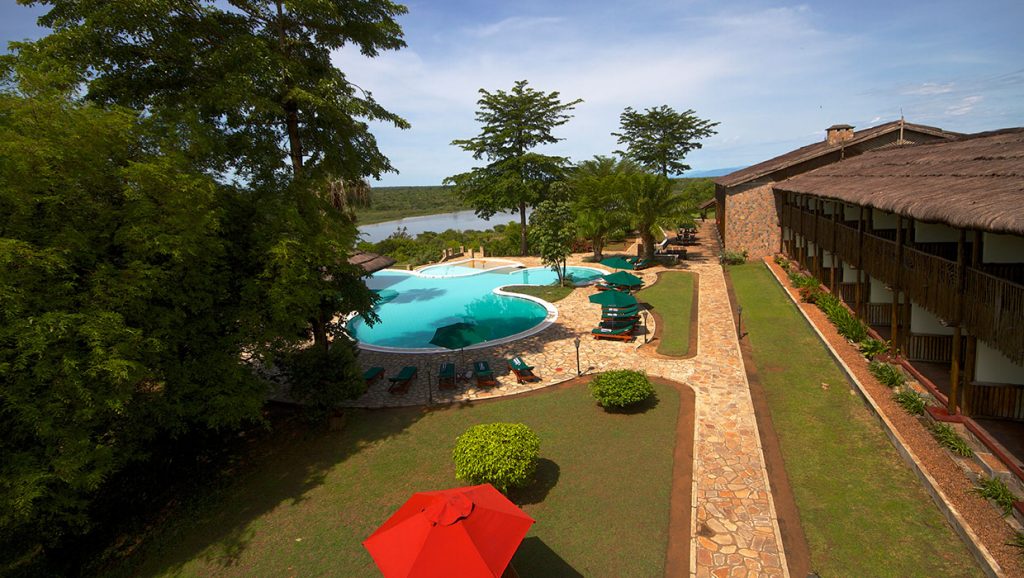 Although first established as early as 1954 by Marasa Africa, Paraa Safari Lodge in Murchisons Falls National Park in North Western Uganda, still has that cosmopolitan and contemporary allure to it. The lodge overlooks the mighty River Nile as it lazily snakes its way to the nearby Lake Albert and moments after leaving the nearby thunderous Murchison Falls.
Paraa Safari Lodge is a 6 hours' drive away from the city centre using Kampala Gulu highway. This route also passes through Ziwa Rhino Santuary where Rhino sightseeing is guaranteed.
Paraa Safari lodge has 54 rooms in total and these vary from cottages, suites, doubles, twins and singles. Each of the rooms have a private balcony and an en suite private bathroom. For guests who want to have the full safari experience, the lodge has 3 standard tents that are well furnished with a mix of modern and African styles.
The lodge has a number of facilities from the swimming pool to a business centre and gift shop. It also has rooms for meetings and conferences as well.
The lodge has a restaurant that serves a variety of cuisines prepared by professional chefs and an explorer's bar with a variety of drinks to offer.
There are a number of activities that can be done here like chimpanzee trekking, safari drives in the park, bird watching, visiting the Murchison falls, hot air balloon safaris among others.
Paraa is a must visit place for any lover of adventure.
Reservations can be made by calling +256 200 414100 /+256 752788880 . They are also on trip advisor and booking.com.
---
22 of 25: Park View Safari Lodge
Kyambura Gorge, Rubirizi District, Western Uganda
---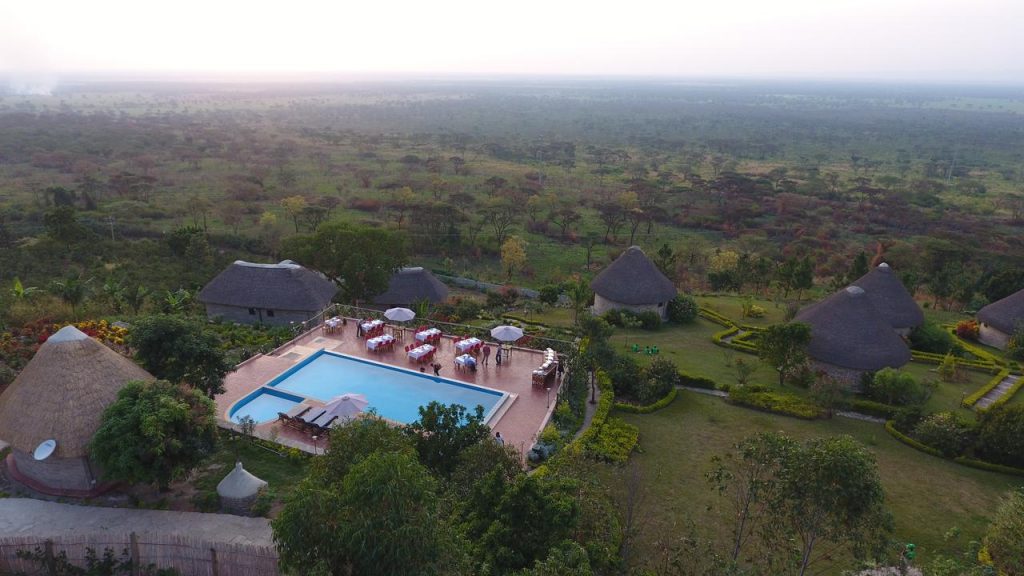 Set in the wilderness on the edge of the famous Kyambura Gorge, Park View Safari Lodge has a character of its own.
The lodge is a 6 hours' drive from Kampala using the Kampala-Mbarara-Kasese route. It is one of the nearest lodges to the main gate of Queen Elizabeth National Park.
All the cottages at Park View are very spacious with Wi-fi, air conditioners and unmatched view of the Rwenzori ranges, the western Rift Valley, and Kazinga Channel; hence the name 'Park View.' The cottages are grass thatched with big bathtubs and showers that have hot and cold running water.
Park view also has an onsite restaurant, a pool, a souvenir shop, a travel desk, a formal bar among other facilities.
Travel enthusiast and Ugandanist– Belinda Namutebi describes the lodge as thus: "Underneath the meticulous grass thatched roofs, that look like inverted silver cones from a distance, is an experience of pure luxury- the perfect place to lodge after your jungle experience in Queen Elizabeth National Park."
Seated on the balcony of one of the cottages, seeing the sun set, Ms. Namutebi has this to say: "As the sun makes its way home, the Rwenzori mountain ranges are covered in a mist. As it moves closer to the horizon, it casts rays over Lakes Edward and George. The clouds, now consumed by the radiance of the retiring sun, give off a golden reflection. The sun takes a bow and the night curtain begins to fall. This is Queen Elizabeth National Park where the sun rests its head after a long day. This is its home; there beyond the horizon."
Describing what is on the menu for your eyes to take in, she writes: "On my left, is a vast view of Savannah grasslands dotted with green shrubs spreading as far as the eye can reach. On my right, towards the two lakes, is a long stretch of greenery contrasting the surrounding vegetation- the tropical rain forest of the Kyambura Gorge. The sunset, mountain ranges, lakes, tropical rain forests and tree shrubs spread over the vast lands now confirm to me that I will be spending the night in the jungle," she adds.
At the lodge you can do a game drive of the park, bird watching, a boat drive on the Kazinga channel, amongst very many other activities.
Reservations can be made by sending and email to reservations@parkviewsafarilodge.com or by calling +256392178731 │ +256200907201 │ +256752974500 │ +256751070855
---
23 of 25: Primates Lodge, Kibale
Kibale Forest National Park
---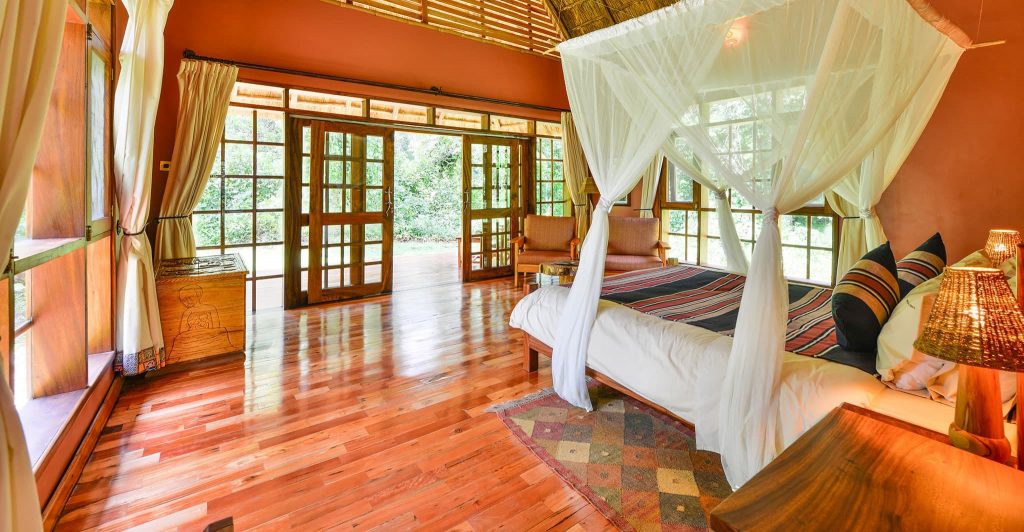 Suitably named, probably because of its location in Kibale National Park, with up to 13 species of primates, including the Chimpanzees, Primates Lodge blends jungle life and serenity in one.
The lodge which recently got a facelift by its owners, Uganda Lodges- features 16 rooms in different categories i.e. 9 luxury cottages and 7 standard cottages. Other lodge amenities include a spacious dining terrace, a well-stocked bar, a secluded lounge area with a small library, complimentary room service, an evening camp fire, laundry service (at a small fee) as well as free Wi-Fi in the public areas.
Key activities at the lodge, include: chimp tracking and the chimp habituation experience, forest and nature walks, birding, nocturnal walk, Bigodi swamp and village walk, exploration of over 52 crater lakes in the region, cultural heritage and nature trail, climbing the Rwenzori Mountains and visits to the famous Fort Portal tea estates.
Uganda lodges is owned by tourism entrepreneur and activist Amos Wekesa Masaba who also owns Great Lakes Safaris, one of Uganda's biggest tour companies. Other lodges owned by the company include Elephant Plains on the edges of Queen Elizabeth National Park, Budongo Eco Lodge in Budongo Forest and Simba Safari Camp, also on the periphery of Queen Elizabeth National Park.
Visit tripadvisor.com or booking.com to make a reservation at Primates lodge.
---
24 of 25: Trackers Safari Lodge
Bwindi Impenetrable National Park
---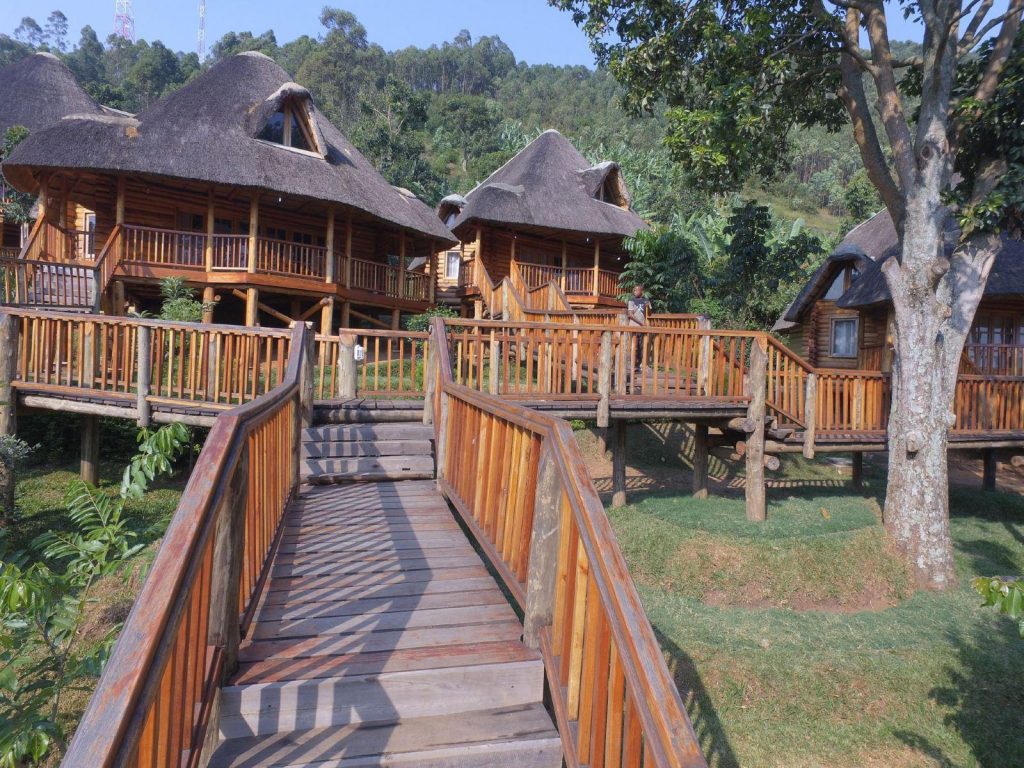 Trackers Safari Lodge is a luxury safari lodge in Uganda's Greater Bwindi National Park that "exudes the romance and beauty of the mighty Bwindi Forest while offering every modern comfort and convenience."
It is a 9 hours' drive to Buhoma in the park where the lodge is found.
The lodge has family cottages, singles and double cottages with views of the impenetrable forest.
Trackers' Safari Lodge also has a swimming pool, jacuzzi, sauna and steam and a spa to enhance the relaxation of the guests who visit the lodge.
Visit the Kampala physcial office on Plot 1305, Block 214,Kisota Road,Kisasi to make a reservation or call +256 772 465 023/+256 772 411715
---
25 of 25: Wildwaters Lodge
River Nile, Jinja, Central Uganda
---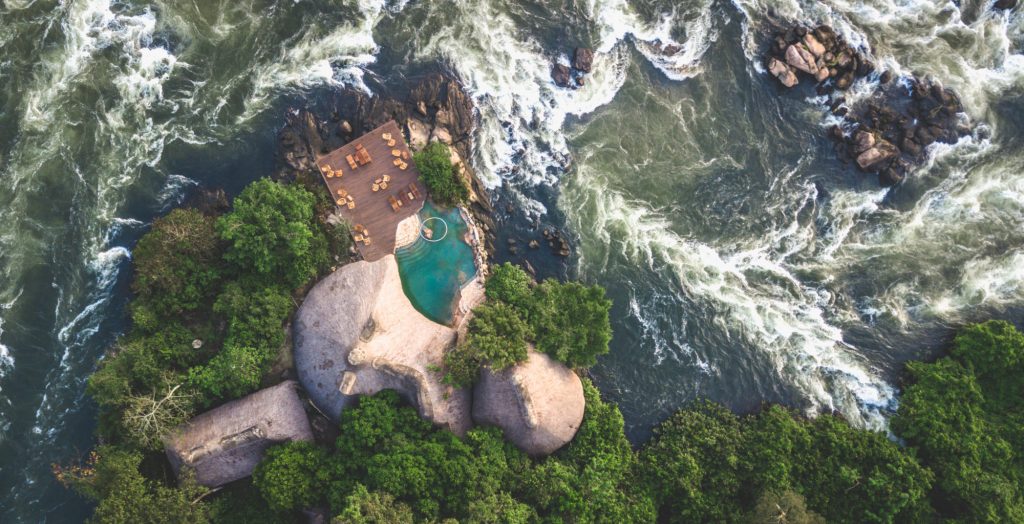 Built on granite rocks on a private mid-stream island in the River Nile and surrounded by thunderous white rapids, Wild Waters Lodge is a lodge like no other.
Probably the only one of its kind in Africa- the best way we can describe it, is ask you to go there. It is simply breath taking!
To get there, you take the Kampala-Jinja highway. Upon reaching Jinja at Nile Breweries, just before the bridge, you take the left turn onto Kayunga road for 26km; then branch off at Kangulumira town; for another 3km. Once on the banks of the River Nile, a boat will pick you for the less than 5 minutes ride to paradise.
The whole journey could take up to about 2-3 hours; depending on the number of stops you make along the way.
It has ten standalone suites that are all linked by raised wooden walkways to the main lodge house where the restaurant and bar are found. Each of the suites have locally handmade furniture, stylish bathrooms with rain showers, secluded wooden decks with free standing open bath tubs.
Wild Waters Lodge also provides delicious meals accompanied with a candle-lit five course dinner for lovers to romantically bond over. The bar is well stocked with a variety of drinks that guests can also enjoy.
The pool at Wild Waters Lodge allows guests to relax as they watch the River Nile breakaway from its source a few kilometers away and embark on its 3,000 km trek to Egypt and the Mediterranean Sea.
Wild Waters is very ideal for viewing some of the 1,000 bird species in Uganda from turacos to cuckoos and so much more.
Wild Waters is the perfect place for romantics or even someone seeking to reward themselves for a job well-done.
Reservations can be made by calling +256 (0)772 237400. However, bookings can also be made on trip advisor and bookings.com

---
---
Who are Uganda's most dominant music artists on social media?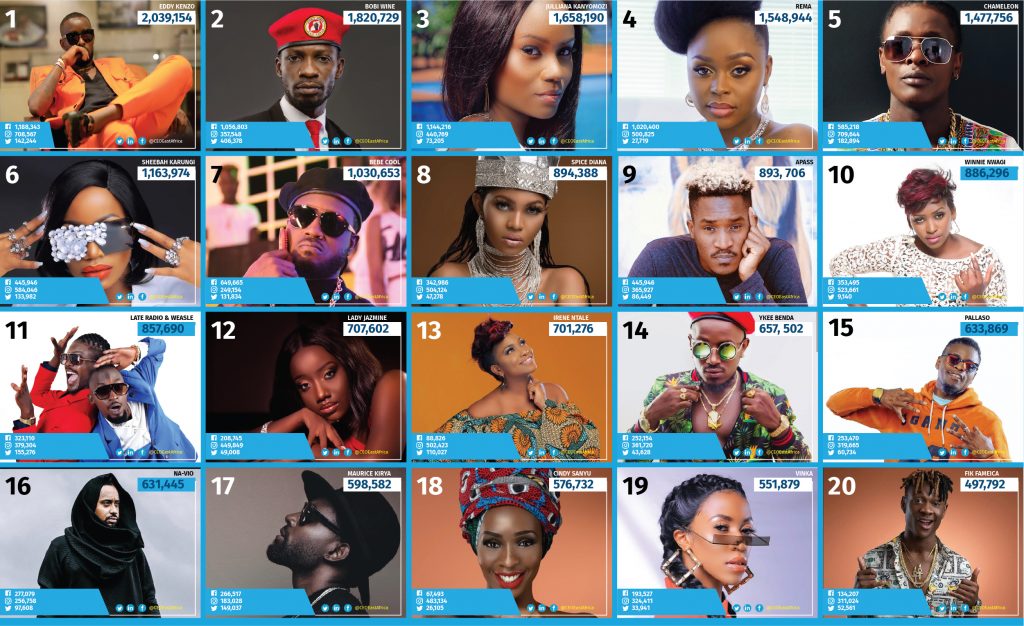 Traditional media- especially newspapers are fighting for their life, in the face of the internet.
But not just newspapers alone, even radio and television have heard to reinvent themselves to remain relevant to not only the consumers, but also the advertisers.
A June 2018 study by research firm, Ipsos, for example showed that there was nearly twice the number economically active Ugandans (ABC1C2 class) relying on the internet for information, that there was for newspapers.
But perhaps, the greatest weapon that the internet has brought about, is liberalizing the airwaves- so to speak. As such everybody now is a journalist; a media house of some sorts. You do not necessarily have to rely on third parties all the time to shape or tell your story.
In the communications business, especially in advertising you will occasionally hear of digital influencers- and these are not really some sort of some demi-gods but rather are individuals who have huge audiences on social media and most often do possess some sort of power over them- either celebrity or knowledge power.
By default, most of these influencers are politicians, churchmen and radio/TV personalities, journalists and yes, artists or call them celebrities if you like.
This week, we set out to find who are some of the leading influential music artists on social media in Uganda.
Since influence is largely a factor of reach, to complete this task we looked at the three most dominant social media platforms- Facebook, Twitter and Instagram- and simply aggregated the totals, to generate the list of Uganda's 20 most influential music artists on social media.
DISCLAIMER: Because these numbers grow very fast- the figures presented here are as of close of business on Monday, 4th November, 2019.
| | | | | | |
| --- | --- | --- | --- | --- | --- |
| | ARTIST | TWITTER | INSTAGRAM | FACEBOOK | TOTAL |
| 1. | Edyy Kenzo | 142,244 | 708,567 | 1,188,343 | 2,039,154 |
| 2. | Bobi Wine | 406,378 | 357,548 | 1,056,803 | 1,820,729 |
| 3. | Juliana Kanyomozi | 73,205 | 440,769 | 1,144,216 | 1,658,190 |
| 4. | Rema Namakula | 27,719 | 500,825 | 1,020,400 | 1,548,944 |
| 5. | Jose Chameleon | 182,894 | 709,644 | 585,218 | 1,477,756 |
| 6. | Sheebah Karungi | 133,982 | 584,046 | 445,946 | 1,163,974 |
| 7. | Bebe Cool | 131,834 | 249,154 | 649,665 | 1,030,653 |
| 8. | Spice Diana | 47,278 | 504,124 | 342,986 | 894,388 |
| 9. | A Pass | 86,449 | 365,927 | 441,330 | 893, 706 |
| 10. | Winnie Nwagi | 9,140 | 523,661 | 353,495 | 886,296 |
| 11. | Radio and Weasel | 155,276 | 379,304 | 323,110 | 857,690 |
| 12 | Lydia Jazmine | 49,008 | 449,849 | 208,745 | 707,602 |
| 13. | Irene Ntale | 110,027 | 502,423 | 88,826 | 701,276 |
| 14. | Ykee Benda | 43,628 | 361,720 | 252,154 | 657, 502 |
| 15 | Pallaso | 60,734 | 319,665 | 253,470 | 633,869 |
| 16. | Navio | 97,608 | 256,758 | 277,079 | 631,445 |
| 17. | Maurice Kirya | 149,037 | 183,028 | 266,517 | 598,582 |
| 18. | Cindy Sanyu | 26,105 | 483,134 | 67,493 | 576,732 |
| 19. | Vinka | 33,941 | 324,411 | 193,527 | 551,879 |
| 20 | Fic Fameica | 52,561 | 311,024 | 134,207 | 497,792 |
| | TOTAL | 2,019,048 | 8,515,581 | 9,293,530 | 19,828,159 |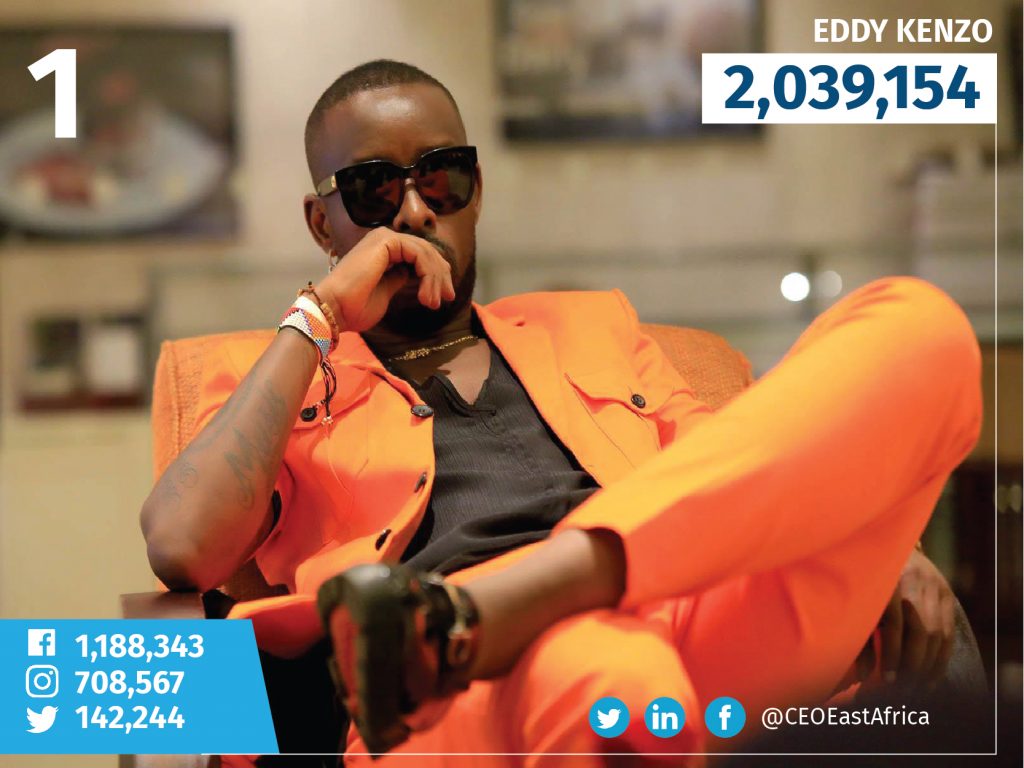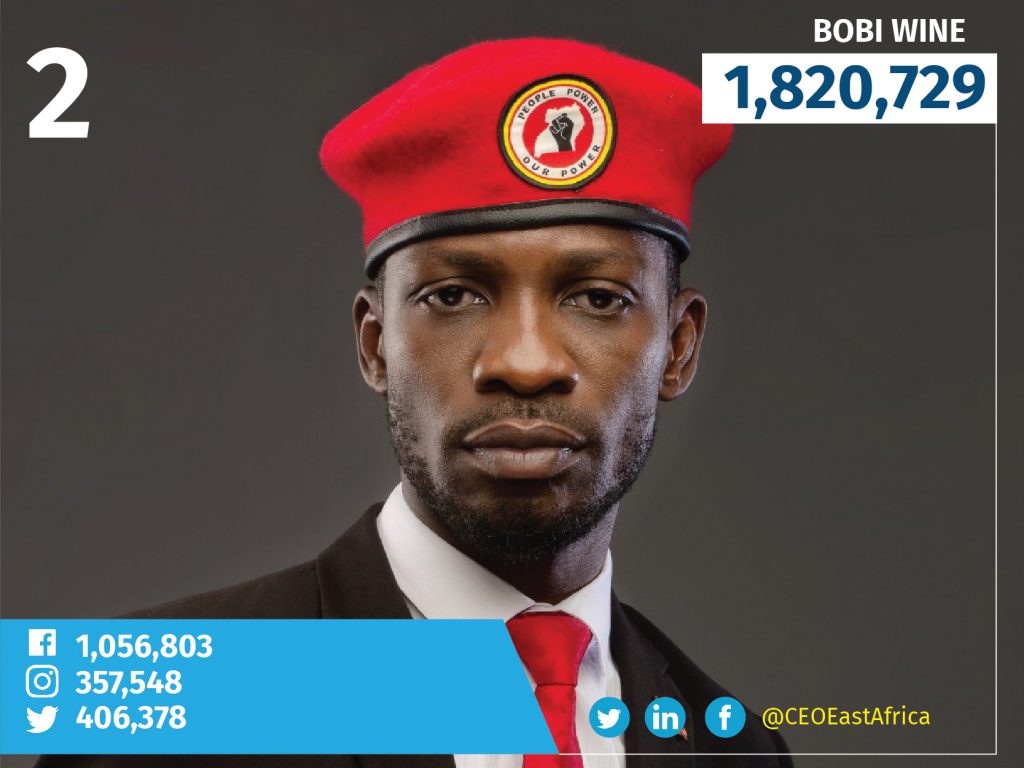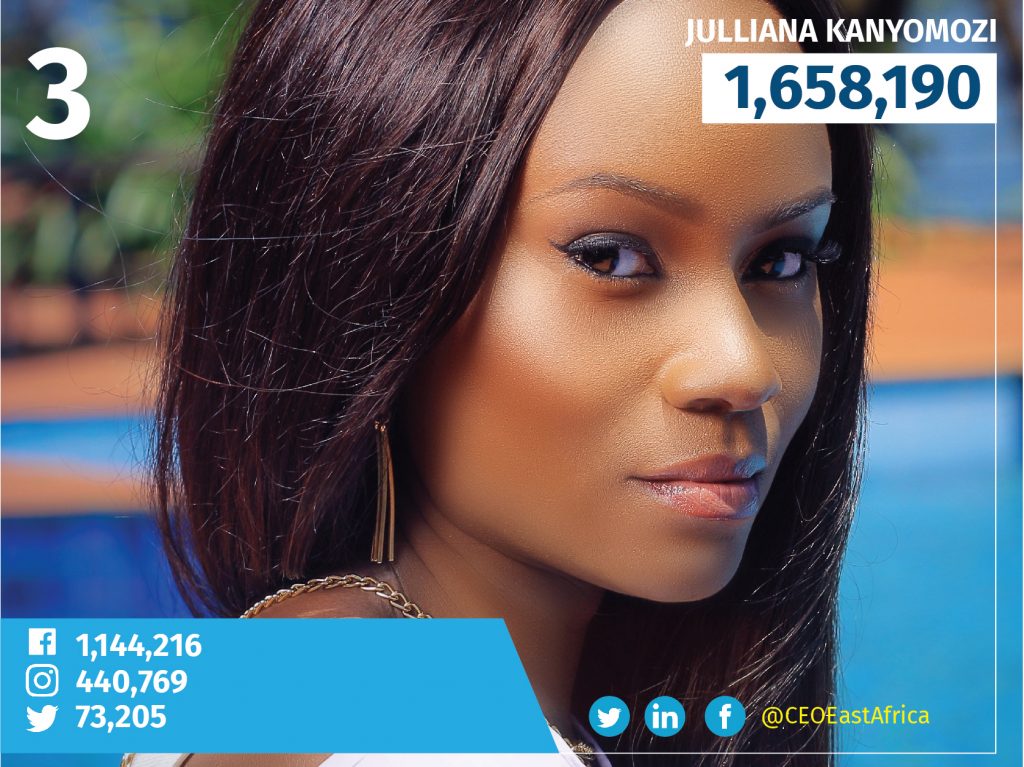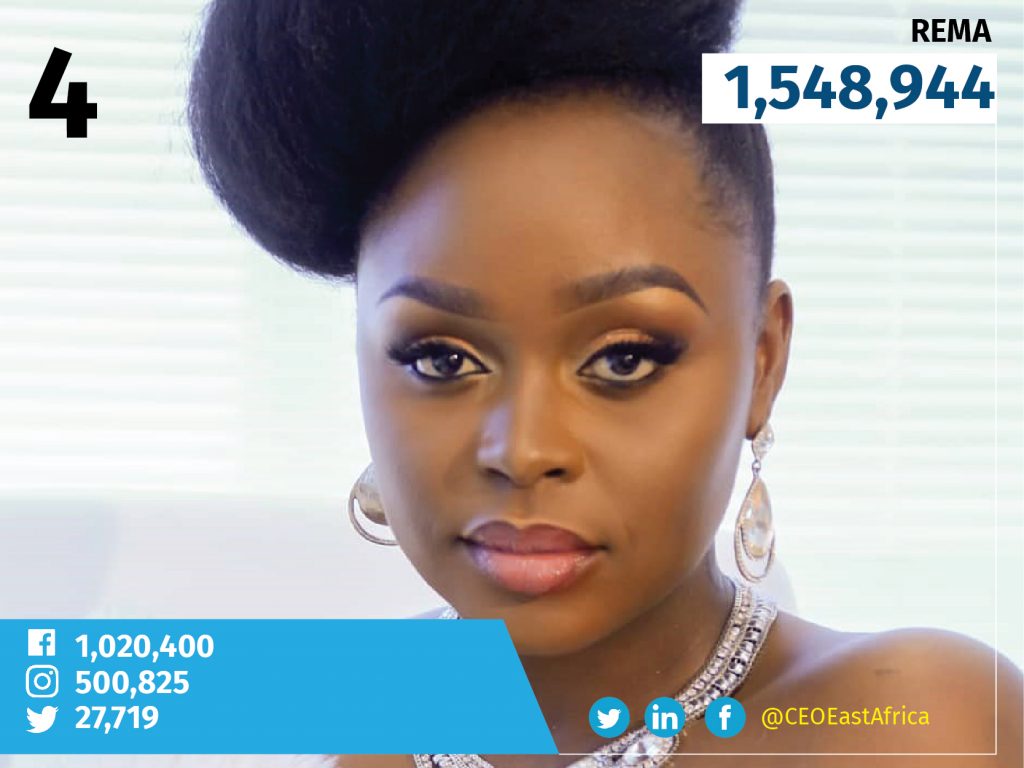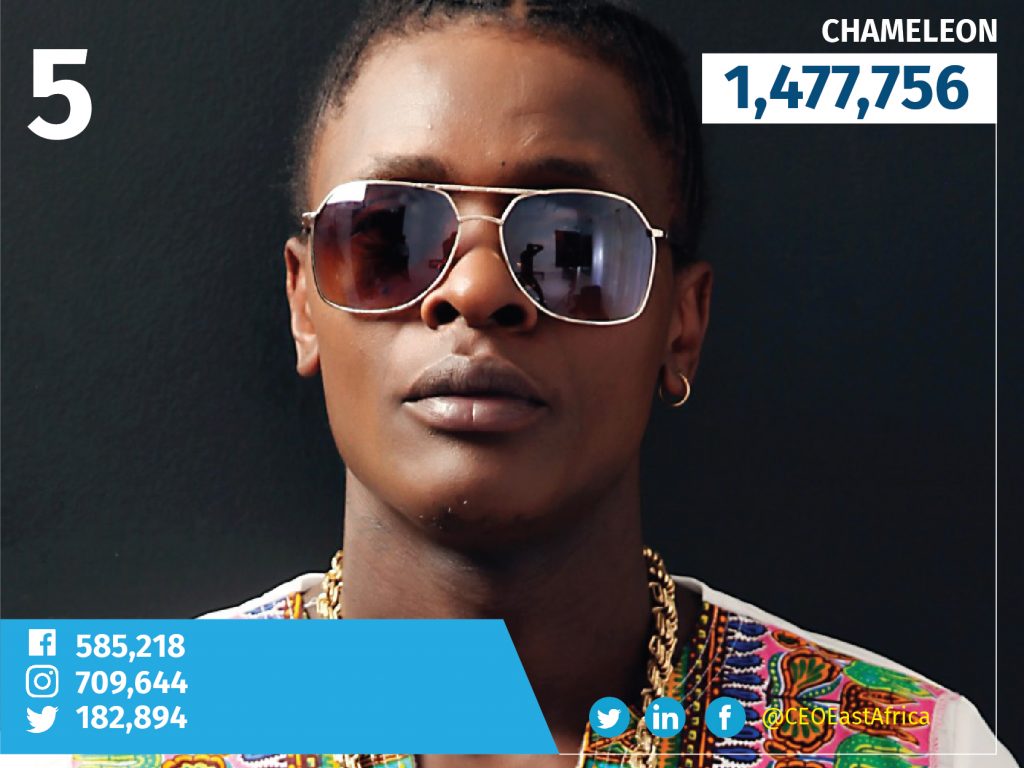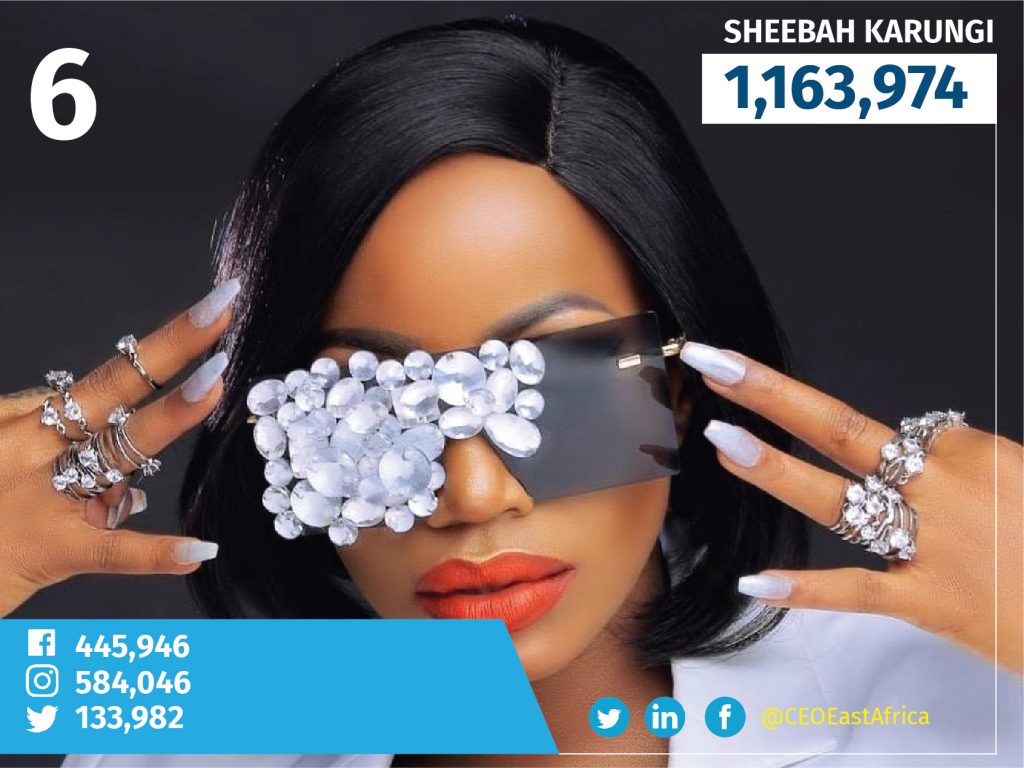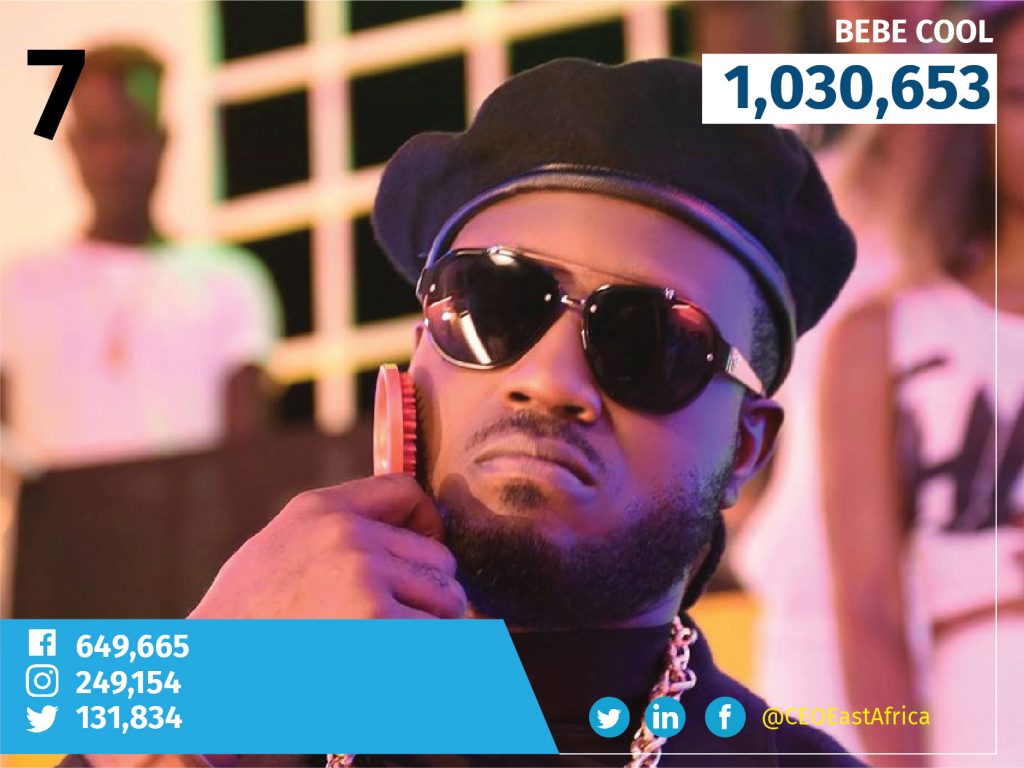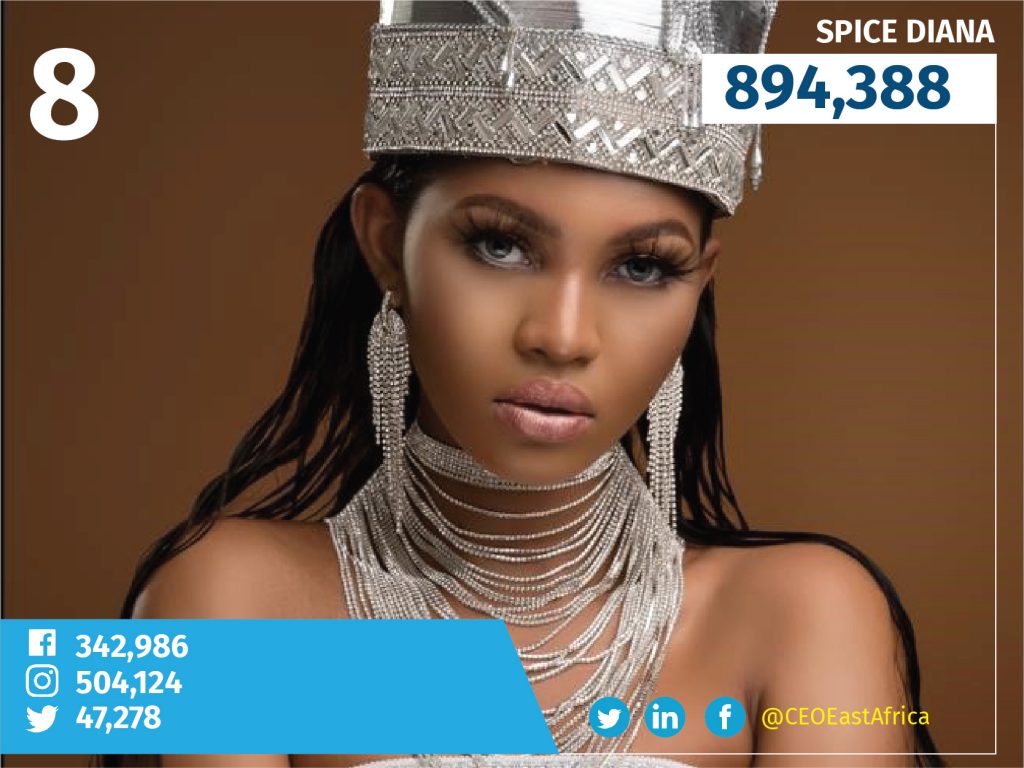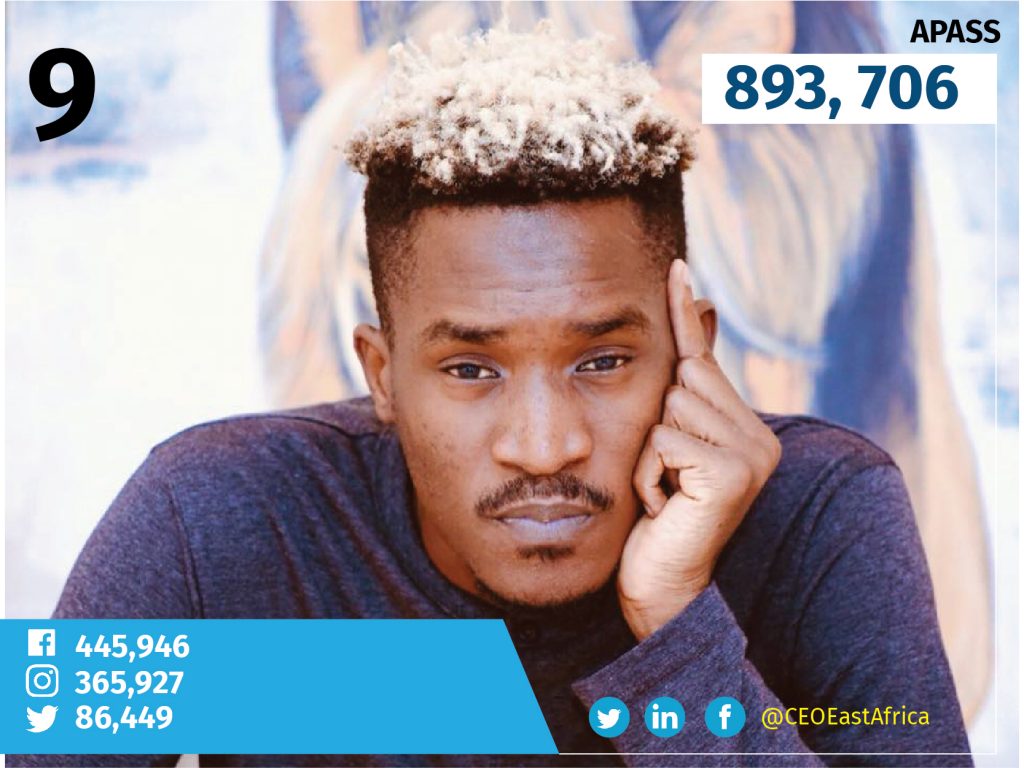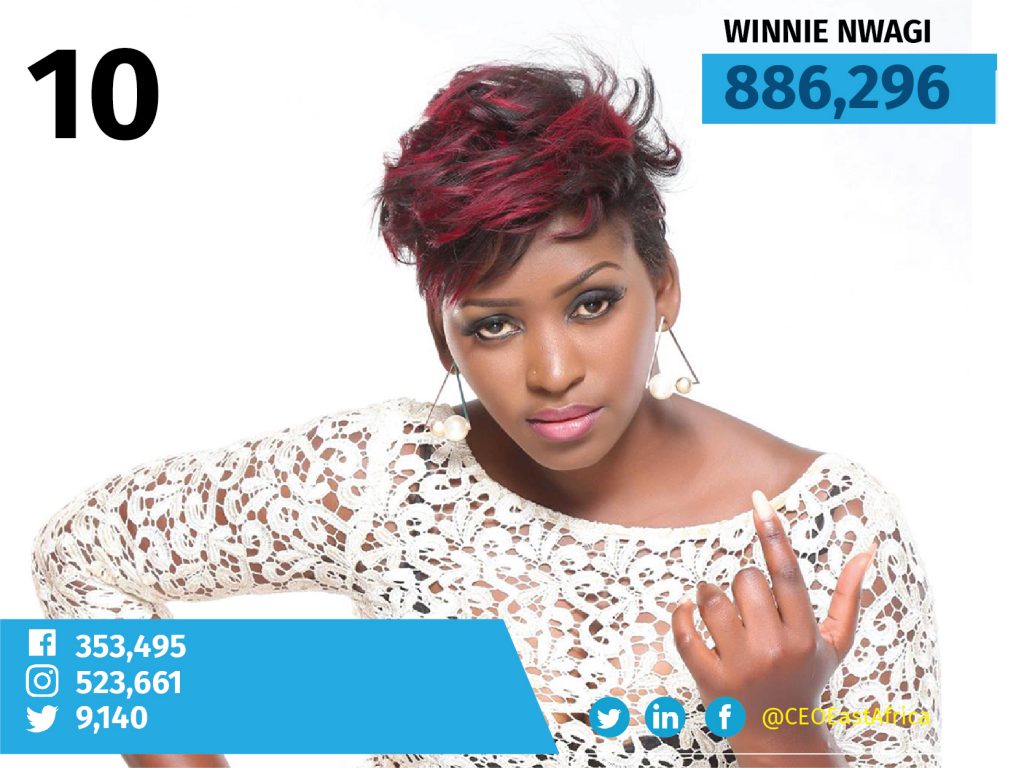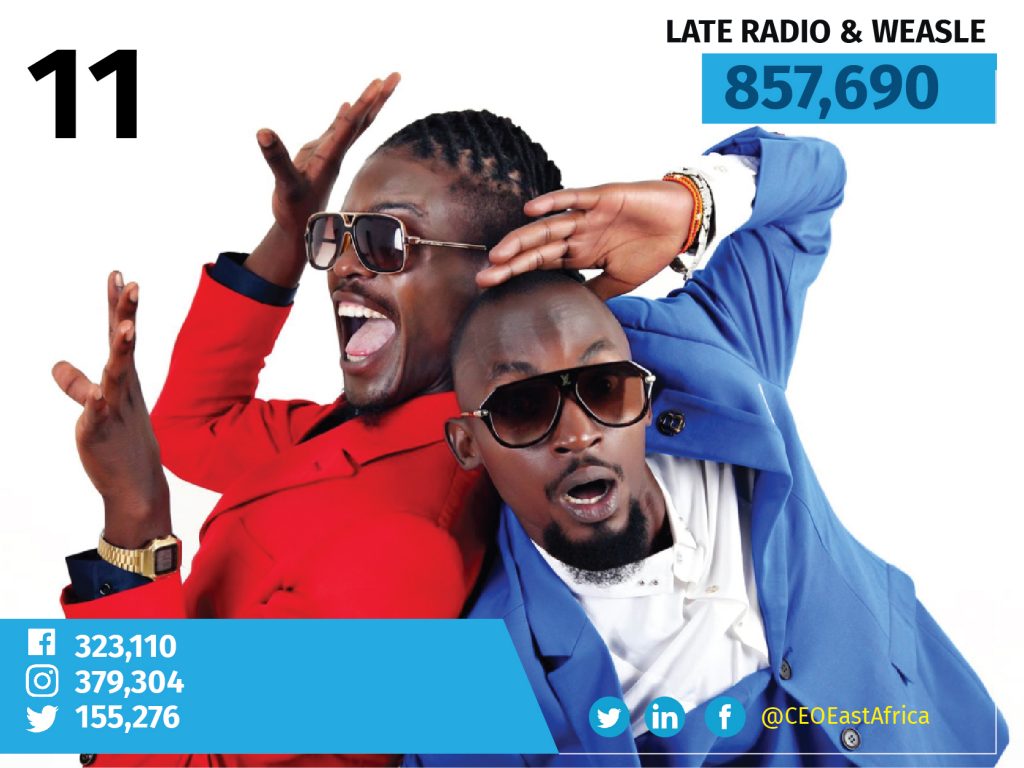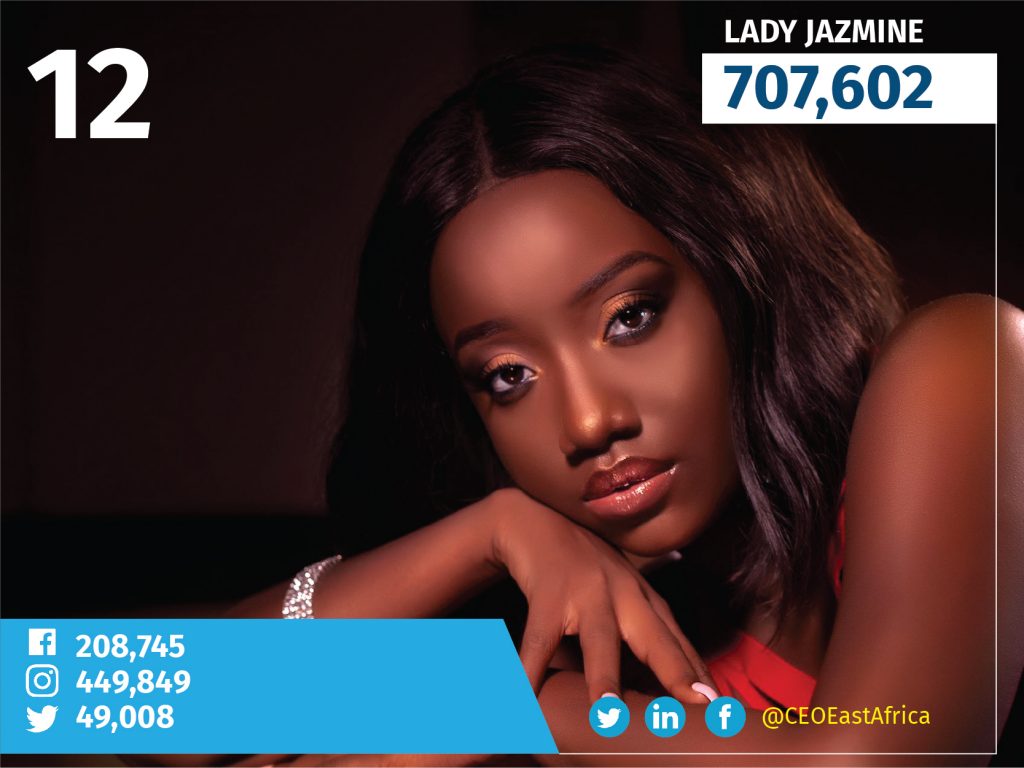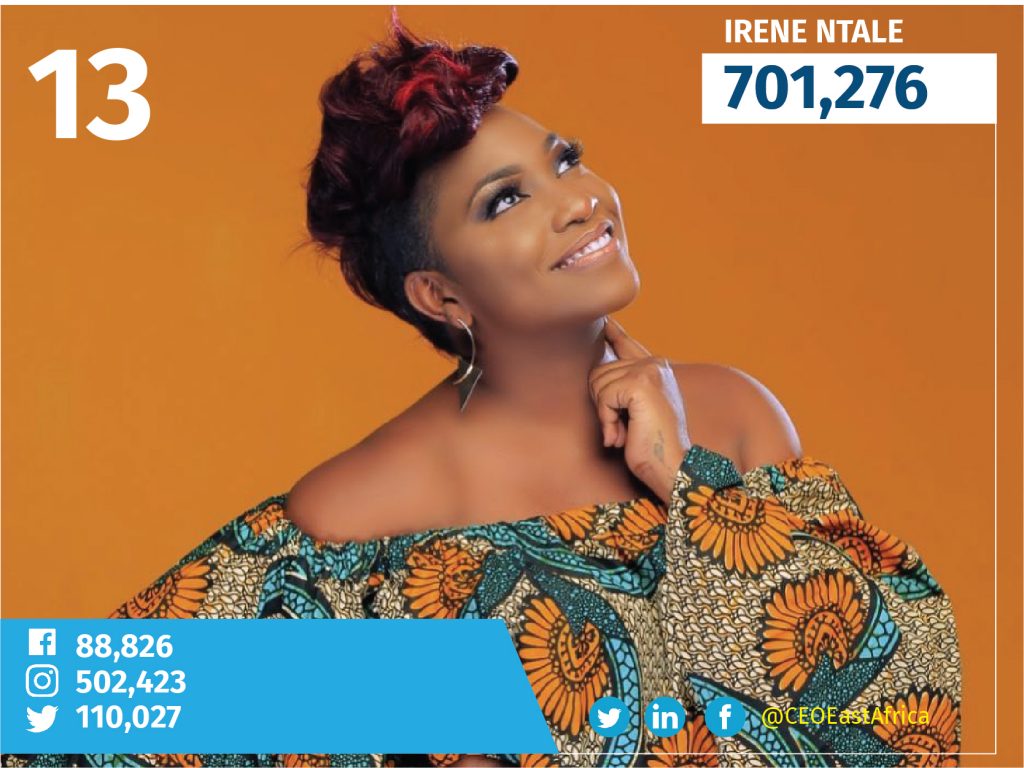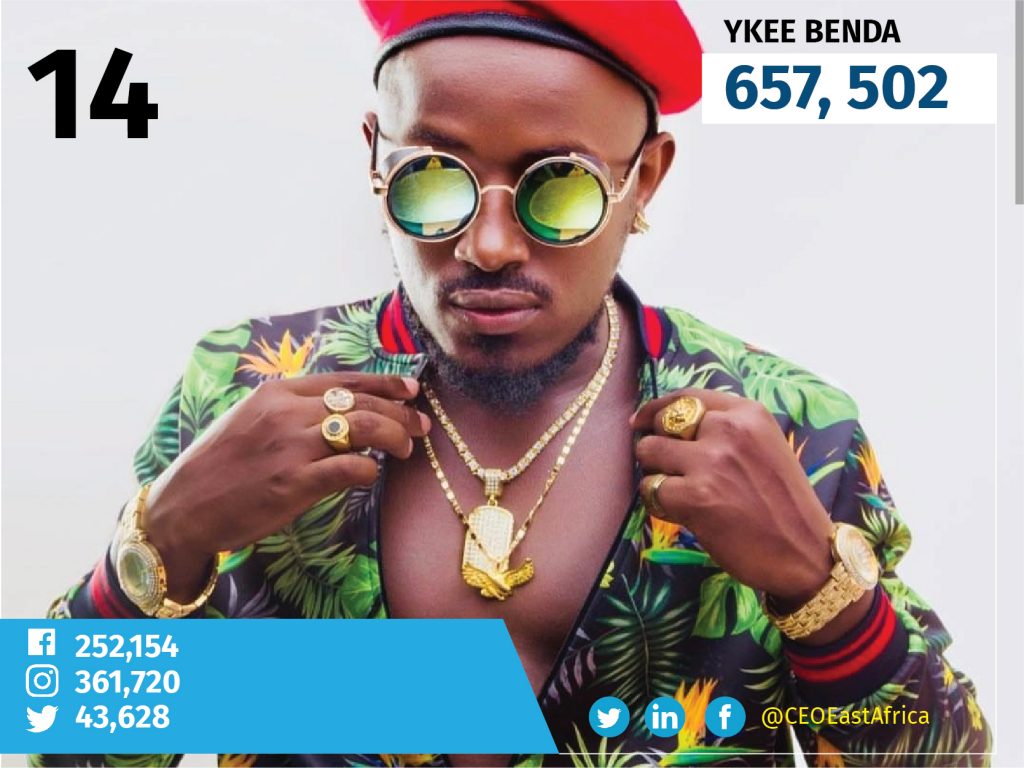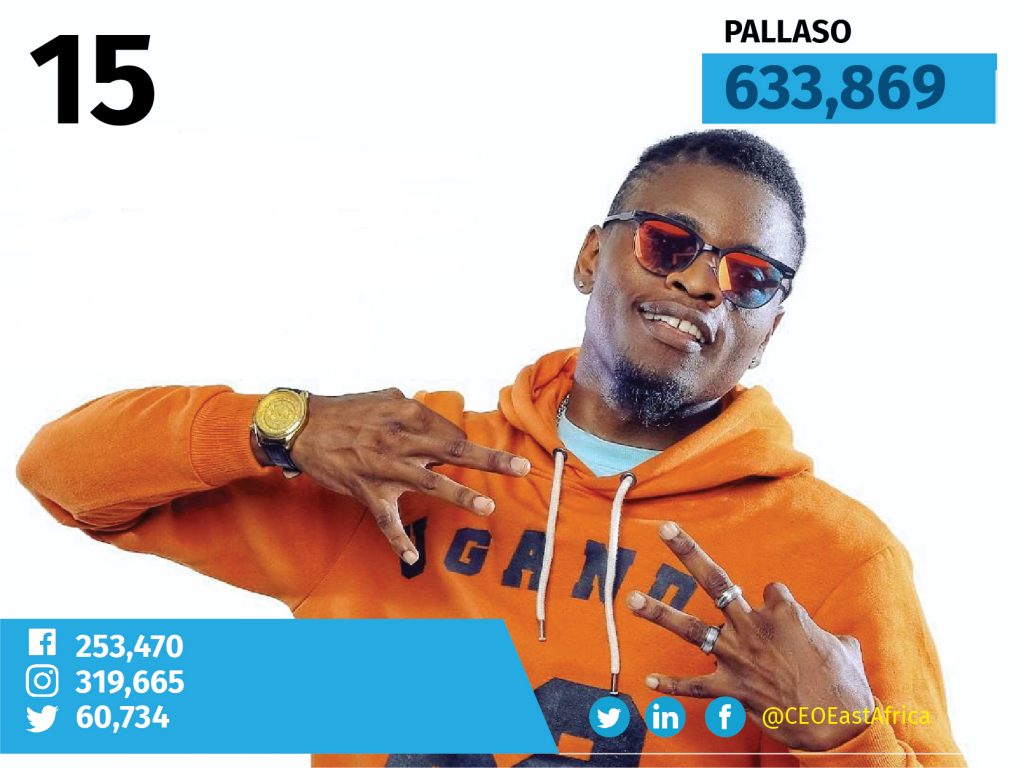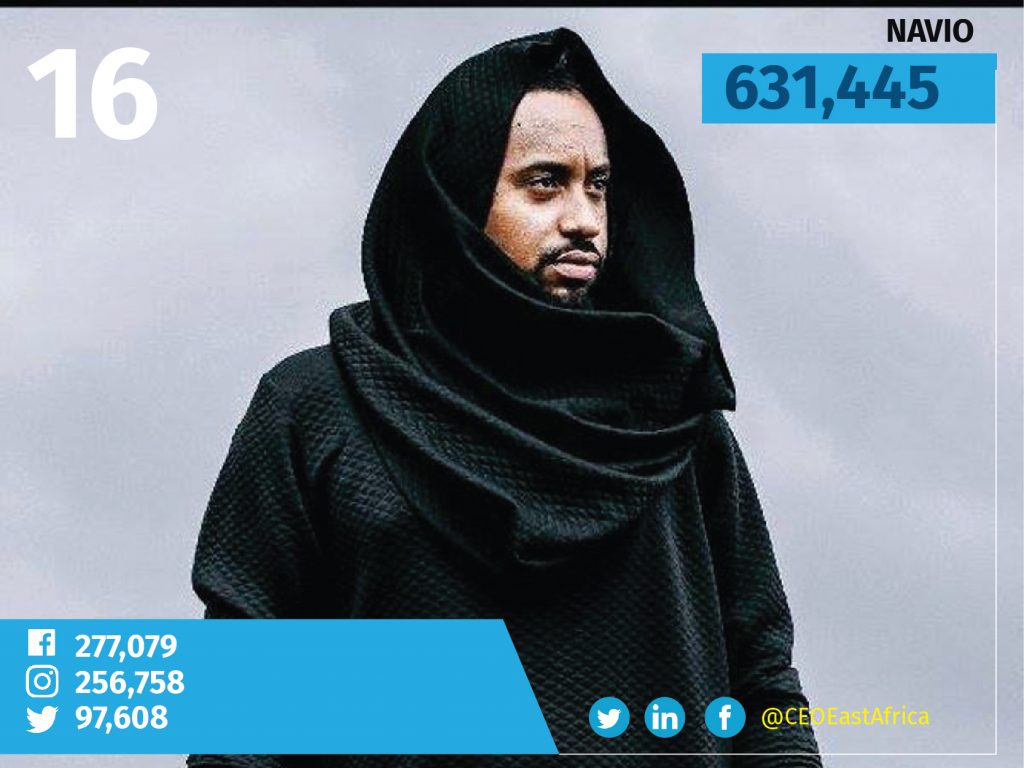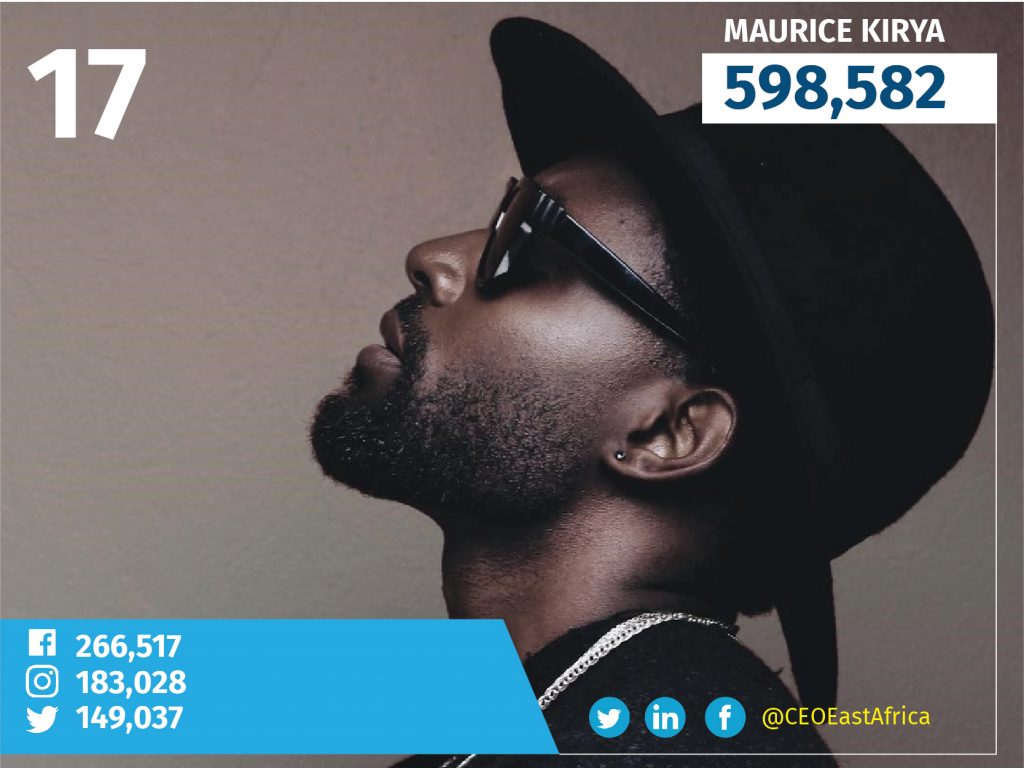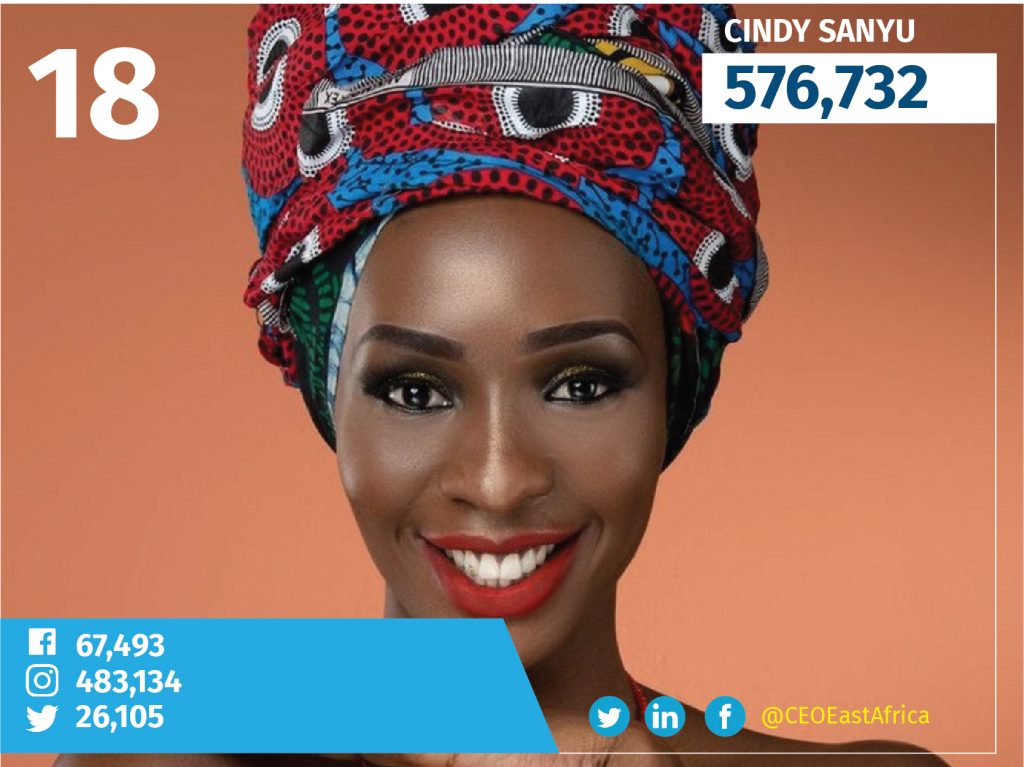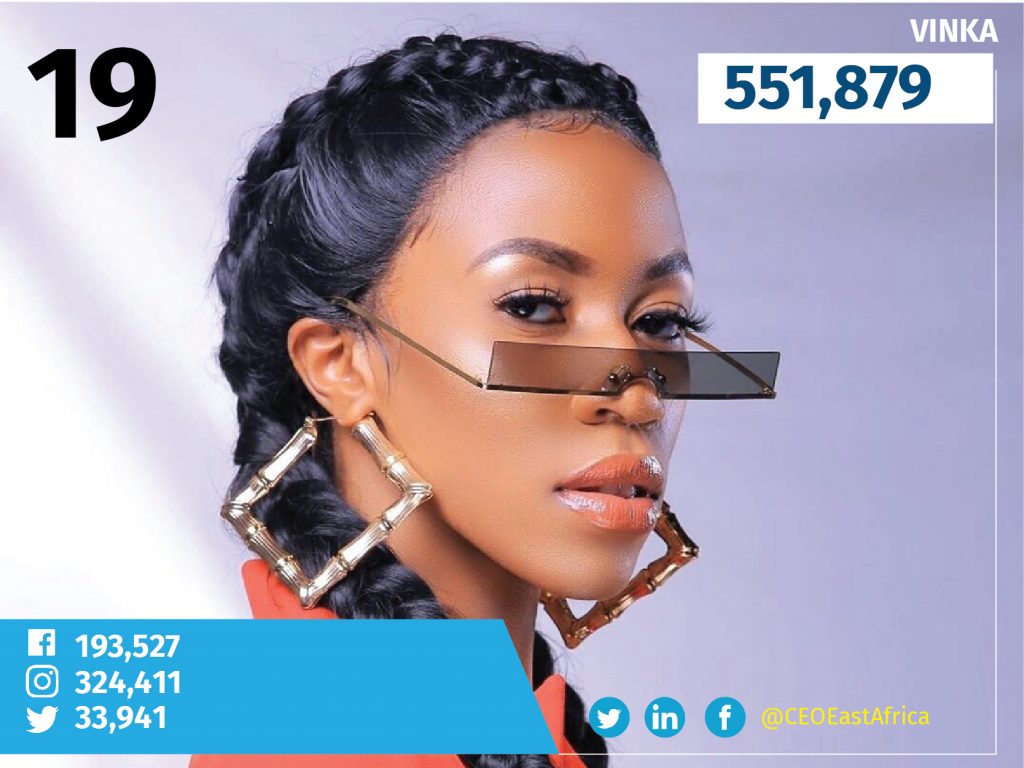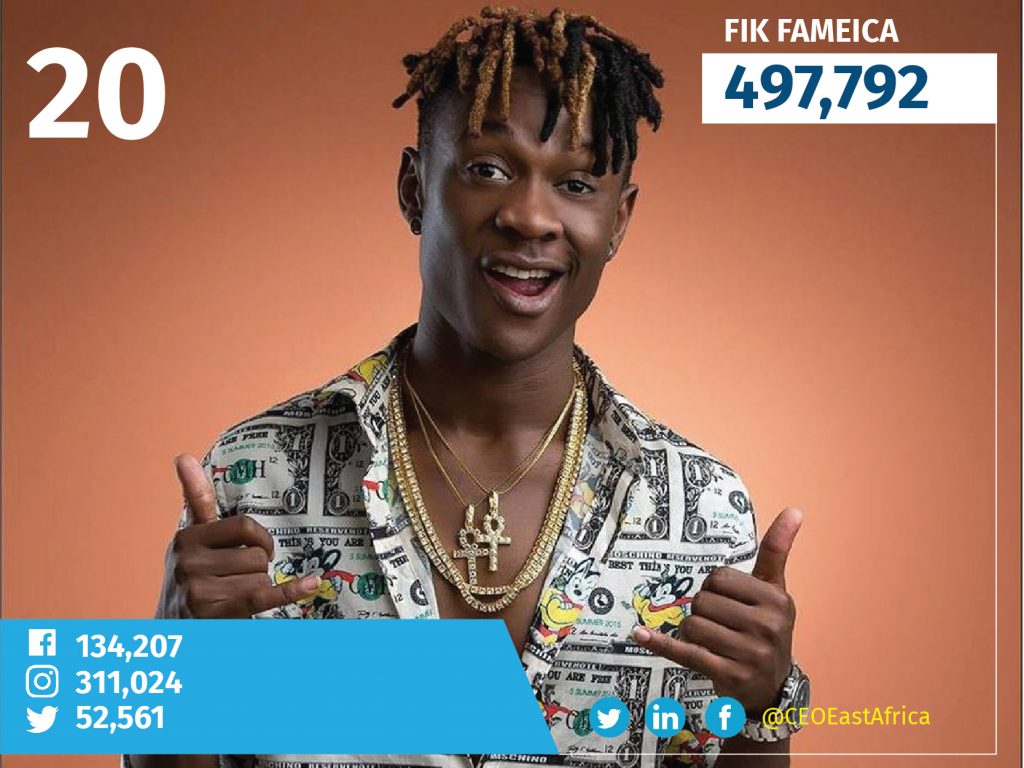 Uganda's 10 highest-paid music artists in 2019
Uganda's 10 highest paid music artists bag nearly a combined UGX600 million (USD162,000) a month in largely performance fees, a study done by CEO EA Magazine shows. This however does not include earnings from other hard to establish platforms such as celebrity endorsements, royalties by radio stations, discotheques and telecom companies who use their music as call back tunes.
It also does not include revenues from online streaming platforms such as Amazon, Spotify and iTunes.
The Ugandan music industry is so informal with very little records available to give a deeper understanding into the financial muscle of the industry. So, to get some insights into artist revenue and who actually are the 10 highest paid artists in the industry, we first of all posed as genuine customers interested in buying the services of artists.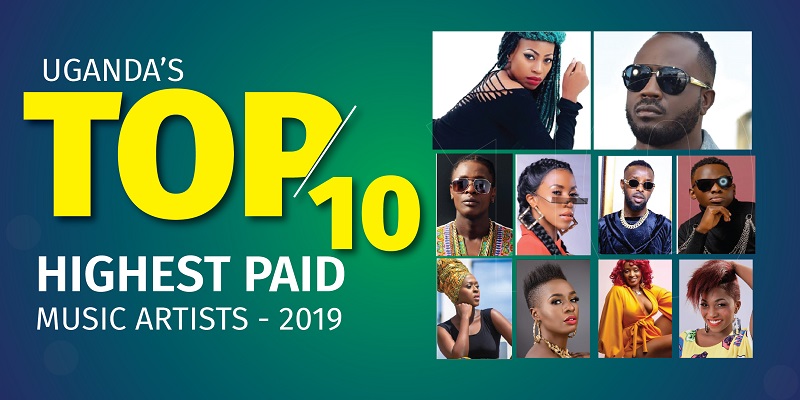 Using this cover, we secured the rate cards of the various artists; which rate cards covered, largely performances in Kampala, as out-of-town or out-of-country shows, have separate pricing and logistical implications.
Armed with the rate cards, we then variously called a number of known show promoters, entertainment journalists, artists' managers and other people familiar with the industry to establish on average how many shows each artist would be booked a week. Using this, we were able to estimate how much each artist made per week and subsequently per month.
The estimates do not take into account possible discounts.
We do admit that these estimates may bear some flaws, but they are a good attempt at trying to put some figures to the actual earnings of some of our top artists, in an industry where cash-before-performance payments are predominant.
We do welcome all feedback and corrections which we believe shall go a long way into creating a more accurate financial representation of the industry.
---
#1. Bebe Cool
---
Estimated Earnings UGX100,000,000 per month
---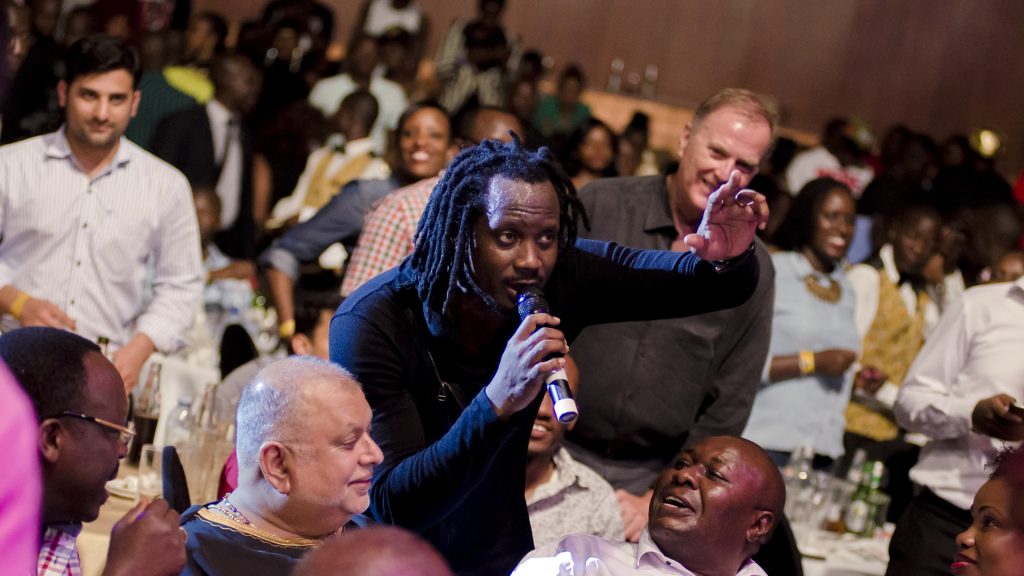 ---
Born 1st September 1977 as Moses Ssali, Bebe Cool is a largely dancehall artist who rose to the music limelight in the early 2000s first by signing onto Ogopa DJs, a then famous production house and record label in Kenya, together with singer Jose Chameleone and Kenya's Red San.
The multilingual artist, who sings in Luganda, Swahili, and English has had major hits in Uganda in East Africa and has won several awards and recognitions at the local and continental level.
In 2014, Bebe Cool's remade Born in Africa remix song, a remake of the late Philly Lutaaya's song was voted among Africa's greatest songs of all time- as No. 15 in 50 anthems for the African continent in a BBC World Service listeners competition to mark the 50th anniversary of the African Union.
He has also performed in the Big Brother house twice.
Bebe Cool who is the president of Gagamel Entertainment, his record label has recently courted controversy over his open political support for President Yoweri Kaguta Museveni and his National Resistance Movement (NRM) party, but the indefatigable Bebe Cool has made it known to all who care to listen that he, too has a right to political belonging and NRM/Museveni is his choice that should be respected.
Bebe Cool's July 2019 single- Wire Wire is currently at Number 7 on www.howwebiz.ug Top 100 Chart. He, either singly or jointly has 7 songs on the chart.
His YouTube channel has nearly 7,000 subscribers, a big number by Ugandan standards. Wire Wire, uploaded on September 1st 2019 has 920,000 views in just 2 months and is on its way to beat Easy, his other hit, uploaded 8 months ago that has more than 1 million views and still growing.
Bebe Cool has a significant online following with 646,000 followers on Facebook, 248,000 of Instagram and 131,500 on Twitter. Equally, his music is available for sale on Amazon, Spotify and iTunes among other global music streaming channels.
Perhaps of all artists- Bebe Cool is known to have the most fiercely loyal fans online who, like their idol do not take criticism of their man lightly and are quick to fire from the hip.
According to industry research Bebe Cool's going price is UGX7,000,000 per show which makes him a rare show- but when he does make appearance, he is known to give real return on investment in form of a powerfully interactive performance. Bebe Cool who sometimes doubles as a show-organiser himself is thought to earn more from self-organised shows and shows associated with his NRM party.
With up to 5 performances a month- some of which are self-owned, conservative estimates according to industry experts, put his gross earnings at an estimated UGX100,000,000 million a month and is thus our top paid Ugandan artist of 2019.
---
#2: Eddy Kenzo
---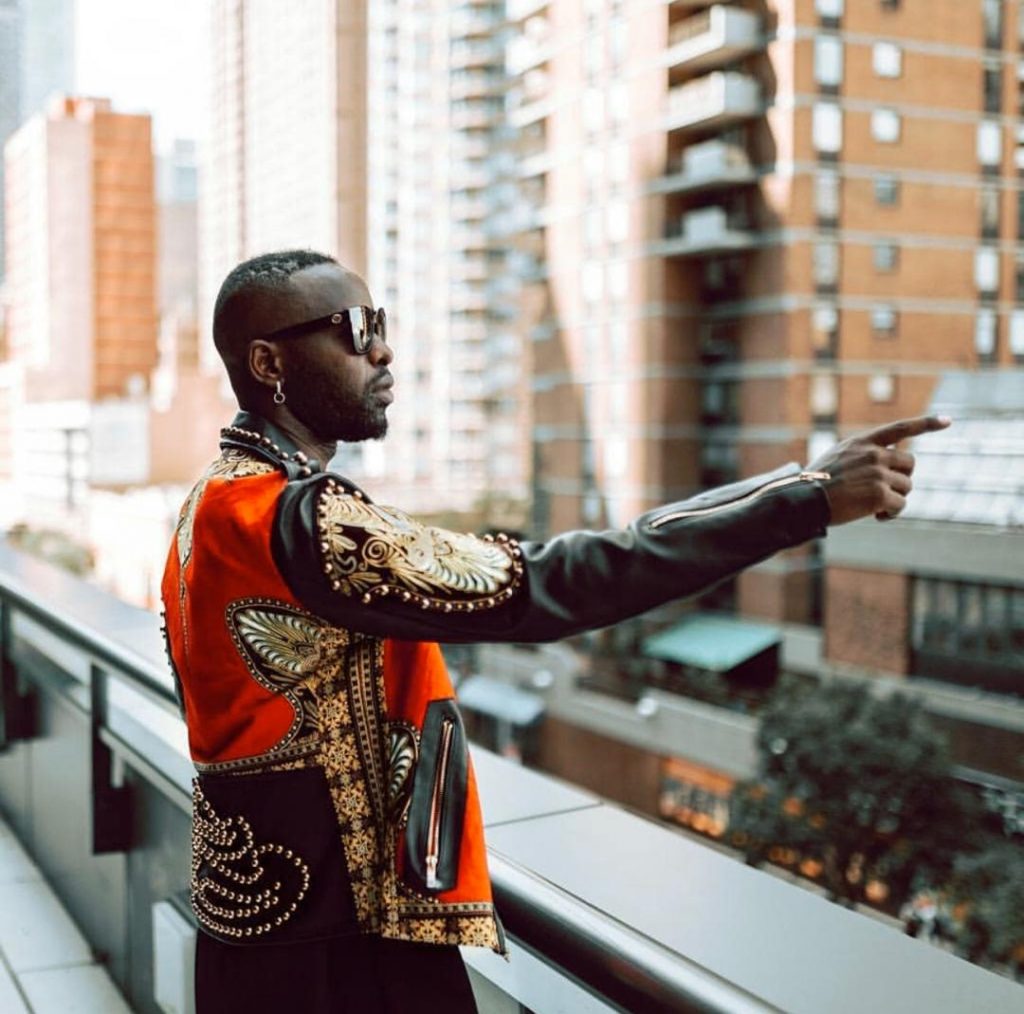 ---
Edrisah Musuuza aka Eddy Kenzo was born and raised in Masaka District in Central Uganda and came to Kampala in his early teens, marking the start of a rags to riches story.
He first released a song in 2008 called Yanimba with Mikie Wine and after a number of other lowly hits, he really caught the attention of the industry with his Stamina hit in in 2010 and later Sitya Loss whose video, featuring the Ghetto Kids went viral around 2014 and like they say, the rest is history. Currently Sitya Loss has been viewed more than 23 million times on YouTube.
In January 2015, Kenzo performed at the opening ceremonies of that year's Africa Cup of Nations in Equatorial Guinea alongside Akon. He also performed at the tournament final.[18] Around that time, he produced a remix to his 2014 single, "Jambolee", with a guest appearance from Nigerian singer, Kcee. In June 2015, Kenzo was honored with the BET Award for "Viewer's Choice Best New International Artist".
He was the first East African artist to win a BET Award of any kind. In July 2015, he performed at the KigaliUp Music Festival in Rwanda's capital and in October of that year, he released a remixed version of his song, "Mbilo Mbilo", featuring Nigerian singer, Niniola. The original version of that song later appeared on the soundtrack for the 2016 film, Queen of Katwe.
In December 2015, Kenzo released the lead single, "Soraye", off of his second album, Zero to Hero and nd in March 2016, he went on a tour Africa, with stops in Kenya, Ivory Coast, Mali, and others. Later that month, he released Zero to Hero. Throughout the remainder of 2016, Kenzo earned a writing credit on Jidenna's "Little Bit More", was featured on the Mi Casa single "Movie Star" and won an All Africa Music Award for his "Mbilo Mbilo" remix. He also went on another US tour late in the year. In May 2017, Kenzo was named the ambassador of the Kenyan Tourism Board and was appointed to a similar role in Uganda the following year, according to Wikipedia.
In July 2017, Kenzo went on a European tour ahead of the release of his third studio album, Biology, a month later. The album featured guest appearances from artists like Mani Martin, Werrason, and Mi Casa, among others. It also featured the single "Jubilation", which had an accompanying music video that won the Best East African Music Video Award at the Zanzibar International Film Festival. He would go on to win two awards at that year's All Africa Music Awards, including Best East African Male Artist. He would later donate that award along with his 2015 BET Award to the Uganda Museum in Kampala.
In March 2018, Kenzo won a Nickelodeon Kids' Choice Award as the "Favorite African Star." In July 2018, he performed alongside Triplets Ghetto Kids at multiple African music festivals in Canada, including Afrofest in Toronto. He also performed at the One Africa Music Festival in Dubai later in the year. In October 2018, he released his fourth studio album, Roots, which featured the single "Body Language". Kenzo also announced a 10-year anniversary concert in celebration of his time as a musical artist. The concert took place on January 4, 2019 in the Victoria ballroom of the Serena Hotel in Kampala. Leading up to the concert, Kenzo released a new music video for a song from Roots each week for two months.
In March 2019, it was announced that Kenzo would be featured alongside Triplets Ghetto Kids in an upcoming music video for American singer Chris Brown's "Back to Love". In April 2019, Kenzo released the single, "Signal" with an accompanying music video.
Just this October, Kenzo beat African entertainers like Tanzania's Diamond Platnumz, Nigeria's Davido, Shatta Wale, Wizkid, Yemi Alade and Tiwa Savage to the Best Entertainer Of The Year award at the African Entertainment Awards held at Kupfrian Hall, Jim Wise Theater, New Jersey, US.
The Masaka boy has since transcended the Ugandan boundaries and is said to be a hit especially in Central and West Africa- and is probably Uganda's biggest artist at the moment on the global scene.
His ratecard price stands at a cool UGX7,000,000 just like the other big men and women in his top league. Since he plies his trade in and out of Uganda it is difficult to pinpoint his exact gross earnings, but a number of pundits estimated his earnings to be at about UGX 95,000,000 a month.
At the moment, Kenzo who had a breakup with his artiste-wife, Rema Namakula, has six songs in the Howwe's Top 100 Chart, namely: Inabana (with Tanzania's Harmonize), Bikyuuka, Bibaawo, Congs Mama, Signal and Pull up, again with Harmonize.
So if you can afford his fee, you can book him for your show by filling in this request form https://www.la-ent.com/request-form or contacting his management on +256 750460803.
---
#3. Sheebah Karungi
---
Earnings: UGX80,000,000 per month
---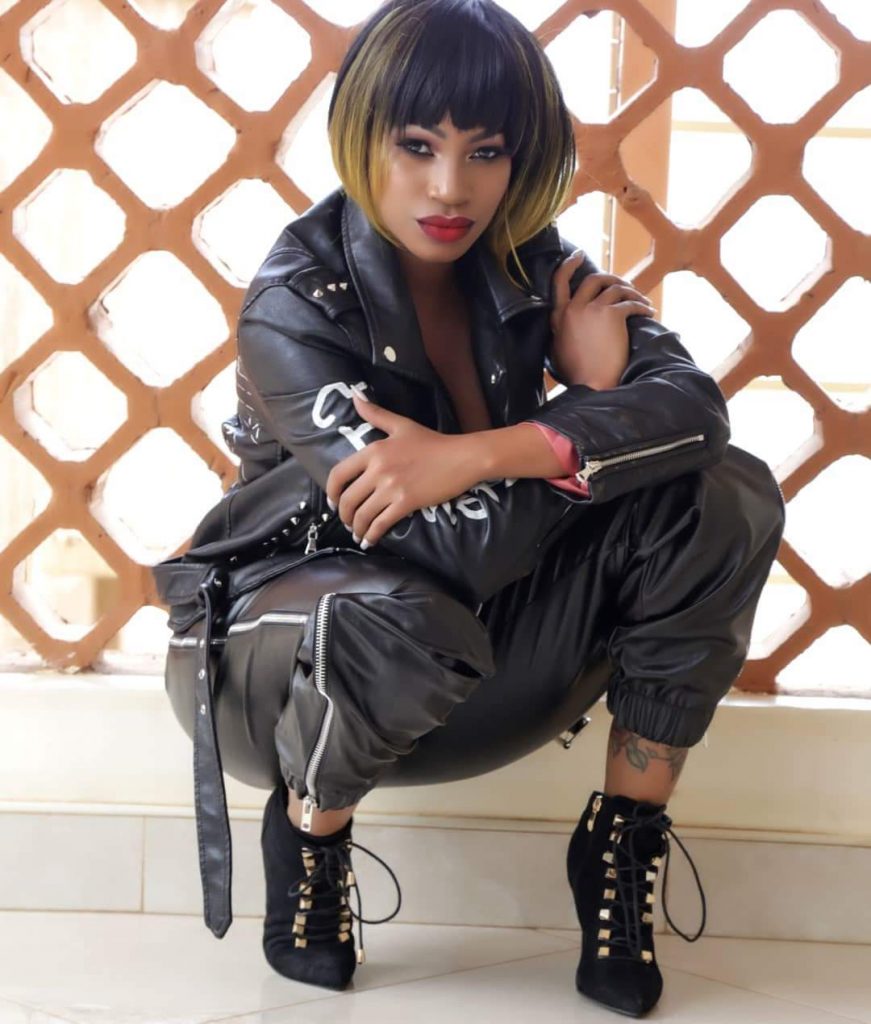 ---
It would be shocking if Queen Karma didn't make it to this list. Sheebah with no doubt has a very strong fan base in Uganda. Ugandans have loved Sheebah from the time she was in the all-girl 2010s Obsessions group, all through to the time she went solo and in 2014 released her debut project- Ice Cream, a five-track album, headlined by a major club banger by the same names. After that, hers been a hit-after-hit story.
Loved by the fans, she has also become a favourite of many an artist in search of collaborations and indeed she has collabos with almost every artist worth their name in Uganda and quite a number out of Uganda. Her most recent dancehall collabo with Nigeria's Orezi, Sweet Sensation has taken Kampala by storm and appears on all major radio countdowns. Sweet Sensation is currently No.5 on Uganda's top music website; Howwe's Hot 100 Chart. In fact Sheebah, either single handedly or in collaboration with other artists has 2 out of 10 songs and 6 out of the top 100 songs of Kampala.
Sheebah's fans, who call themselves Sheebaholics, have given her so much more than love and their ears- this year she moved into a mansion that she built out of her sweat and vocal cords. Her music appeals to so many so she performs at weddings, concerts, company parties among many others.
According to industry experts we talked to, Sheebah is currently one of the most booked artists at the moment because of the energy she gives when performing for her fans. Accordingly she is one of the highest rated artists with an asking price of UGX5,000,000 per performance. Entertainment pundits we talked to said on average she is booked for between 4-6 shows a week. A conservative average of 4 shows a week puts her performance earnings at an estimated UGX20,000,000 a week, which translates into about UGX80,000,000 a month.
This does not include other earnings from celebrity endorsements for brands, royalties from radio stations and clubs as well as from other sources such as Tidal, iTunes and other online downloading and streaming sites.
To book Sheebah, you can contact her management on +256 701488884 or simply send an email to ksheebah1@gmail.com
---
#4: Jose Chameleone
---
Estimated Monthly Earnings: UGX75,000,000
---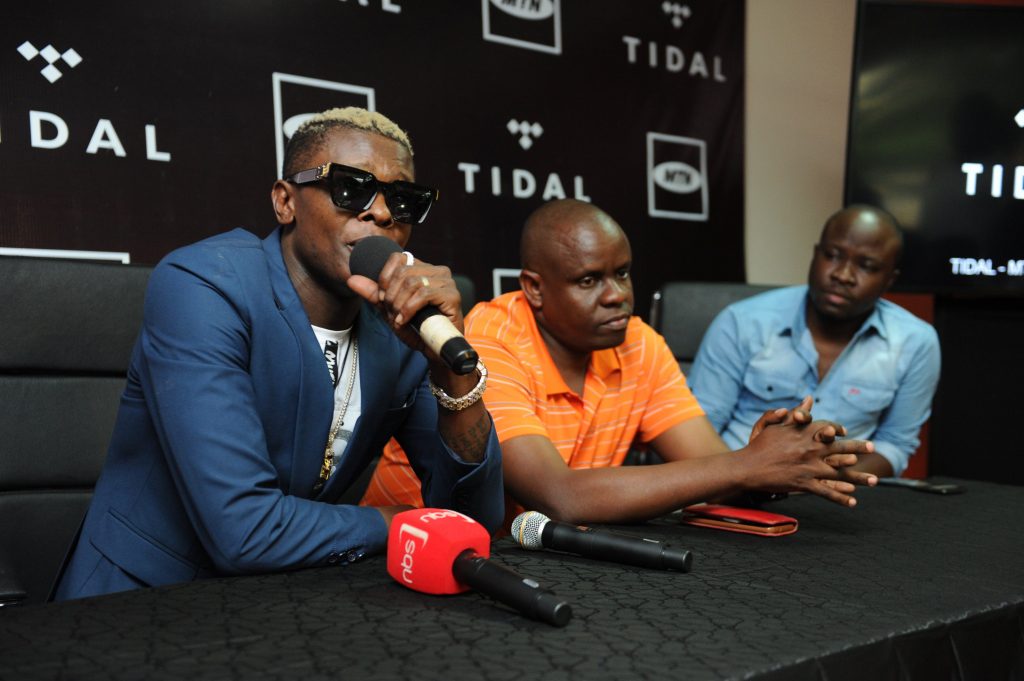 ---
Jose Chameleone's story is your typical, started-from-the-bottom story.
Born Joseph Mayanja on 1 January 1979 to the Mayanja singing family, he is arguably among Uganda's top 10 Ugandan music artists- both living and dead, with undreds of hits and several awards and accolades to his name.
His entertainment career sprouted in 1994 as a part-time DJ at the then Maganjo Mizuri night club in Kampala while he was a student, where he met the likes of Ragga Dee, Shanks Vivie D, Emperor Orlando, Menton Summer (RIP).
Fast forward, Chameleone would sign onto the Kenyan record label Ogopa DJs where he enjoyed some good amount of success with one of his first singles, "Bageya" off the album with similar name, which featured Kenyan artist Redsan. He also did a number of collaborations with fellow Ugandan Bebe Cool and then fellow Ogopa Djs artist but later the two developed a tense rivalry that has been on and off.
Under Ogopa Deejays, he outed 5 albums, namely: Bageya in 2000, Mama Mia in 2001, Njo Karibu, The Golden Voice in 2003, Mambo Bado in 2004. He would later break ranks with the Kenyan label and start his own Leoone Island Productions. The famous Kipepeo album in 2005 was his first Leone Island project and that would be followed by Shida za Dunia in 2006, Sivyo Ndivyo and Katupakase in 2007, Bayuda in 2009, Vumilia in 2010, Valu Valu in 2012, Badilisha in 2013, Tubonge in 2014, Wale Wale in 2015, Sili Mujjawo in 2016, Sweet Banana in 2017 and Champion in 2018.
With each album came award after award in some of the major industry awards such as the Pearl of Africa Music Awards, Tanzanian Music Awards, Kisima Music Awards, Kora Awards and the 2006 MOBO Awards where he was crowned Best African Act.
He was also nominated as the Best African Act in the 2007 MTV Europe Music Awards.
He recently declared his interests to run as Kampala City Mayor under the DEmocractic Party ticket and has as such not released any new album of late.
Although he has not released any new album this 2019, Chameleone, who featured on Morgan Heritage's 2019 Album dubbed 'Loyalty' in the song titled 'Africa We Seh' has enough songs in his music arsenal to remain top on the booking cards of show organisers.
His UGX7,000,000 rate card may be a little prohibitive, but it is estimated that he is able to at least book between 5-6 rate card shows a month and another 5 or so discounted appearances- earning him an estimated UGX75,000,000 a month, making him our 3rd most paid artist.
---
#5: Cindy
---
Estimated Monthly Earnings: UGX50,000,000
---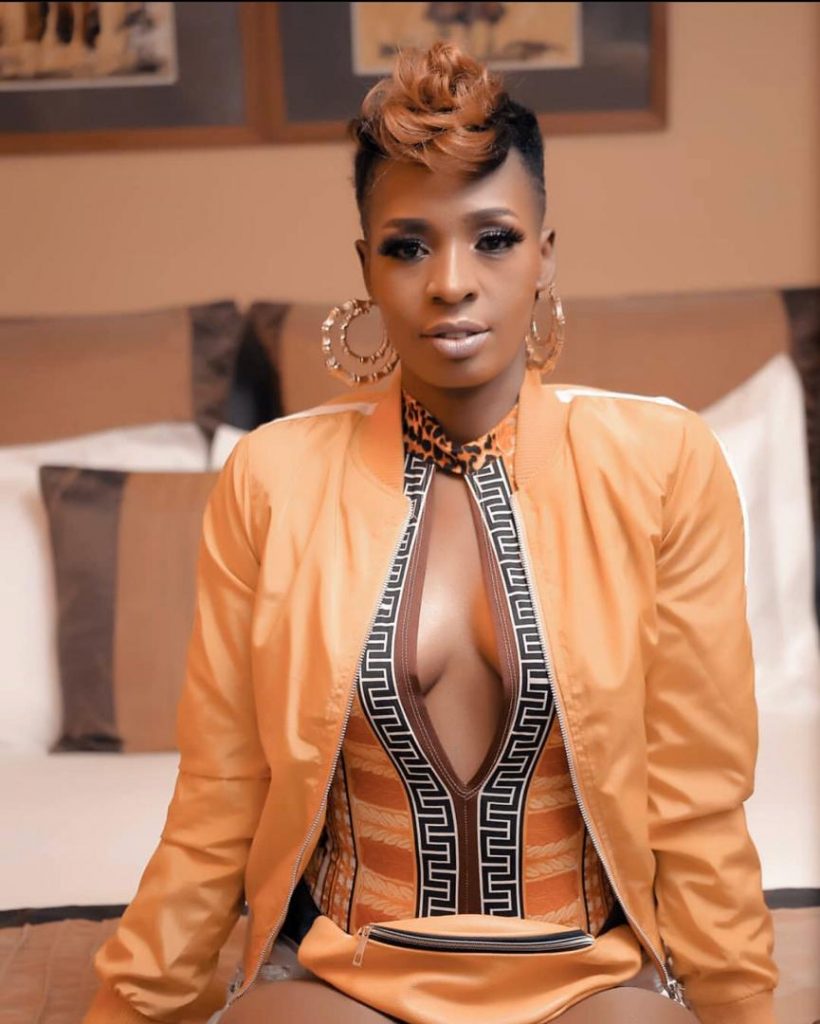 Cinderella Sanyu aka Cindy broke her teeth in the music industry as one of
the 3 members of Blu*3- the sensational high-energy trio, alongside with
Lillian Mbabazi and Jackie Chandiru.
She would later part ways with the group and hit the airwaves with Ayokyayokya as her first solo debut. She
is more than artist and is also known for her high energy and sometimes erotic
performances on stage- setting her apart as not just a singer but a performer
as well.
Cindy refers to herself as 'the King' of music and she has indeed given her
kingdom hit songs like Selecta, Ndi Mukodo, Run This City among many others. Like many other superstars in the business, she too has had a fair share of collaboration projects. Currently her Boom Party in riding through the charts and is number 14 on the Hot 100 Chart on music and entertainment website www.howwebiz.ug.

She usually performs alongside her Band Cindy, at concerts, corporate events like conferences, office parties and has regular appearances at a number of city hangouts such as Nexus, Fusion Auto Spa. She is also a regular at Alex Muhangi's Comedy Store.
According to her minders, her rate card is an average of UGX2,000,000 as a
solo act and UGX4,000,000 her band. It is estimated she has anywhere between 15-20 performances a month, putting her monthly revenue at an estimated UGX50,000,000 per month. This excludes other non-show related revenues.
---
#6: John Blaq
---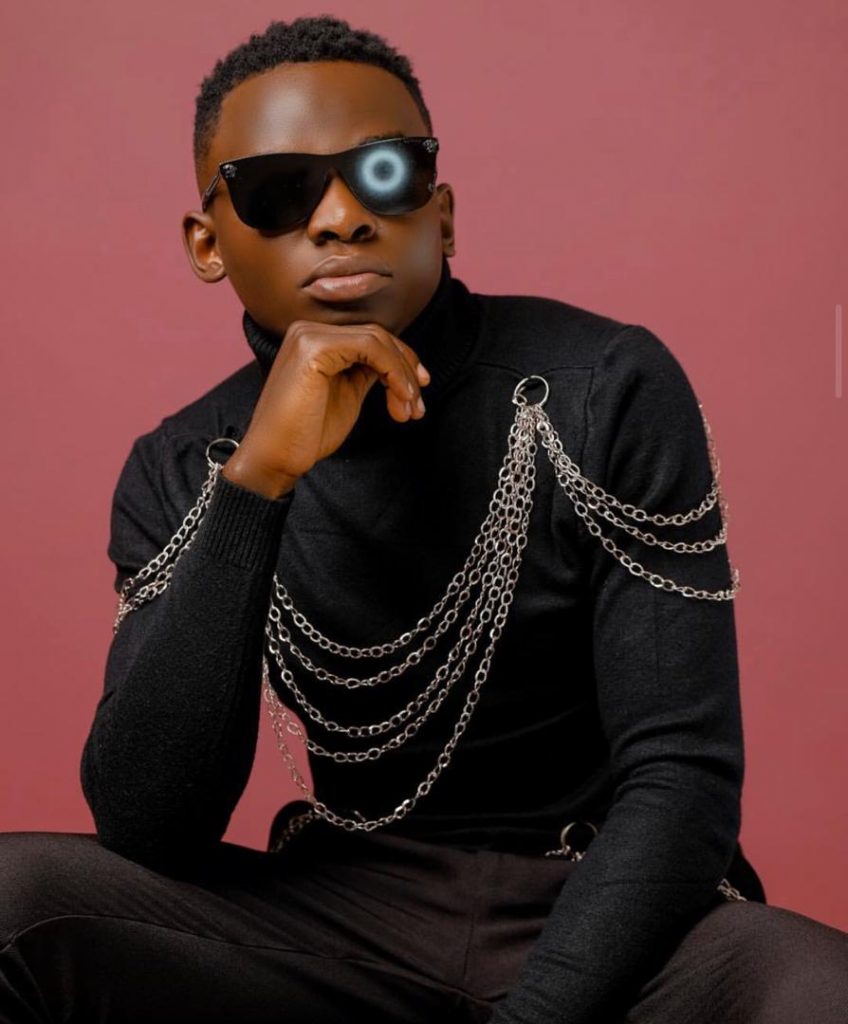 ---
Kasadha John aka John Blaq is a Ugandan afro beat and hip-hop artist that is currently the 'in' thing. Very many concert promoters want him at their shows because he is still fresh in the industry and has a young fan base.
The 24-year-old developed a love for music at a tender age and he says that he got his inspiration from the late Mowzey Radio. He has songs like Tukwatagane, Romantic, Makanika, Do Dat, Mama Bulamu, and
3 weeks ago he released Ebyalagirwa and it now trends at number one on Howwe Biz Hot 100 Chart. In fact he is the only artist with 9 songs on the chart.
John Blaq is still too hot and fresh to the music industry, that he on average performs 3 times over the weekend and at least twice during the week according to information corroborated from different show organisers, entertainment journalists and his social media channels. This gives him an average of about 20 performances a month, which according to his UGX2,000,000 rate card puts his earnings at about UGX40,000,000 a month and if he keeps on releasing music that appeals to many people, he will be unstoppable and this number could even double.
#7: Vinka
---
Estimated earnings per month: UGX38,000,000
---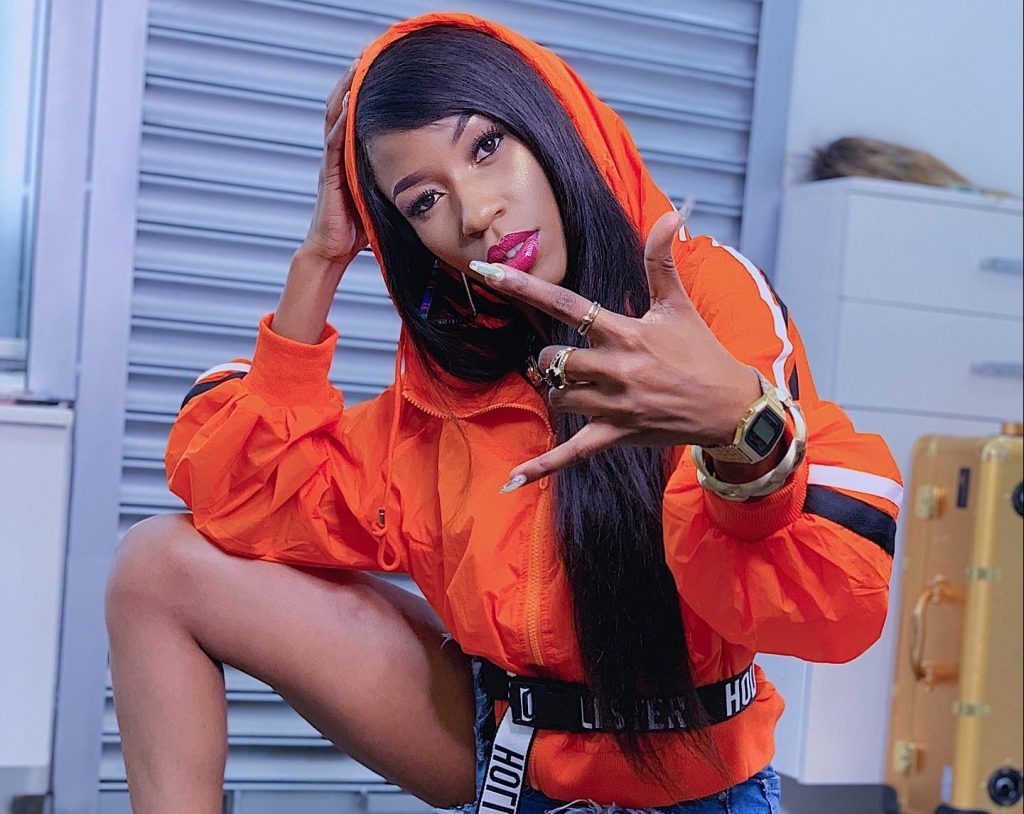 Vinka has a very special and different voice so she stands out as an artist. Her real name is Veronica Luggya and she joined Swangz avenue the moment she left university.
She initially started out as a manager for artists like Irene Ntale and Winnie Nwagi but later on decided to become a part of the entertainment industry as an artist in her own right.
From hits such as Level to Chips na Ketchup, Vinka became an instant and an unstoppable regular on every DJ's playlist. With subsequent projects like By the Way, Yo Body, Sure, Bigambo, Only for you and recently Amaaso with fellow Swangz Avenue star, Winnie Nwagi, Vinka has become a must-have ingredient to every major show in town- especially where the youth are involved. But in real truth, everyone loves to lover her music, from the
vendor down in downtown Owino market to the uptown manager in the bank, everyone grooves to her to her vibrant tunes- 6 of them on Howwe's Top 100 Chart.
This year, she signed an exclusive contract with Sony Music under undisclosed terms; Vinka is not going anywhere if she keeps doing what she does. According to her management at Swangz, Vinka has an average of twelve performances in a month giving her an average of Ugx 35,000,000 a month
---
#8: Lillian Mbabazi
---
Estimated Earnings per month: UGX32,000,000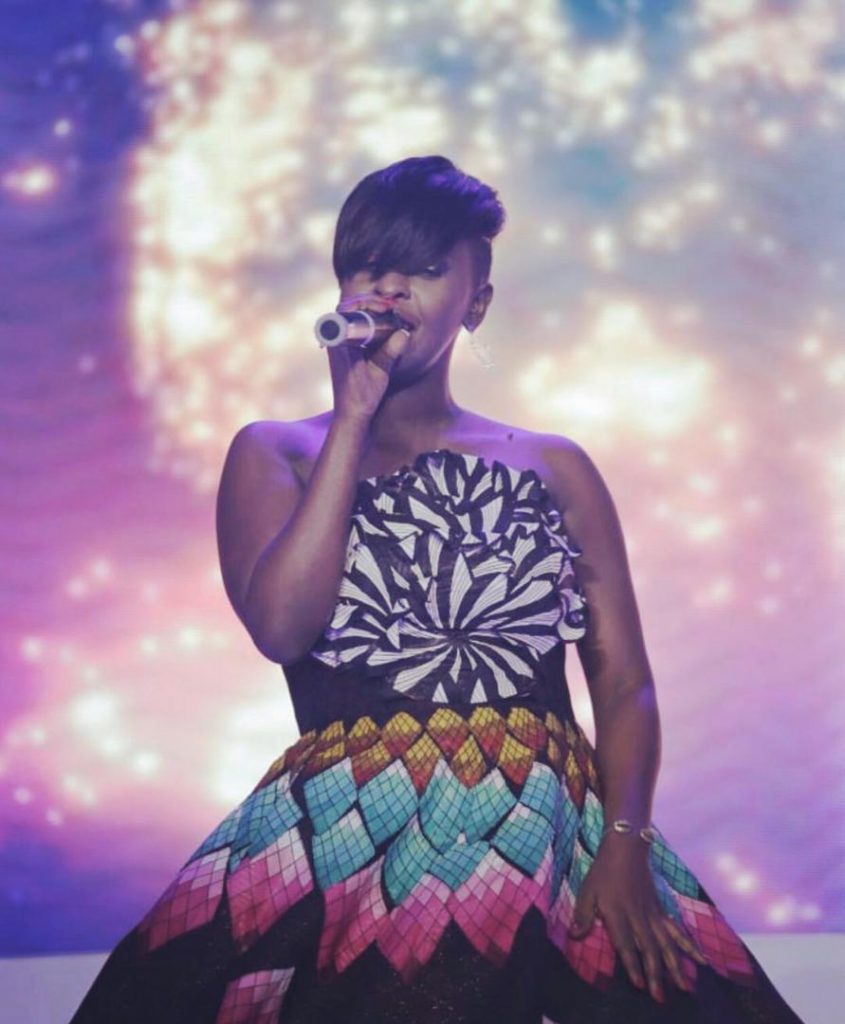 Lillian Mbabazi just like Cindy was part of Blu*3 and took on a solo career after the group split up.
Her early days as a solo act saw songs such as Danger, Vitamin, and Kawa where her unmistakable strong and powerful voice in unmistakable. She currently performs with her band; the Sundowners.
Since the passing of music start Mowzey Radio, of the Radio & Weasal fame, she has not only been performing her songs alone but also doing tributes to her long-gone lover and father to her kids, Radio. On top of that, she also performs Blu*3 music that brought her to the limelight and other artists as well.
To get Lillian and her band to perform, you need to part with UGX4,000,000 and with all the corporate events and weddings that they perform at, they walk away with an estimated UGX32,000,000 a month.
---
#9: Winnie Nwagi
---
Estimated monthly earnings: UGX28,000,000
---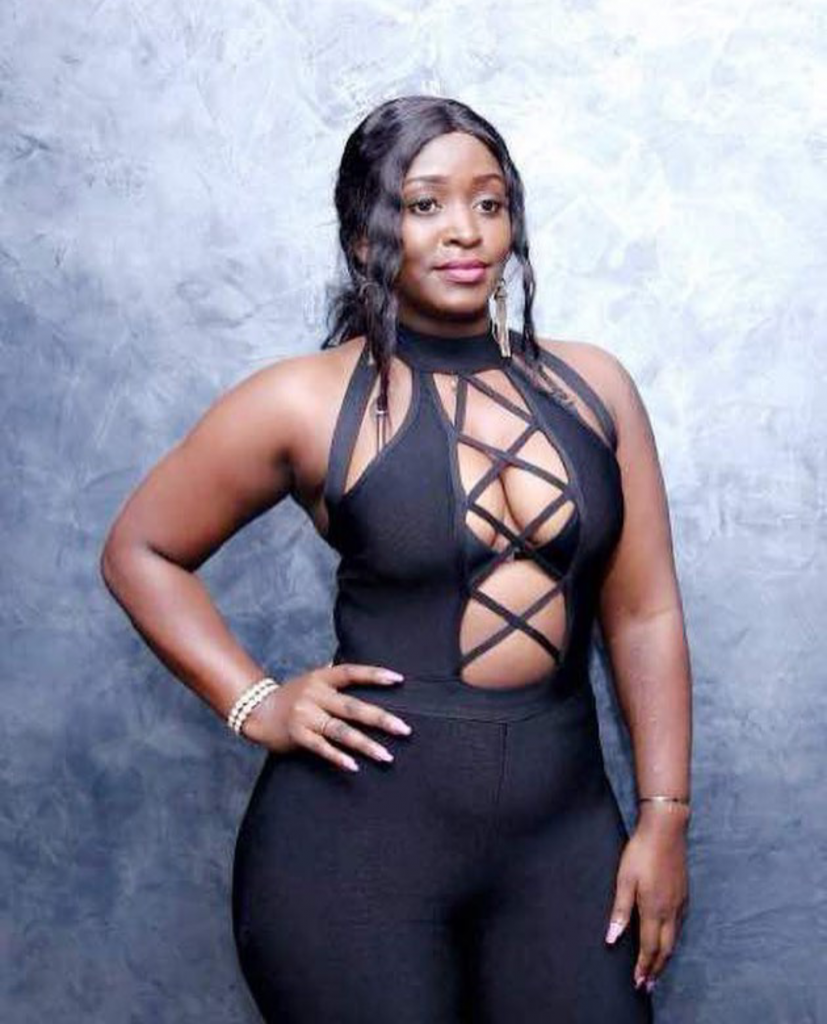 ---
Winnie "Nakanwagi" Nwagi did not fully discover her talent till she became the second runner-up in the second season of "CocaCola Rated Next" in 2014 organised by Coca Cola and Vision Group.
Following her standout performances in the Tv Show, she would later be signed by record label, Swangz Avenue where she released a number of songs including Embeera, Katono Katono, Gwenoonya and Kyowulila.
But her real break came with her
2016 hit, Musawo that
broke the airwaves and charts. Subsequent hits that followed, include Matala, Fire Dancer among others.
Since then, she has had a number of other successful
hits- she had been download 3.1 million times on music and entertainment
website www.howwebiz.ug and has 3 songs in
the Top 100 Chart.
At an average of UGX2,000,000 per appearance- the energetic
singer and dancer is said to be bagging an estimated UGX28,000,000 a month.
---
#10: Irene Ntale
---
Estimated monthly earnings: UGX20,000,000
---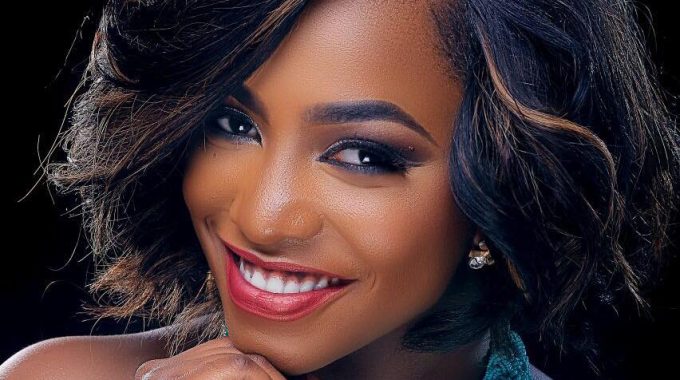 ---
Irene Ntale was born 30 January 1989. Her singing talent was spotted way back in school as she sang in the school church choir where she also learned how to play the guitar. She went to Kitante Primary School, Kitante Hill School for O-level and Makerere High for A-Levels.
She is a Bachelor of Procurement and Logistics Management graduate from Kyambogo University.
When she drifted away from church music, she tested the waters with other people songs, where she would perform at Karaoke. It wasn't until she was spotted by talent managers at Swangz Avenue that her real talent came to full bloom.
Soonest she joined Swangz, she outed major hits such as Gyobera, Love letter, Stay with me and Nkubukinze.
In 2017, she quit Swangz Avenue, but her gifted hands on the guitar combined with her sweet early 20's voice remained as gripping to the fans' ears as they remained to show promoters' cheque books. She is also a song writer
In early 2019, after numerous visits to Lagos, Nigeria, it was rumored that Ntale was negotiating a deal with Universal Music Group Nigeria and on 21 August 2019, she signed a record deal with Universal Music Group Nigeria, making her the first Ugandan artiste to be signed to the record label.
Ntale released her debut single under the Universal Music label titled, Nyamba.
With an asking price range of UGX2,500,000 per appearance, moderate estimates put her monthly earnings at UGX20,000,000 a month, earning her a place amongst Uganda's 10 highest paid artists of 2019.
---