What is this new Stanbic schools' loan solution about?
Our schools' loans solution has been tailor-made to enable schools, teachers and parents with limited working capital or inadequate school fees respectively, to kick start the new term on a sound financial footing.
The new product is all-inclusive for different education sector players to help them address the challenges brought by the Covid-19 pandemic. For schools, we will finance acquisition and provision of the Standard Operating Procedures (SOPs) and other expenses as the schools open. Teachers and parents will be offered low interest loans and cash advances to cater for school fees expenses.
Does the bank have a ceiling as to the amount of money a school can borrow and what basic requirement is needed as collateral to access these loans?
Yes, the schools will be able to access up to a prequalified amount set per school depending on the institution's student enrolments and previous collections. Schools can borrow up to UGX500 million.
Teachers and parents who qualify and need instant cash advance, can apply for either a 30-day interest free loan or flexible short-term loans up to 24 months.
First and foremost, you need to hold a Stanbic account. For schools that have accounts with us and qualify, they will automatically have access to the loans within 24-hours. Schools that don't bank with us yet, will be required to open a Stanbic bank account and provide a twelve months bank statement from their previous bankers.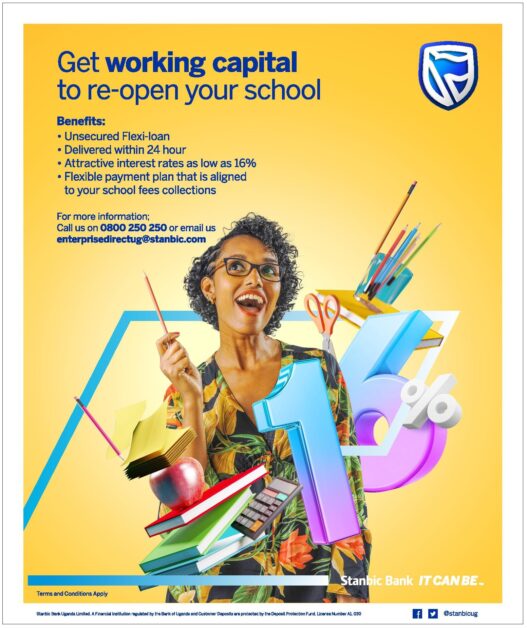 Would you highlight the financial gaps this loan is addressing and what is unique about this product?
The education sector has been hugely affected as a result of students being sent home during the peak of the pandemic. For over eight months, they have not had a major liquidity flow. We have all heard of schools that have sold off their properties or converted their premises into local motels or lodges.
This has largely been due to limited cash flows and working capital to manage the utilities, staff and operational expenses since they had no school fees collection and the inability to retain staff.
Therefore, our schools loan solution is tailor-made to address these gaps and add value to schools. The schools will have access to our digital platforms and solutions that enable them manage school fees collections, payments, reconciliations and a connection to a marketplace of suppliers and vendors using our countrywide footprint and networks.
In addition to the above, we shall continue supporting the schools in offering their employees value banking options, support in training students and teachers with e-learning skills and provide financial literacy and business development sessions. We have also recently developed a unique school comprehensive insurance package designed to cover any risk in schools in addition to the edu-care which secures child education.
What is the repayment plan for this loan product?
Part of the offer considers payment of interest only during this period and resumption of full re-payments for principle and interest when the schools officially reopen.
The repayments will be flexible and spread to more than one term where required or applicable to avoid stressing the cash flows. This is because less than 25% of the usual cash flows are expected to come from the candidate classes. For the parents, we shall align the school fees loans to the school term for example a three months tenor loan paid monthly.
Pricing is also a major differentiator here since the loans are being given at 16% per annum.
With that said, Stanbic Bank Uganda will continue to reaffirm its commitment in quality and affordable education to achieving social and economic growth. Hence, this new school loans product is aimed at enabling the education sector to have a smooth transition as they overcome challenges of Covid-19 pandemic.