BACK AT IT! Woman sues International Hospital Kampala Over Negligence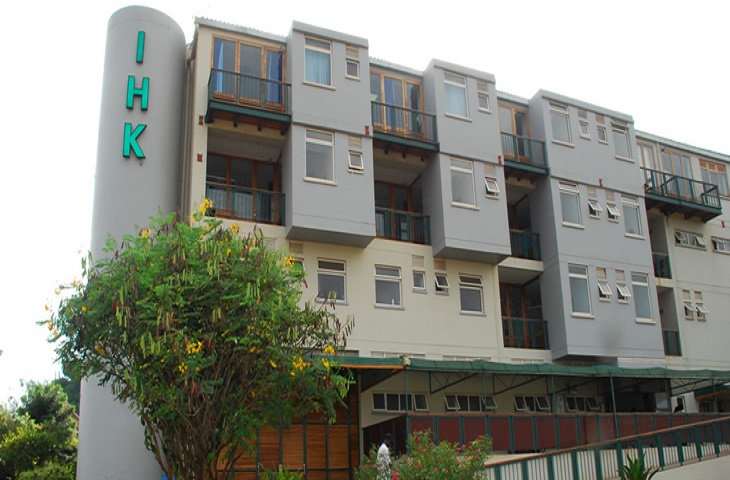 "According to Munira, the reconstruction surgery wasn't successful as one of the screws that were being used by Dr Mwaka during the surgical reconstruction penetrated the bone and broke through the cortex, the outer most part of the elbow"
This is not the first time IHK is being sued for negligence. In June 2019, Doreen Akoth sued the hospital for damaging her rectum during childbirth and sought compensation of more than Shs 10 million.
The suits come at the time when the Uganda Medical and Dental Practitioners Council is yet to give its verdict in another negligence case against IHK for the death of former WBS TV journalist, Nulait Nambaziira resulting from childbirth complications in 2018.
As you read this, an Indian national identified as Munira Jivraj has sued the same hospital and is now seeking to recover more than Shs 77 million arising from alleged negligence.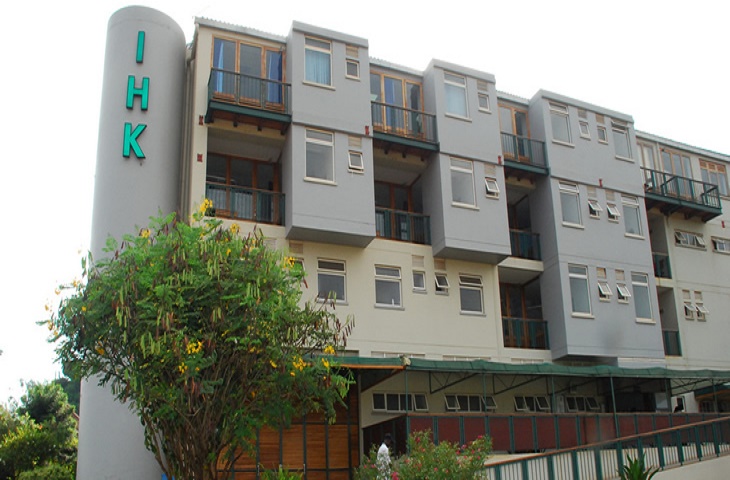 Munira has filed his suit before the Civil Division of the High court through her lawyers of Verma Jivram and Associates against IHK and Dr Edrisa Mwaka, a medical consultant at the hospital.
She contends that in January 2018, Dr Mwaka carried out a surgical reconstruction on her right elbow after she fell off the staircase and sustained a comminuted fracture. This is where a bone breaks into more than two fragments.
According to Munira, the reconstruction surgery wasn't successful as one of the screws that were being used by Dr Mwaka during the surgical reconstruction penetrated the bone and broke through the cortex, the outer most part of the elbow.
She contends that a second surgery was performed by the same doctor, a day after and she was discharged on January 7, 2018, despite complaining about pain in the right elbow since the injury hadn't been corrected.
Munira alleges that she was later forced to seek further medication from other medical facilities, which revealed that she had suffered post-operative supracondylar fracture (pain resulting from the fracture), post-traumatic arthritis of the elbow with clinical expressions of deformity and restricted range of motion.
"The radiographs and CT scan have shown deformity of the distal humerus with non–union, and loss of articular joint space causing permanent injury and incapacity", reads the petition in part.
Munira says she later sought treatment abroad in India from Kokilabem Dhirubhai Ambani hospital and Medical Research Institute, where she incurred extra costs including hospital bills, operation costs, air travel tickets, visas and proper evaluation and management.
She is now seeking to recover Shs 77.8 million as special damages arising from failure to take proper precautions to avoid the screws used in the operation from penetrating the bone and breaking the cortex.
According to the breakdown, Munira says she spent Shs 500,000 at St Francis Nsambya hospital for a CT scan, Shs 4 million at CORSU Rehabilitation hospital for diagnosis, investigation and pain management in her right elbow. While in India, Munira alleges that she spent Shs 45.3 million, Shs 18 million for air travel visas, hotel accommodation for her and her helpers.
She also reportedly spent Shs 10 million on other operation costs and miscellaneous expenditures as a result of the negligence. Court has summoned IHK to file its defense within fifteen days before the case is allocated to a judge for a hearing.
French Embassy to host delegation of French businesses to Uganda
France, according to the Private Sector Investment Survey Report (PSIS) 2018 by Bank of Uganda, Uganda Bureau of Standards (UBOS) and Uganda Investment Authority (UIA) is among Uganda's top 10 sources of Foreign Direct Investment (FDI), registering UGX531 billion worth of investments in 2017, up from UGX463 billion in 2016. According to the United Nations Conference on Trade and Development (UNCTAD) on the basis of FDI stock data through 2017, France continues to be the largest foreign investor in Africa.
Movement des Enterprise De France (the largest French business leaders association) in partnership with the French Embassy in Uganda, will hold a multisector trade mission to Uganda from 25th to 26th November 2019.
According the French Ambassador to Uganda, His Excellency Jules – Armand Aniambossoum, the trade mission is to enable French business leaders to prospect and identify potential local partners in Uganda- an economy he said, offers significant business opportunities.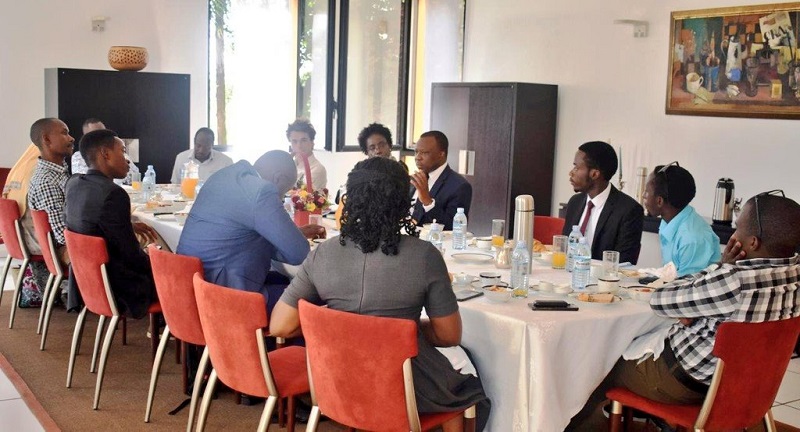 "This will be a tremendous opportunity for all French business leaders who will be taking part in this mission; it will be an opportunity to know more about the projects and sectors of activities pushed forward by the Ugandan government, in particular understanding the government's vision for the coming months, discuss with Ugandan authorities, their projects, their ongoing activities, difficulties and have a conversation on the business environment in Uganda," H.E Aniambossoum told journalists, during a media breakfast at his residence in Nakasero.
"This will also help to identify new Ugandan business partners and know more about international financial institutions, current and future financing in Uganda," he added.
MEDEF and MEDEF International, represents over 170,000 French companies, more than 90% of which are largely SMES.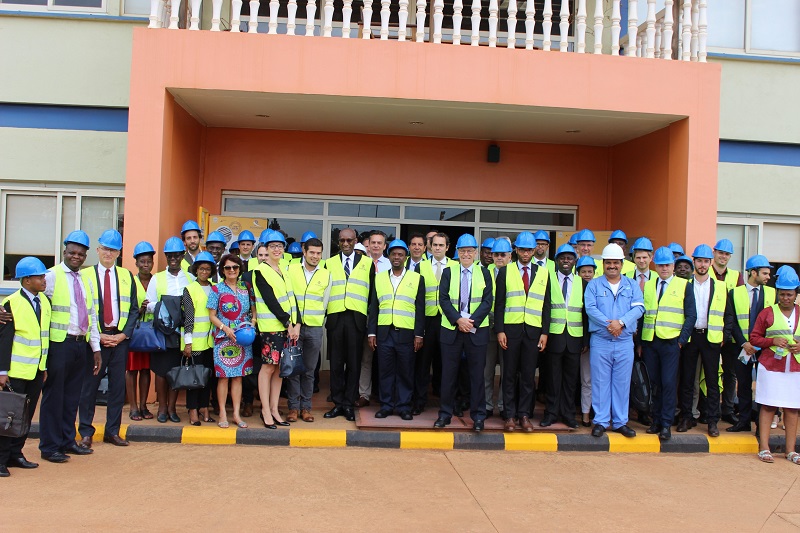 Some of the meetings and networking opportunities lined up are with Ugandan trade-related Ministries, Departments and Agencies (MDAs), resident representatives of key international financial institutions, private sector associations and individual businesses and business leaders.
In 2017, the MEDEF mission had a similar delegation of 36 ICT, energy, public works, infrastructure, transports, health, agri-business, petrochemical and international trade firms to Uganda.
France is one of Uganda's top 10 FDI contributors to Uganda
Although Uganda enjoys a fairly balanced trade position with the European Union (USD494 million) in exports to the EU in 2018 versus USD574.6 million in imports from EU- there still exists an imbalanced trade between France and Uganda in favour of France. According to 2018 statistics from Bank of Uganda, Uganda in 2018 imported goods worth some USD40 million from France, compared to USD6.2 million, Ugandan exports to France.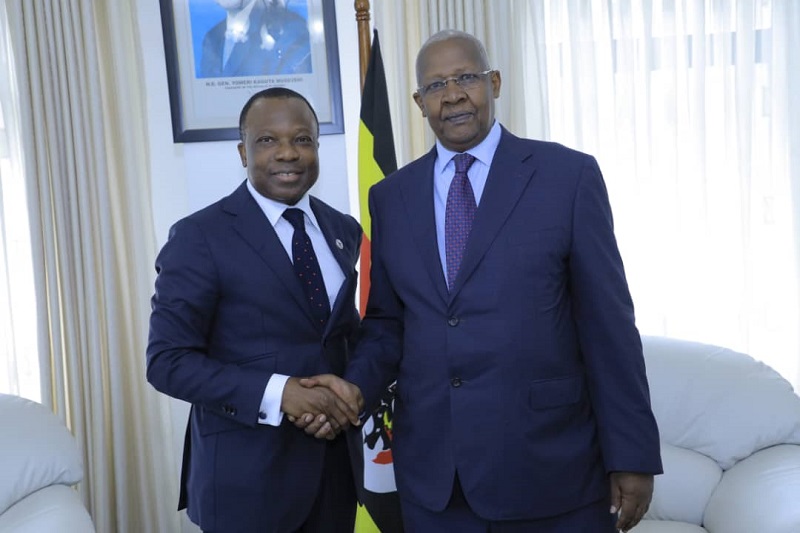 However, France, according to the Private Sector Investment Survey Report (PSIS) 2018 by Bank of Uganda, Uganda Bureau of Standards (UBOS) and Uganda Investment Authority (UIA) is among Uganda's top 10 sources of Foreign Direct Investment (FDI), registering UGX531 billion worth of investments in 2017, up from UGX463 billion in 2016.
According to the United Nations Conference on Trade and Development (UNCTAD) on the basis of FDI stock data through 2017, France continues to be the largest foreign investor in Africa both due to its historical links with a number of countries on the continent and due to large investments in major hydrocarbon-producing economies, particularly Nigeria and Angola.
France, under president, Emmanuel Macron has sought to redefine its foreign policy on Africa, built on mutual respect, equality and reciprocity.
"URA's Taxpayers Appreciation Month Is Focusing On SMEs," Says Akol.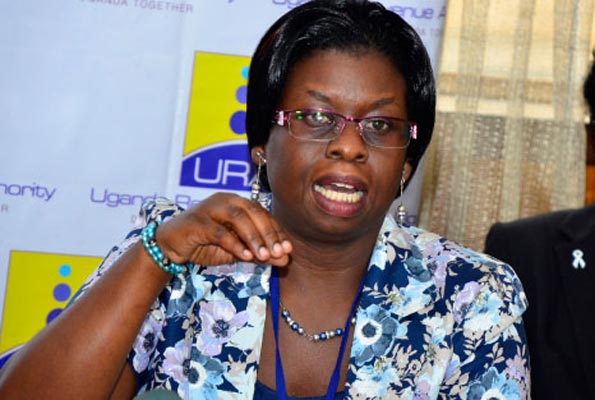 On Tuesday 3rd September, 2019, Uganda Revenue Authority (URA) launched this year's Taxpayers Appreciation Month (TPAM) that will focus on the Small and Medium Enterprises (SMEs). The theme for this year is "Every Taxpayer Counts".
During a presser at URA headquarters in Nakawa, Kampala, Doris Akol, the URA Commissioner General said this year's theme (Every Taxpayer Counts) is hinged on the fact that irrespective of status-presumptive, medium or large taxpayer, everyone counts and makes a contribution to the economy.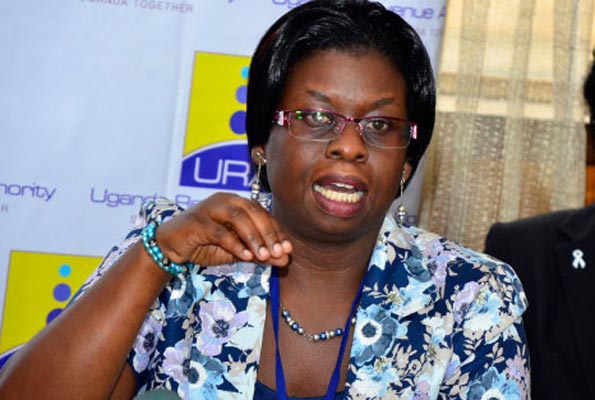 "Therefore, our focus this year is the Small and Medium Enterprises (SMEs), the unsung heroes, who contribute immensely to our economy," Akol said.
She added that TPAM will involve a series of activities to appreciate and recognize taxpayers.
According to URA, it categorizes SMEs as any business with a turnover not exceeding Shs2bn.
She also noted that recent studies show that SMEs contribute over 25% of Uganda's total Gross Domestic Product (GDP) and employ about 45% of the labour force.
"The total number of SMEs on our register is 376,657. The majority are in the wholesale and retail trade sector," she said.
The revenue contribution to the economy by SMEs in the past 3 years can't be underestimated.
URA figures indicate that domestic revenue contribution has been recorded at Shs7.57 trillion, Shs9.08 trillion and Shs9.74 trillion in 2016/17, 2017/18 and 2018/19 respectively.
SMEs' tax contribution to the domestic revenue has been remarkable at Shs2.55 trillion, Shs3.03 trillion and Shs3.54 trillion in 2016/17, 2017/18 and 2018/19 respectively. In terms of employment, URA says taxpayers in the SMEs category were employing 337, 099 people in 2016/17, 417, 652 in 2017/18 and 419 713 in 2018/19.
"Supporting SMEs boosts their growth, which would have a ripple effect on the entire country. We pledge to offer specialized taxpayer education services, knowledge and skills for effective business management, creating effective networking to name but a few," Akol said.
Charity Tax Derby
In an attempt to extend URA's CSR, on 20th September, 2019, URA is organizing a charity tax derby, a soccer match between URA and several CEOs. The Proceeds from this charity match will be used to support pupils of Bwama Primary School who cross Lake Bunyonyi in rickety canoes.
"We will buy for them safe motorized boats, life jackets and a water purification system. We urge the public to join us in this noble cause," she said.
She added: "The TPAM grand finale on 27th September, 2019 will see us rewarding the compliant SMEs and exhibitors, who would have excelled at Kololo."
The Planned Activities
As part of URA's new focus of becoming a business enabler, Akol said the tax body will extend a free invitation to 1,000 most compliant SMEs to exhibit at Kololo Independence Grounds during the Taxpayers Appreciation Week (TPAW) from 25th – 27th September, 2019.
"This will offer them an opportunity to showcase their goods and services, make sales and networking opportunities," she said, adding that alongside this will be the free daily Bomba Ya Business, specially designed lessons to impart free business skills for business growth and offer local and international trade opportunities.
"This is a special three-day curriculum facilitated by business management, trade, economists and other experts. We want to encourage the public to come and attend all these trainings," she revealed.
Further, at Kololo, during TPAW, there will be several free health services among them free yellow fever vaccination, Hepatitis B testing, safe male circumcision, HIV testing and counseling.
"In order to give focus to the employment challenge, this year's TPAW will feature a job hub and career guidance center. The hub will offer opportunities in various institutions and advice on the most lucrative careers. This is a response to the high rate of unemployment particularly among youth," the CG revealed.
She added that businesses will be registered instantly in addition to instant issuance of driving permits. However, permit issuance will be followed by payment of requisite fees.
She added thatURA Senior Management are going to visit taxpayers countrywide to thank them for their continued contribution to revenue over the years.
"The taxpayers will be recognized and hosted to luncheons. We will also use this opportunity to engage and also receive feedback from them," she revealed.
She added that as part of URA's culture of giving back to society, all URA staff will on 10th September, 2019, be involved in countrywide Social Responsibility (CSR) activities to give back to communities where they work. "This is meant to benefit the less privileged members of society. It will be the second time that staff are involved in a CSR of this magnitude," she said.
MP Mawanda Secures Leave to Introduce BOU Amendment Bill Aimed at Reducing Mutebile, Kasekende Powers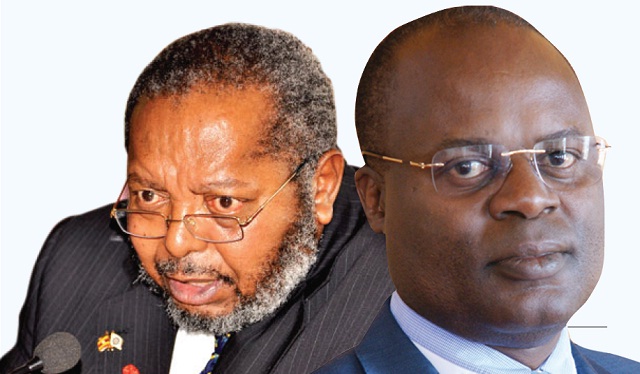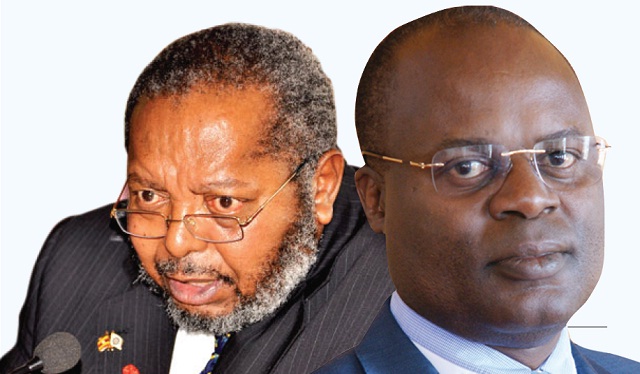 Michael Maranga Mawanda, the Igara County East MP has been granted leave of Parliament to introduce the Bank of Uganda Amendment Bill 2019.
This bill follows a recommendation from the COSASE report calling on government to establish an independent board of directors of the central bank.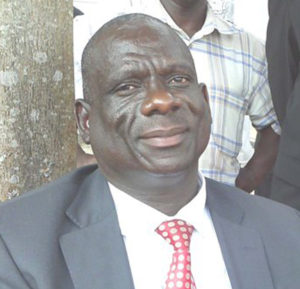 It seeks to amend the Constitution following a resolution by Parliament on 28th February 2019 which sought to remove the Governor and the Deputy Governor from being chairperson and Deputy Chairperson respectively of the board of directors of the Central Bank.
"We have had problems of accountability where a budget is made by top management headed by the Governor and approved by the board headed by the Governor. If there is a mistake that is made by management and carried by the board, which is headed by the same person, we shall not be able to rectify this problem," said Mawanda.
Mawanda added, "currently, there is no 'second eye' in Bank of Uganda. This is the reason we are seeking separation of powers where the Governor becomes the chief executive then an independent person is appointed to head the board which can oversee the operations of Bank of Uganda."
The bill seeks to separate the fusion between the Bank of Uganda (BoU) management from the board of directors.
It also seeks to provide for the functions of the Governor and to provide for the Governor as the Chief Executive Officer of the Central Bank and to provide for the resignation of a member of the board.
Elijah Okupa (FDC, Kasilo County) said that in countries such as Kenya and South Africa where the governor is separate from the board, the central bank runs smoothly.
Recalling what he termed as trouble in Bank of Uganda, David Abala (NRM, Ngora County) also called for separation of the decision making function from administration.
"You cannot fuse administration with policy making; we know the trouble we saw in Bank of Uganda investigations; this bill is the medicine that will heal what we saw during investigations," said Abala.
Jonathan Odur the Erute South MP who seconded the proposal says indeed the powers of the Governor and Deputy Governor needs to be checked.
Odur requested the house to allow Mawanda work on the bill because the Government has been slow.
David Abala, the Ngora County MP says there must be separation of Power, and the administration and policymaking cannot be fused together. Abala supported the move saying it will bring sanity to the Central bank.
The plenary chaired by Speaker Rebecca Kadaga approved the motion granting Mawanda leave of Parliament to proceed with the bill. Mawanda will now go-ahead to prepare the bill and present a certificate of financial implication.
According to the Bank of Uganda Act, the Central Bank Governor who is also the most senior officer in the bank also chairs the board of directors and is deputized by the Deputy Governor. The other members are the Secretary to the Treasury and directors from different departments in the bank.